Straight to the Point
Bell & Ross BR02-94 Carbon
Ref.: BR02-CHR-BL-CA
$4,100.00
US retail price July 25th, 2011
Pros
an original design
its readability
different available versions
Cons
its rubber strap is too stiff
lack of versatility
a movement that's reliable, but not interesting from a watchmaker's perspective
Brand
Bell & Ross
Model name

BR02-94 Carbon

Reference

BR02-CHR-BL-CA

Case material

Steel with black PVD coating

Case diameter (without crown)

44mm

Case diameter (crown included)

49.47mm

Movement type

Automatic

Caliber

ETA 2894

Base Caliber

ETA 2894

Functions

Chronograph

Date

Hour

Minute

Second

Crystal

Single-face crystal with anti-reflective coating

Power reserve

42h

Transparent back

No

Lug width

26mm

Length from lug to lug

49.02mm

Case thickness

17.22mm

Clasp type

Pin buckle

Clasp material

Steel with black PVD coating

Total weight

174 grams

Retail price USA at July 25th, 2011

$4,100.00
| | |
| --- | --- |
| Comfort (/15) | 13 |
| Movement (/20) | 9.5 |
| Movement Optimisation / Garnishment (/5) | 1 |
| Ease of handling and adjustment (/5) | 5 |
| Movement control proceeded by the Manufacture / horlogical awards (/3) | 1 |
| Power reserve (/2) | 1 |
| Complications (/5) | 1.5 |
| Finishing (/20) | 13 |
| Dial finishing (/6) | 4 |
| Case finishing (/6) | 4 |
| Quality of garnishment / caseback engraving quality (/2) | 2 |
| Crystal quality (/4) | 2 |
| Clasp finishing (inner and extern) (/2) | 1 |
| Functionality (/20) | 17.5 |
| Diurnal legibility (/5) | 5 |
| Night legibility (/4) | 4 |
| Water resistance (/3) | 2.5 |
| Strap : ease of size adjustment + ease of substitution (/4) | 2 |
| Clasp : quality and safety (/4) | 4 |
| Additional items (/10) | 3.5 |
| Limited edition (/3) | 0 |
| Watch delivered with several straps (/2) | 1 |
| Quality of the watch box (/1) | 0.5 |
| Portability with shirtsleeves buttoned (/2) | 0 |
| Goodies included (/1) | 1 |
| Understandability of the brochure (/1) | 1 |
| Value for money (/15) | 13 |
| When to wear it ? | To time cooking noodles on board a submarine! |
Users opinion
76%
like this watch
A watch with real personality
While many diver's watches use the same old formulas and end up looking identical to each other, Bell & Ross has successfully gotten off the beaten path with its BR02.
The shape of the case is reminiscent of those for the Space 3 – one of Bell & Ross' first models, one that was incidentally also reviewed by The Watch Observer.
Thanks to its curves, the case makes the watch look sturdy without appearing too heavy or large on the wrist.
The BR02 is quite a particular watch: the design for its dial and hands uses the same aeronautical style which inspired the BR01, and they in fact look as if they came straight from a fighter plane's instrument panel…
This impression is further reinforced by the mat PVD version of the watch – a steel version of this model (the BR02 Steel) is also available, with a three-hand configuration also reviewed by The Watch Observer.
Another distinctive feature of this watch is its rotating internal bezel, giving the case a completely smooth appearance.
With most other brand names having progressively moved away from this type of concept, it's interesting to find it here as part of a diver's watch with a modern design.
The pros and cons of this system in a diving situation will mostly be according to each individual's personal preferences and habits.
But we should nevertheless acknowledge that the design is rather well executed.
A watch that oozes sturdiness
Like the chronograph's push-buttons, the bezel is a joy to handle. The large diameter screwed-in caps are very easy to grab thanks to their rubber coating.
The threading is precise, and the assembly gives no sign of any play in it.
Altogether, the piece conveys a real sense of sturdiness.
One small criticism, though: the internal bezel is unidirectional.
While this safety mechanism is necessary for external bezels, the idea being to not be able to inadvertently "shorten" the indicated diving time with a wrong movement, it is however totally redundant with an internal bezel whose main purpose is to prevent such accidental manipulations!
The BR02s with a three-hand configuration are normally water-resistant up to a 1,000 meters.
As for it, the BR02-94 Carbon model reviewed for you today has a water-resistance limited to 500 meters because of the presence of the push-buttons on its chronograph.
This level of water-resistance is still more than sufficient, and it remains superior to many of its competitors' models that are also equipped with a chronograph.
Purists will say that it's not essential to add a chronograph on a diver's watch.
In this particular case, the push-buttons cannot be used underwater, and they unnecessarily crowd the dial…
But Bell & Ross offer both versions, and each is free to choose what's most important to them: the diving features or cooking noodles.
Daily use
The watch feels comfortable on the wrist, with its weight and thickness being quite reasonable for an "extreme" diver's watch.
The rubber strap has a particular shape designed to fit well with the lugless case.
It is nicely curved and fits the wrist well.
However, it is a little too stiff to be perfectly comfortable.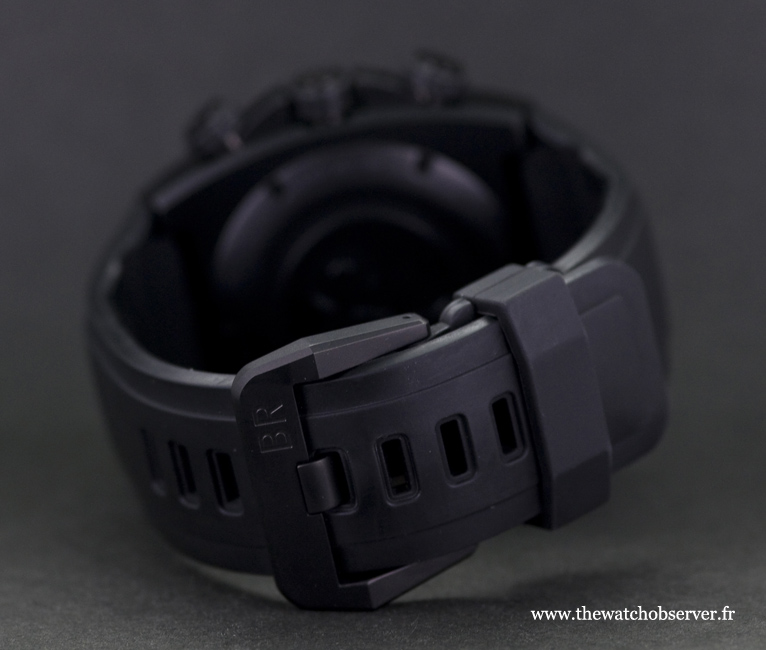 Good news, though: Bell & Ross will deliver this BR02-94 Carbon with a second strap, this one made of nylon, which turns out to be a more comfortable option.
Its readability is excellent, day or night, even with its dial equipped with a chronograph.
Movement
While the three-hand version of the BR02 is equipped with a Sellita SW200 movement, the BR02-94 Carbon has a tried-and-tested ETA 2894.
It is solid and reliable, and will do its job.
One small inconvenience: the chronograph is hard to activate.
What to remember
With this BR02-94 Carbon, Bell & Ross offer us a seductive diver's watch: its well-executed design (usually a strong point with Bell & Ross) in the "instrumental" genre gives this watch a true personality.
Available in different versions (case's finish, dials, complications, etc.), the BR02 will fit everybody's tastes.
Related Bell & Ross articles
THE MOST SOUGHT-AFTER WATCH TYPES
THE MOST SOUGHT-AFTER BRANDS