Straight to the Point
Ralf Tech WRX City Explorer C
Ref.: WRX CTE BAC
$3,450.00
US retail price July 9th, 2010
Pros
strengthened design and strong personality
independent little brand
watch delivered with two straps
Cons
perfectible finishing
a little high price
to be reserved to strong wrists
Brand
Ralf Tech
Model name

WRX City Explorer C

Reference

WRX CTE BAC

Case material

Steel

Case diameter (without crown)

47,5 mm

Case diameter (crown included)

52 mm

Movement type

Automatic

Caliber

RTAC 001

Base Caliber

ETA 7750

Functions

Chronograph

Date

Day

Hour

Minute

Second

Crystal

Single-face crystal with anti-reflective coating

Power reserve

46h

Transparent back

No

Lug width

26 mm

Length from lug to lug

56 mm

Case thickness

18 mm

Strap material

Alligator

Clasp type

Pin buckle

Clasp material

Steel

Total weight

197 grammes

Retail price USA at July 9th, 2010

$3,450.00
| | |
| --- | --- |
| Comfort (/15) | 11 |
| Movement (/20) | 7.5 |
| Movement Optimisation / Garnishment (/5) | 0 |
| Ease of handling and adjustment (/5) | 3.5 |
| Movement control proceeded by the Manufacture / horlogical awards (/3) | 1 |
| Power reserve (/2) | 1 |
| Complications (/5) | 2 |
| Finishing (/20) | 12 |
| Dial finishing (/6) | 4 |
| Case finishing (/6) | 3 |
| Quality of garnishment / caseback engraving quality (/2) | 1 |
| Crystal quality (/4) | 3 |
| Clasp finishing (inner and extern) (/2) | 1 |
| Functionality (/20) | 16.5 |
| Diurnal legibility (/5) | 4.5 |
| Night legibility (/4) | 3 |
| Water resistance (/3) | 2 |
| Strap : ease of size adjustment + ease of substitution (/4) | 3 |
| Clasp : quality and safety (/4) | 4 |
| Additional items (/10) | 5 |
| Limited edition (/3) | 2 |
| Watch delivered with several straps (/2) | 1 |
| Quality of the watch box (/1) | 1 |
| Portability with shirtsleeves buttoned (/2) | 0 |
| Goodies included (/1) | 0 |
| Understandability of the brochure (/1) | 1 |
| Value for money (/15) | 11 |
| When to wear it ? | While driving your amphibious 4x4 ! |
Users opinion
69%
like this watch
Ralf Tech is a new young brand revealed to the general public in 2008.
Its founder, Frank Huyghe, has resold his diving equipment company in order to thrust himself into the watch making adventure and create his own watch brand.
World record holder of depth of diving (-330 m) with Pascal Bernabé, Ralf Tech is a brand to be discovered.
A solid construction…
First claim from Ralf Tech : the systematic test of the dive watches in real conditions.
They go through hyperbaric box beam at the indicated depth in order to check their waterproofness.
A substantial precaution when a lot of brands content themselves with theoretical resistance.
With a casing equipped with double 47.5 mm diameter seals and a 5.9 mm thick sapphire, this Ralph Tech seems well carved to face several outings to the sea.
The global finishing is correct but could have been improved, in particular for the dial, a bit rough.
… combined to a strong personality
It is obvious that the Ralf Tech WRX is not a "shy" watch : it immediately stands out !
It is nice to notice that, even if evident inspirations from the competition are found (hands and cushion shape casing of Panerai type, "Méga Tapisserie" motif of the dial from Audemars Piguet, for the most obvious…), the WRX has a peculiar and endearing personality.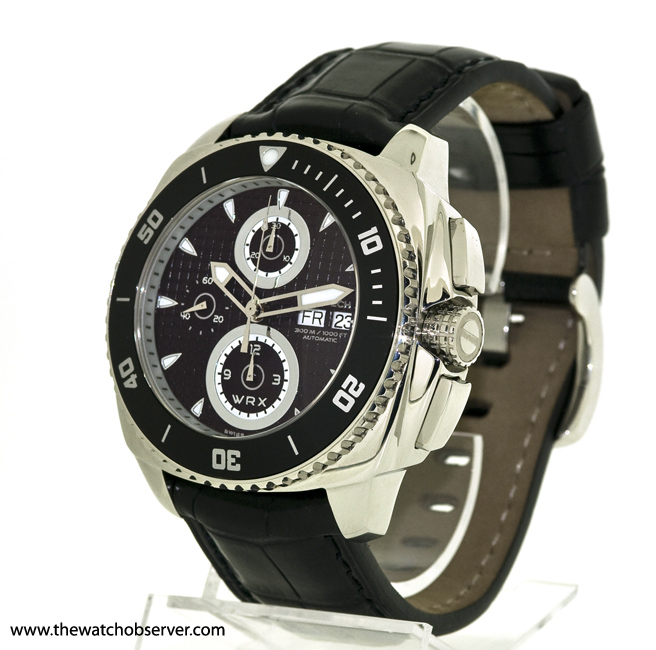 A dive watch… that reminds of the automobile world
Paradoxically, although the brand's discourse and its founder experience are really diving directed, this WRX rather reminds of the automobile world.
First with its name !
WRX City Explorer C, it sounds more like a trendy ATV than a diving tool, right?
But the comparison does not stop there : as the super powerful American "muscle cars" but at the end not really adapted to a sport driving, the WRX City Explorer C seems indestructible but will be more comfortable in the urban exploration than in the sub-marine one : the readability is average, nightly and daily.
As for the chrono, it is certainly more present for the look than to improve the performance : simply because it cannot be used under water and its doubtful graduation does not match the movement's frequency.
The hands stopping between the markers cannot allow an accurate measure of the time of cooking of the pastas, once back on dry land…
What to remember
Let's be clear : despite its 300 m waterproofness, the Ralf Tech WRX City Explorer C is not a watch thought for diving.
Nevertheless, its strong personality combined with a pleasant design produce an interesting alternative for someone who is looking for a different and endearing watch.
Only the price seems a bit ambitious on this chrono version…
The 3-hand models offer the same looks for a more reasonable price.
THE MOST SOUGHT-AFTER WATCH TYPES
THE MOST SOUGHT-AFTER BRANDS