Straight to the Point
Panerai Luminor Submersible 1950 3 Days Automatic 47mm PAM 305
Ref.: PAM 305
$6,600.00
US retail price June 9th, 2011
Pros
a very functional diving watch
high-quality finish
a manufactured caliber
great value for the money
Cons
a heavy watch despite the titanium
water-resistance "limited" to 300 meters
a watch that lacks versatility
a watch that attracts attention and doesn't go unnoticed
Brand
Panerai
Model name

Luminor Submersible 1950 3 Days Automatic 47mm PAM 305

Reference

PAM 305

Case material

Titanium

Case diameter (without crown)

47 mm

Case diameter (crown included)

54.68 mm

Movement type

Automatic

Caliber

P.9000

Base Caliber

Manufacture

Functions

Date

Hour (GMT setting)

Minute

Second

Crystal

Sapphire with anti-reflective coating 4mm thick

Power reserve

72h

Transparent back

Yes

Lug width

25.12 mm

Length from lug to lug

56.80 mm

Case thickness

17.40 mm

Clasp type

Pin buckle

Clasp material

Titanium

Total weight

153 grams

Retail price USA at June 9th, 2011

$6,600.00
| | |
| --- | --- |
| Comfort (/15) | 14 |
| Movement (/20) | 11 |
| Movement Optimisation / Garnishment (/5) | 3.5 |
| Ease of handling and adjustment (/5) | 4 |
| Movement control proceeded by the Manufacture / horlogical awards (/3) | 1 |
| Power reserve (/2) | 1.5 |
| Complications (/5) | 1 |
| Finishing (/20) | 16 |
| Dial finishing (/6) | 4.5 |
| Case finishing (/6) | 5 |
| Quality of garnishment / caseback engraving quality (/2) | 1.5 |
| Crystal quality (/4) | 4 |
| Clasp finishing (inner and extern) (/2) | 1 |
| Functionality (/20) | 19 |
| Diurnal legibility (/5) | 5 |
| Night legibility (/4) | 4 |
| Water resistance (/3) | 2 |
| Strap : ease of size adjustment + ease of substitution (/4) | 4 |
| Clasp : quality and safety (/4) | 4 |
| Additional items (/10) | 4 |
| Limited edition (/3) | 0 |
| Watch delivered with several straps (/2) | 1 |
| Quality of the watch box (/1) | 1 |
| Portability with shirtsleeves buttoned (/2) | 0 |
| Goodies included (/1) | 1 |
| Understandability of the brochure (/1) | 1 |
| Value for money (/15) | 13 |
| When to wear it ? | For a ride on board the Nautilus submarine! |
Users opinion
76%
like this watch
Panerai PAM 305: a pure design
The secret of Panerai's success is "simplicity".
The Firenze company creates dive watches that have an original design and are easily recognizable amongst others, endowed with a strong personality, while also remaining faithful to its past historical models.
Thus, the lines of the 47mm Luminor Submersible are quite peculiar, almost like a mix between a Radiomir and a Marina!
The result is a case with lines that are simultaneously virile and soft, vintage and modern, elegant and sporty.
In this way, Panerai succeeds yet once again in juggling both the extremes and the contradictions.
For example, the 47mm case may seem, on paper, difficult to wear for the average person.
But nothing could be further from the truth!
Indeed, while the large size of this Submersible hardly goes unnoticed, it still manages to not look out of proportion on an average-sized wrist (17.5cm), and it even turns out to be very comfortable for everyday wear.
The recipe is simple: a watch case with a shape that renders the lines more fluid, and lugs that allow the bracelet to fit nicely on the wrist.
Moreover, this sense of comfort is further increased by the use of titanium, with a gorgeous satin finish.
A stripped-down dial for the Panerai PAM 305
This watch's design is reminiscent of a genuine tool watch of which we ask only the bare minimum, which Panerai achieves perfectly with this concern for minimalism and efficiency.
The dial, with its completely stripped-down look, is a clear example of this.
Only four short lines of text appear on it, along with hourmarkers set-up in 5-minute increments, as well as a date and small seconds displays.
It doesn't look bare, however.
On the contrary, this dial has been given a "depth" that is consistent with the underwater purpose of the watch…
THE MOST SOUGHT-AFTER WATCH TYPES
A functional dive watch
The Luminor 1950 Submersible 47mm follows this calling to the letter, dictated by a deep concern for optimal functionality – this Panerai complies by the way with the ISO 6425 – diver's watches international standard.
Among the benefits offered, we find in particular the famous device protecting the crown, so emblematic of Panerai.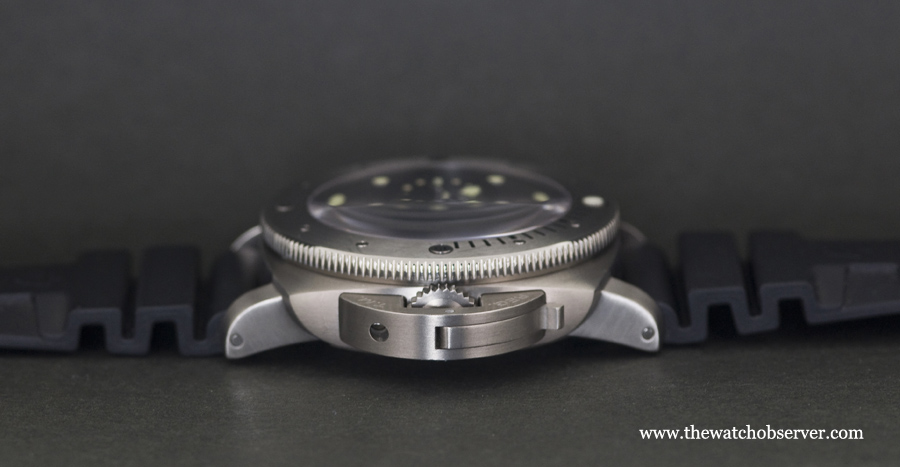 One can also enjoy its exceptional readability, in both daylight and night time, despite the hands that, at first glance, seem a little small.
In the absence of the ability to go on a dive in the Caribbean Sea, a test performed in a bathtub with very little light showed results that were more than satisfactory.
You will also enjoy its water resistance, advertised at 300 meters, and tested at 375 meters – it's a pity that the watch doesn't symbolically display a greater depth!
Finally, you will enjoy its large bezel, easily handled while wearing diving gloves, and with firm and precise notching.
In other words, you will be able to take your Panerai to abyssal depths without any worries.
A small but noticeable bonus: the watch comes with two straps, and its quick-release system allows you to easily alternate between the rubber one when going for drinks on the beach, and the special deep-sea diving strap when going under water.
It's clever, and very easy to do by oneself.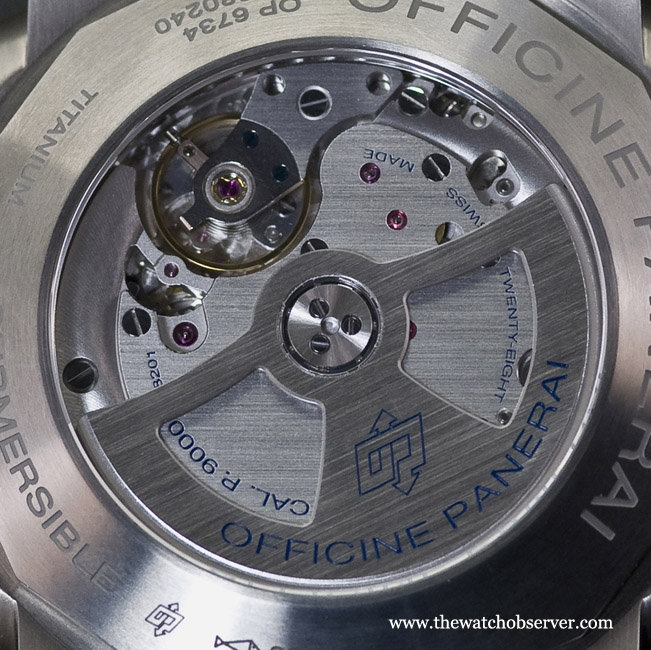 Still, despite its two straps, this Panerai lacks versatility.
Its use is still limited to underwater activities and, while on solid ground, it can only be appropriately worn with a casual outfit.
Movement: caliber P.9000
In the caliber department, this self-winding watch will not disappoint you either.
The see-through bottom allows you to get a glimpse of the P.9000, a manufactured caliber with a very technical look.
Its finishes are almost cold and industrial-looking.
However, the concept is of the highest level, with a three-day power reserve, thanks to its two barrels, and an adjustment mechanism independent of the hour hand: a real delight!
What to remember
Panerai doesn't build uncontroversial watches.
But if you appreciate high-testosterone pieces and are looking for a watch for your summer underwater activities and nocturnal outings, then the Firenze company delivers here the ideal model with this Luminor Submersible 1950 3 Days Automatic 47mm (PAM 305).
THE MOST SOUGHT-AFTER BRANDS