Straight to the Point
Longines Legend Diver
Ref.: L3.674.4.56.3
$1,450.00
US retail price December 27th, 2010
Pros
a reissue faithful to the 60's models
a genuine diving watch, waterproof up to 300m
exceptional value for the money
Cons
strap not a good fit with the overall spirit of the watch
poor nighttime readability
Brand
Longines
Model name

Legend Diver

Reference

L3.674.4.56.3

Case material

Steel

Case diameter (without crown)

42 mm

Case diameter (crown included)

45,65 mm

Movement type

Automatic

Caliber

L633

Base Caliber

ETA 2824-2

Functions

Hour

Minute

Second

Crystal

Domed-crystal glass with anti-reflective coating

Power reserve

38h

Transparent back

No

Lug width

21,96 mm

Length from lug to lug

52,48 mm

Case thickness

13,88 mm

Strap material

Nylon

Clasp type

Pin buckle

Clasp material

Steel

Total weight

87 grams

Retail price USA at December 27th, 2010

$1,450.00
| | |
| --- | --- |
| Comfort (/15) | 15 |
| Movement (/20) | 6 |
| Movement Optimisation / Garnishment (/5) | 1 |
| Ease of handling and adjustment (/5) | 5 |
| Movement control proceeded by the Manufacture / horlogical awards (/3) | 0 |
| Power reserve (/2) | 0 |
| Complications (/5) | 0 |
| Finishing (/20) | 14 |
| Dial finishing (/6) | 4 |
| Case finishing (/6) | 3 |
| Quality of garnishment / caseback engraving quality (/2) | 1 |
| Crystal quality (/4) | 4 |
| Clasp finishing (inner and extern) (/2) | 2 |
| Functionality (/20) | 13 |
| Diurnal legibility (/5) | 4 |
| Night legibility (/4) | 1 |
| Water resistance (/3) | 2 |
| Strap : ease of size adjustment + ease of substitution (/4) | 3 |
| Clasp : quality and safety (/4) | 3 |
| Additional items (/10) | 4 |
| Limited edition (/3) | 0 |
| Watch delivered with several straps (/2) | 0 |
| Quality of the watch box (/1) | 1 |
| Portability with shirtsleeves buttoned (/2) | 1 |
| Goodies included (/1) | 1 |
| Understandability of the brochure (/1) | 1 |
| Value for money (/15) | 15 |
| When to wear it ? | At a lifeguard meeting! |
Users opinion
77%
like this watch
Foreward
A leading brand in the 30's through the 50's, Longines, after its integration with Swatch Group, went through a "floating" period when it was trying to become a mass market watch.
In particular with models that, while high in quality, lacked personality.
The introduction of the "Sports Legends" line, designed to revive Longines' legendary models from its golden age, was a great surprise for lovers of watchmaking.
This Legend Diver model is one of the best example of this line.
A Well-Conceived Concept
The Legend Diver's case is an exact replica of its older sister's from the 60's.
Like many dive watches from that period, the case has a rotating internal bezel and two screwed-in crowns.
The whole concept of this Longines has been conceived down to the upmost details: the case's polished finish is well executed; the screwed back has a nice engraving on it, and the crowns are striated and thus easy to manipulate.
Nicely done!
Furthermore, the "vintage" drawing of the case, with its long lugs, provides noticeable personality, despite a reasonable 42 mm diameter. Thanks to its reasonable weight of 87 grams, the Legend Diver proves to be very comfortable once put on.
A Beautiful Domed Sapphire Crystal
The main strong point of this watch is its anti-reflective sapphire glass which reclaims the "domed" form of the plexiglass design of yore, and gives coherence to the watch as a whole.
We should note that such sapphires are quite expensive to manufacture: thus, certain reputable brands don't hesitate to use them exclusively on its most expensive models.
The lacquered dial is also conform to the older model, with particular attention paid to the markers, with an eggshell color similar to the one a 40-year old tritium dial would have today…
A real delight for the knowledgeable connoisseur!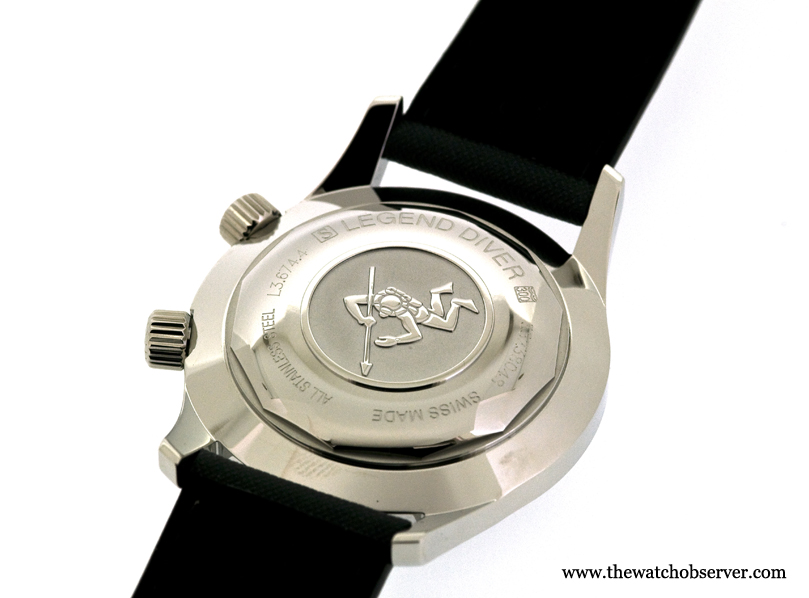 THE MOST SOUGHT-AFTER WATCH TYPES
Vintage from the 21st Century
But don't be fooled by its vintage appearance!
Waterproof up to 300 meters, it's a genuine diving watch, totally suitable for diving.
Here again, the Longines Legend Diver surpasses numerous competitors satisfied with a basic waterproofness for their vintage lines.
Finally, the old fashion charm of this reissue gives it certain polyvalence in its usage. While very at ease with casual wear, it will not shock anyone when worn with a formal suit.
Only downside: its nylon strap.
While well-executed esthetically, it doesn't really historically fit with the rest of the watch.
However, it can be favorably and easily be substituted with a NATO or a Tropic rubber strap for less than 50 Euros.
Overall, nothing crippling.
Let's finish with a detail that is nonetheless important to the connoisseur: the jewelry box, or presentation-case.
On the whole, Longines did not cut corners to set this line apart from the rest of its production: the case that comes with the Legend Diver is made out of wood and leather, and greatly complements the watch.
Unheard of for this price range!
What to remember
The Legend Diver is a self-winding watch that will seduce the knowledgeable connoisseurs that appreciate its vintage charm along with its modern capabilities.
For less than 1,500 Euros, it is simply an amazing deal: there are very few alternatives that provide a similar "historical legitimacy" and such meticulous production quality in this price range.
Related Longines articles
THE MOST SOUGHT-AFTER BRANDS