Rolex 2020 novelties: what's new on the Submariner?
Today, I invite you to discover my live pictures and my thoughts about the new Rolex Submariner 2020.
I propose you to start by highlighting the evolutions displayed, nonchalantly (the expression is not chosen by chance), by these new Sub Date and Sub No Date.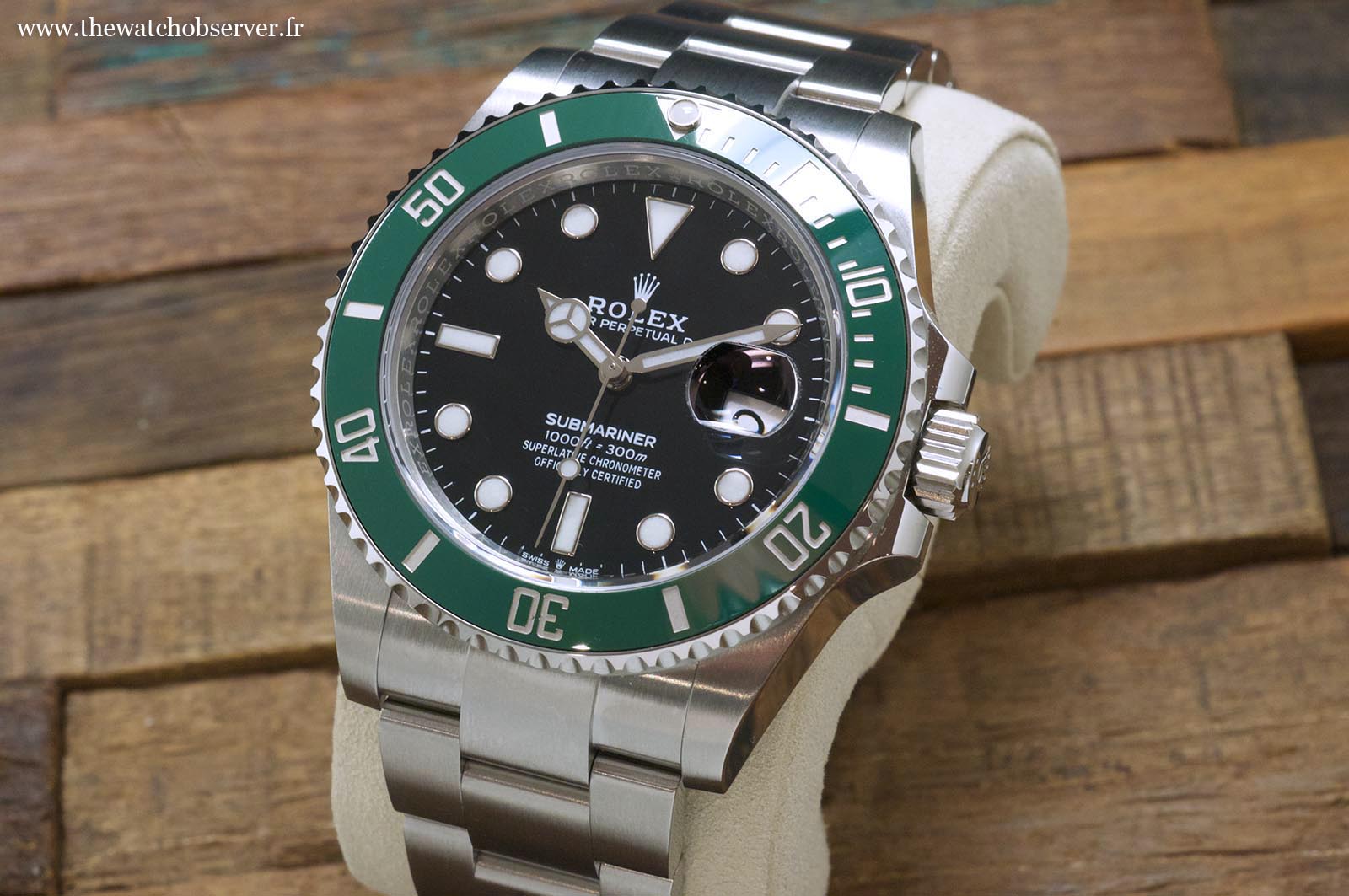 Rolex has introduced eight new references of its iconic dive watch into its catalog in 2020 – and not five as the information transmitted last night by the Geneva-based manufacturer would have us believe: a Submariner without date (ref. 124060), two Sub Date steel (ref. 126610LN black bezel and 126610LV green bezel), two Sub Date steel and yellow gold (ref. 126613LB blue bezel and dial and 126613LN black bezel and dial), two Sub Date yellow gold (ref. 126618LB blue bezel and dial and ref. 126618LN black bezel and dial) and one Sub Date white gold (ref. 126619LB).
Rolex has reworked to start the case of its models.
The diameter increases compared to the 40 millimeters of the previous generation to flirt with a diameter that Rolex rounds in its communication to 41 millimeters but which, according to this morning's press conference, is very slightly lower.
The case of this new Rolex Submariner 2020 has also been redesigned and features thinner lugs than on the previous generation and a less massive crown guard.
On the other hand, this new Rolex 2020 model features the now classic unidirectional rotating bezel with a Cerachrom insert whose color varies according to the model but whose numbers and graduations are, all references combined, made of platinum by PVD deposit.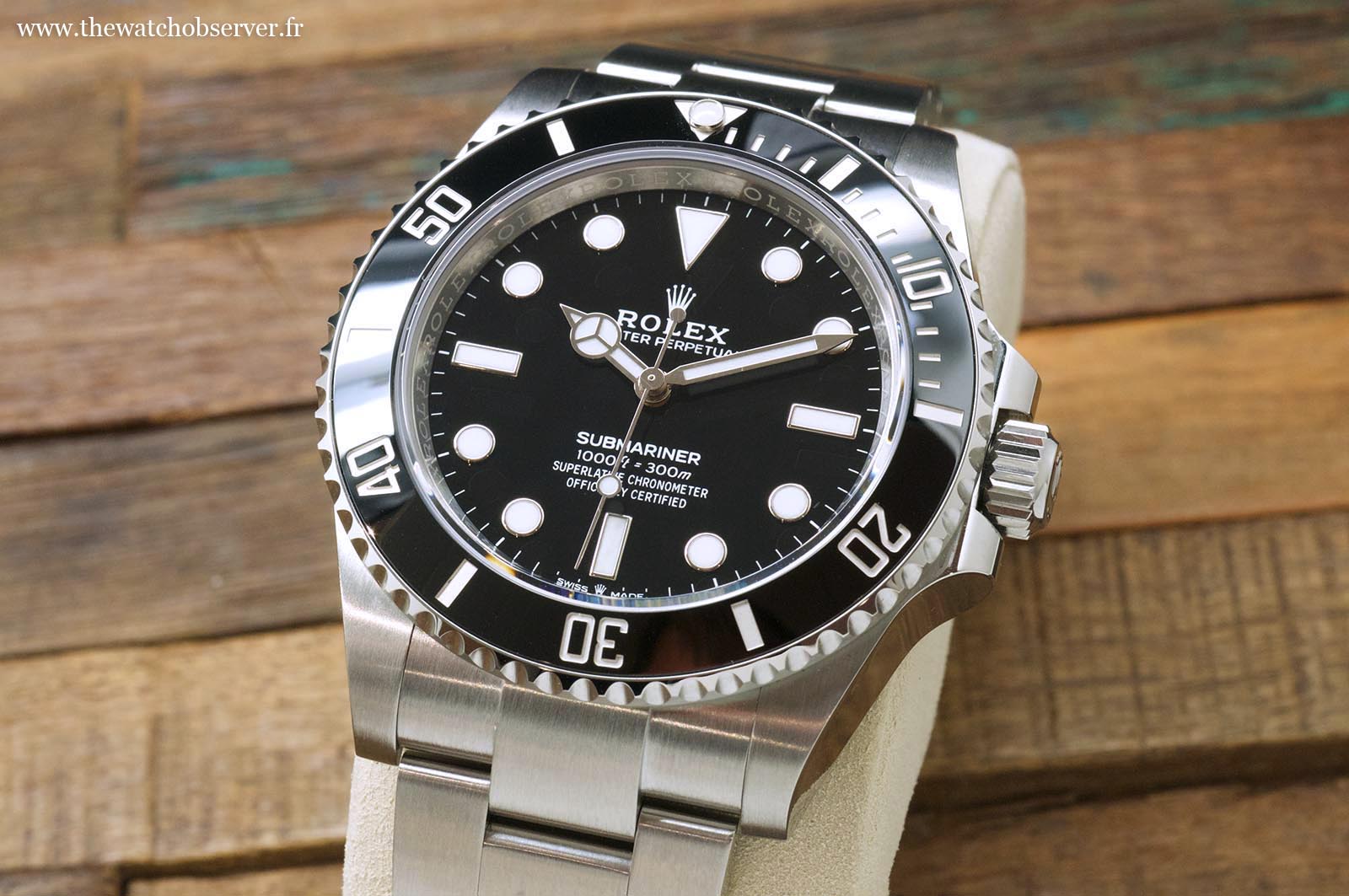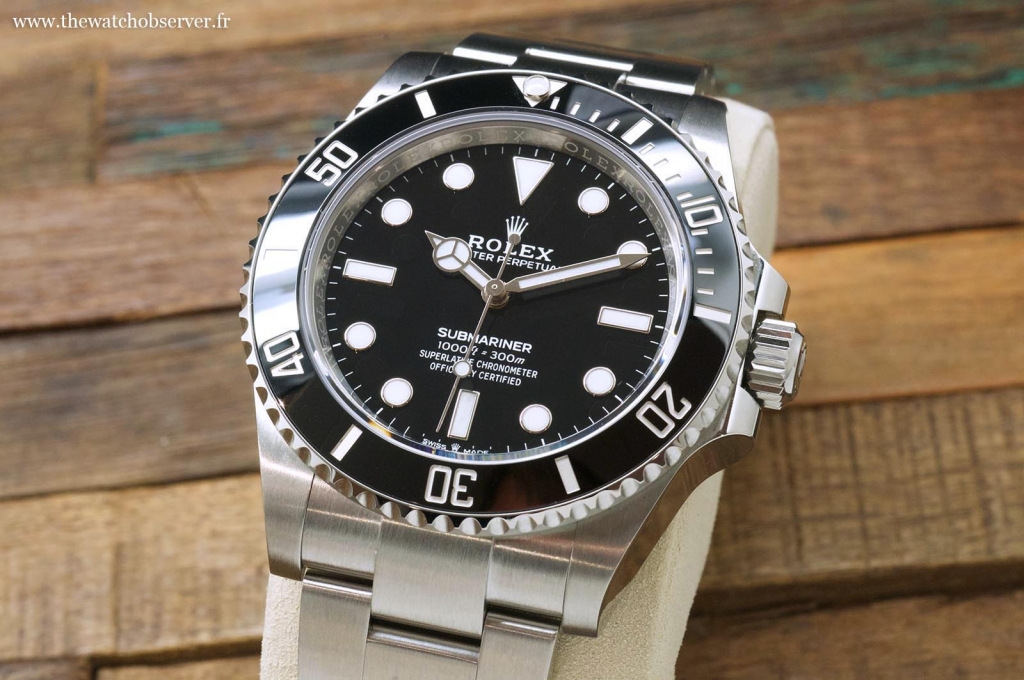 Goods news: those new Rolex watches benefit a sapphire glass with anti-reflective coating…
A kind of revolution as far as Rolex is concerned! More about it here: Rolex and anti-reflective crystals: a revolution at work?
The dials remain unchanged.
The proportions of the Oyster bracelet have been revisited even if it remains made of three flat satin links.
It is also closed, as on the previous generation, with a safety clasp Oysterlock with folding buckle with Glidelock extension system.
The biggest evolution is to be found on the movement side of these new automatic watches.
Indeed, Rolex first of all powers the Submariner No Date 124060 with its brand new caliber 3230 and the Submariner Date with its caliber 3235, which has been in use for several years now.
On both of them, you will find a Chronergy escapement, an optimized version of the blue Parachrom balance spring, an oscillator mounted on high-performance Paraflex shock absorbers or an automatic winding by Perpetual rotor.
All certified Superlative Chronometer and guaranteed 5 years, these latest generations of Sub offer a power reserve of approximately 70 hours.
To be continued below…
THE MOST SOUGHT-AFTER BRANDS
Rolex Submariner 2020: my thoughts
Rolex takes no risks with its iconic diver's watch by offering us subtle evolutions that are not revolutionary – a modus operandi that is not new at Rolex and that some regularly point the finger at by denouncing the watchmaker's lack of creativity.
Forgetting for instance the launch of the revolutionary Sky-Dweller.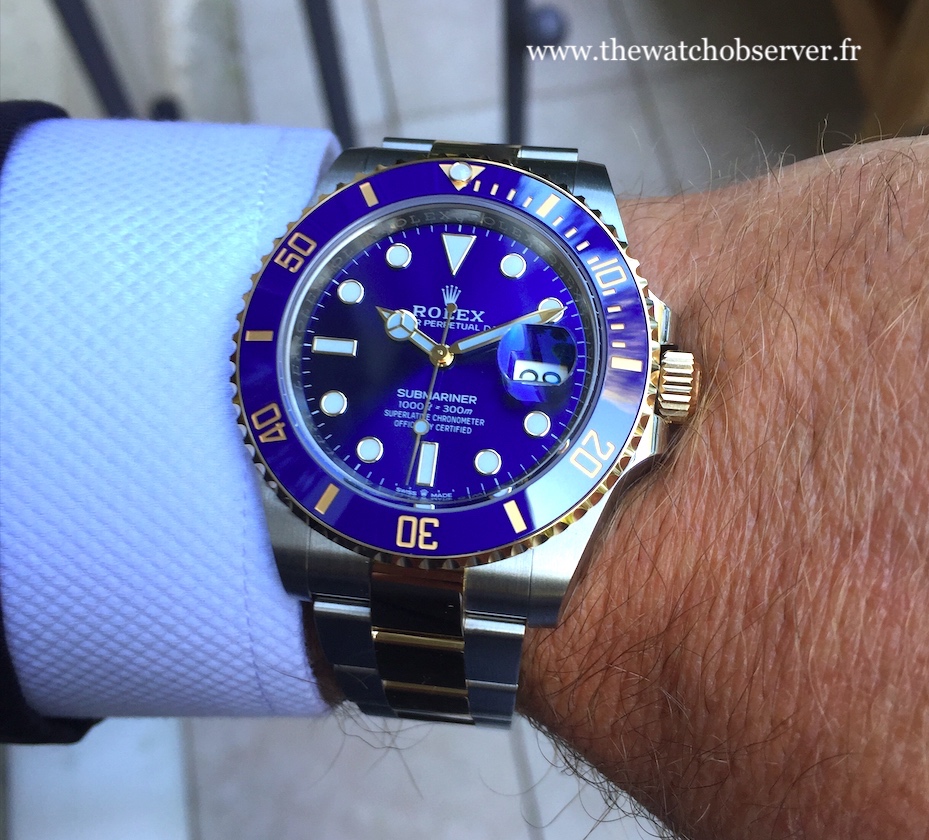 But let's come back to these new Submariner!
Those who are worried about the change from 40 to 41mm should remain calm: this change is imperceptible on the wrist especially since it is not a complete millimeter according to the brand – however, I cannot personally make sure of this because I did not include my electronic calliper in my school kit!
As for the thickness, it has been slightly reduced according to Rolex – but here again, I can't be sure for the same reason.
What I can tell you, however, is that visually, these new Submariner seem less imposing, less bold on the wrist than their direct predecessors.
And that's a good thing in my opinion – even if this case displays as always a very / too basic construction, Grand Seiko being in a close (and often even lower) price range, but several notches above in terms of case manufacturing in particular.
What should also be remembered is that the Rolex collections are slowly but surely moving upmarket, and the integration of the 3230 and 3235 calibers is there to confirm it.
It is therefore entirely legitimate, given its prestigious history in this field, that Rolex's communication around the launch of these Submariner 41s is built around the world of diving.
On the other hand, it is indisputable that, as the collections progress, the toolwatch side of the collection is being eclipsed in favor of a luxurious dimension that some would describe as a salon diver – with functionality that is nonetheless irreproachable!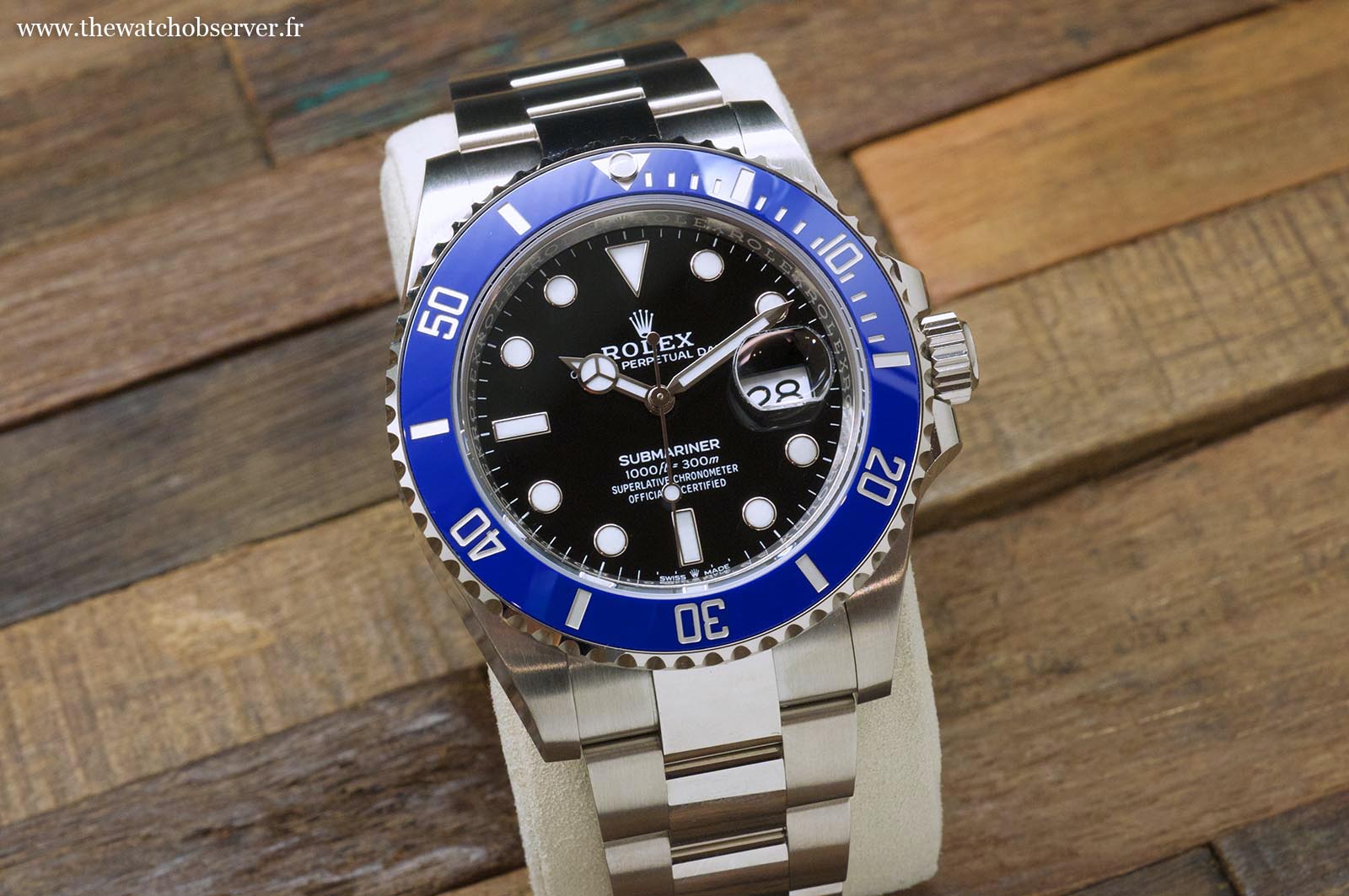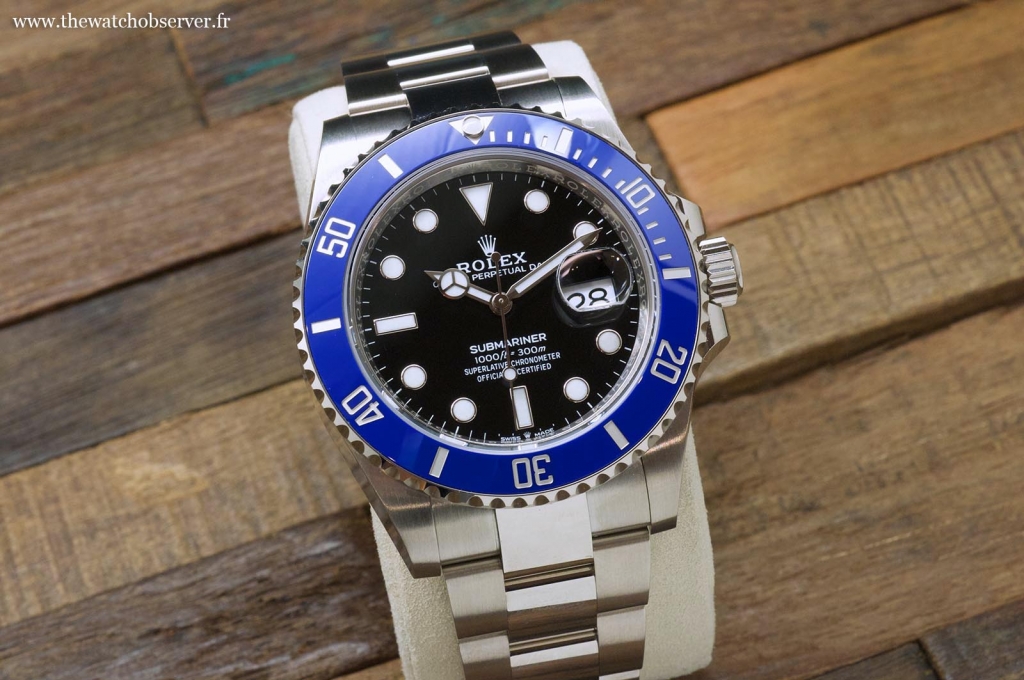 Finally, on the price side, these Rolex Submariner and Submariner Date 2020 display a price only 200 € higher than those of their elders.
It should nevertheless be recalled, for a complete view, that the latter have increased (around +9%) on February 1st, 2020.
And this without the slightest evolution.
All this being said, what to think about it?
I personally remain a fan of the Rolex Submariner 16610 whose proportions and toolwatch / luxury watch balance remain perfect for me.
However, it has long since disappeared from the Rolex catalog.
But unlike the 16610, this new generation of Submariner has, in addition to its iconic dimension, a serious argument: its ultra robust and accurate movement.
In short, and even if I have no doubt whatsoever about its commercial success, I am no more excited about these Sub 41s than I am about the new Oyster Perpetuals unveiled simultaneously by Rolex this morning, which I will tell you about very quickly.
So stay tuned!
Notice to fans: the first Rolex Submariner 41s are due to arrive in stores, with the gold versions arriving in October.
Technical data, Date of availability and Retail prices below…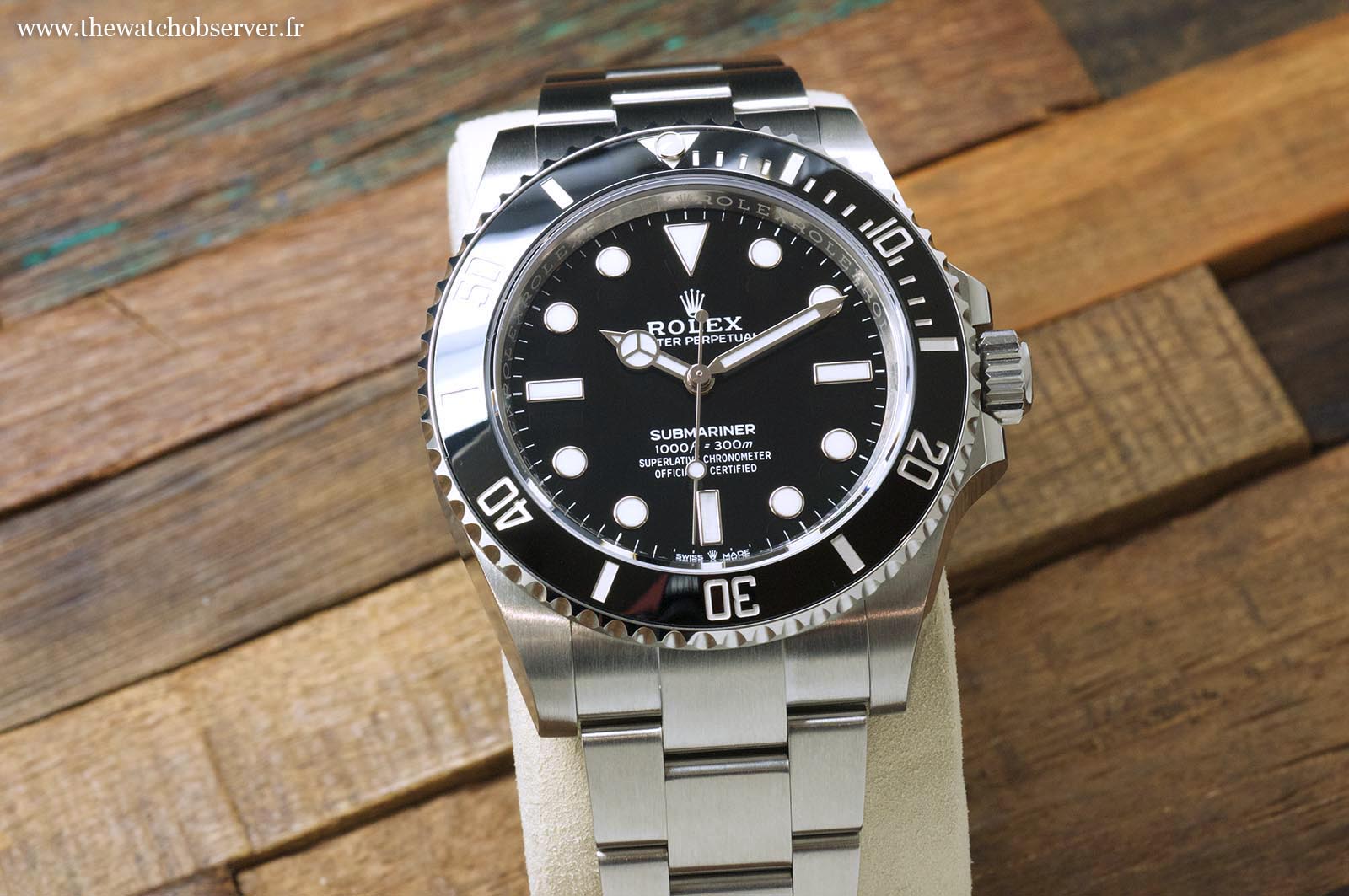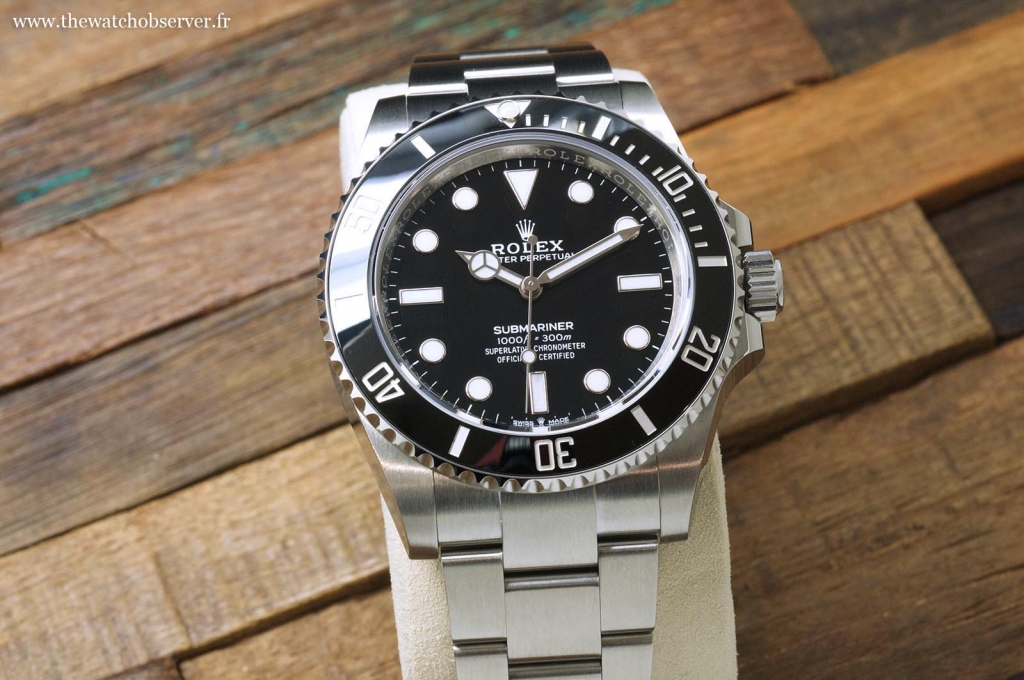 Rolex Submariner 41
Technical data, Date of availability and Retail prices
Rolex Submariner 41 No Date
– Ref.: 124060-0001
– Case: Oystersteel – 41mm Ø
– 60-minute graduated bi-directional rotating bezel with scratch-resistant ceramic Cerachrom disc with platinum numerals and graduations by PVD coating
– Screw-down crown with Twinlock double sealing system
– Scratch-resistant sapphire crystal
– Water-resistance: 300m
– Black dial – Highly readable Chromalight display with long-lasting blue luminescent material
– Caliber 3230, Manufacture Rolex, certified chronometer by the COSC: Accuracy = -2/+2 sec per day – Parachrom blue paramagnetic Spiral – Automatic bidirectional winding by Perpetual rotor – Power reserve = 70 hours
– Oyster bracelet with three wide and flat stitches
– Oysterlock safety clasp with Rolex Glidelock extension system
– Watch certified Superlative Chronometer and 5-year warranty
– Retail price = $8,100
Rolex Submariner Date 41 Black Bezel
– Ref.: 126610LN-0001
– Case: Oystersteel – 41mm Ø
– 60-minute graduated bi-directional rotating bezel with scratch-resistant ceramic Cerachrom disc with platinum numerals and graduations by PVD coating
– Screw-down crown with Twinlock double sealing system
– Scratch-resistant sapphire crystal, Cyclops magnifying glass on date
– Water-resistance: 300m
– Black dial – Highly readable Chromalight display with long-lasting blue luminescent material
– Caliber 3235, Manufacture Rolex, certified chronometer by the COSC: Accuracy = -2/+2 sec per day – Parachrom blue paramagnetic Spiral – Paraflex high performance shock absorbers – Automatic bidirectional winding by Perpetual rotor – Power reserve = 70 hours
– Oyster bracelet with three wide and flat stitches
– Oysterlock safety clasp with Rolex Glidelock extension system
– Watch certified Superlative Chronometer and 5-year warranty
– Retail price = $9,150
Rolex Submariner Date 41 Green Bezel 124060
– Ref.: 126610LV-0001
– Case : Oystersteel – 41mm Ø
– 60-minute graduated bi-directional rotating bezel with scratch-resistant ceramic Cerachrom disc with platinum numerals and graduations by PVD coating
– Screw-down crown with Twinlock double sealing system
– Scratch-resistant sapphire crystal, Cyclops magnifying glass on date
– Water resistance: 300m
– Black dial – Highly readable Chromalight display with long-lasting blue luminescent material
– Caliber 3235, Manufacture Rolex, certified chronometer by the COSC: Accuracy = -2/+2 sec per day – Parachrom blue paramagnetic Spiral – Paraflex high performance shock absorbers – Automatic bidirectional winding by Perpetual rotor – Power reserve = 70 hours
– Oyster bracelet with three wide and flat stitches
– Oysterlock safety clasp with Rolex Glidelock extension system
– Watch certified Superlative Chronometer and 5-year warranty
– Retail price = $9,550
Rolex Submariner Date 41 yellow gold and steel
– Ref.: 126613LB-0002
– Case: Oystersteel and yellow gold – 41mm Ø
– 60-minute graduated bi-directional rotating bezel with scratch-resistant ceramic Cerachrom disc with platinum numerals and graduations by PVD coating
– Screw-down crown with Twinlock double sealing system
– Scratch-resistant sapphire crystal, Cyclops magnifying glass on date
– Water resistance: 300m
– Black dial – Highly readable Chromalight display with long-lasting blue luminescent material
– Caliber 3235, Manufacture Rolex, certified chronometer by the COSC: Accuracy = -2/+2 sec per day – Parachrom blue paramagnetic Spiral – Paraflex high performance shock absorbers – Automatic bidirectional winding by Perpetual rotor – Power reserve = 70 hours
– Oyster bracelet with three wide and flat links in yellow Rolesor (combination of Oystersteel and 18ct yellow gold)
– Oysterlock safety clasp with Rolex Glidelock extension system
– Watch certified Superlative Chronometer and 5-year warranty
– Retail price = $14,300
Rolex Submariner Date 41 white gold
– Ref.: 126619LB-0003
– Case: white gold – 41mm Ø
– 60-minute graduated bi-directional rotating bezel with scratch-resistant blue ceramic Cerachrom disc with platinum numerals and graduations by PVD coating
– Screw-down crown with Twinlock double sealing system
– Scratch-resistant sapphire crystal, Cyclops magnifying glass on date
– Water resistance: 300m
– Black dial – Highly readable Chromalight display with long-lasting blue luminescent material
– Caliber 3235, Manufacture Rolex, certified chronometer by the COSC: Accuracy = -2/+2 sec per day – Parachrom blue paramagnetic Spiral – Paraflex high performance shock absorbers – Automatic bidirectional winding by Perpetual rotor – Power reserve = 70 hours
– Oyster bracelet with three wide and flat links in 18ct white gold
– Oysterlock safety clasp with Rolex Glidelock extension system
– Watch certified Superlative Chronometer and 5-year warranty
– Retail price = $39,650
Rolex Submariner Date 41 yellow gold
– Ref.: 126618LN-0002 (black bezel and dial) / 126618LB-0002 (blue bezel and dial)
– Case: yellow gold – 41mm Ø
– 60-minute graduated bi-directional rotating bezel with black OR blue scratch-resistant ceramic Cerachrom disc with numbers and graduations in platinum by PVD coating
– Screw-down crown with Twinlock double sealing system
– Scratch-resistant sapphire crystal, Cyclops magnifying glass on date
– Water resistance: 300m
– Black OR blue sunburst dial – Highly readable Chromalight display with long-lasting blue luminescent material
– Caliber 3235, Manufacture Rolex, certified chronometer by the COSC: Accuracy = -2/+2 sec per day – Parachrom blue paramagnetic Spiral – Paraflex high performance shock absorbers – Automatic bidirectional winding by Perpetual rotor – Power reserve = 70 hours
– Oyster bracelet with three wide and flat stitches in 18 ct yellow gold
– Oysterlock safety clasp with Rolex Glidelock extension system
– Watch certified Superlative Chronometer and 5-year warranty
– Retail price = $36,950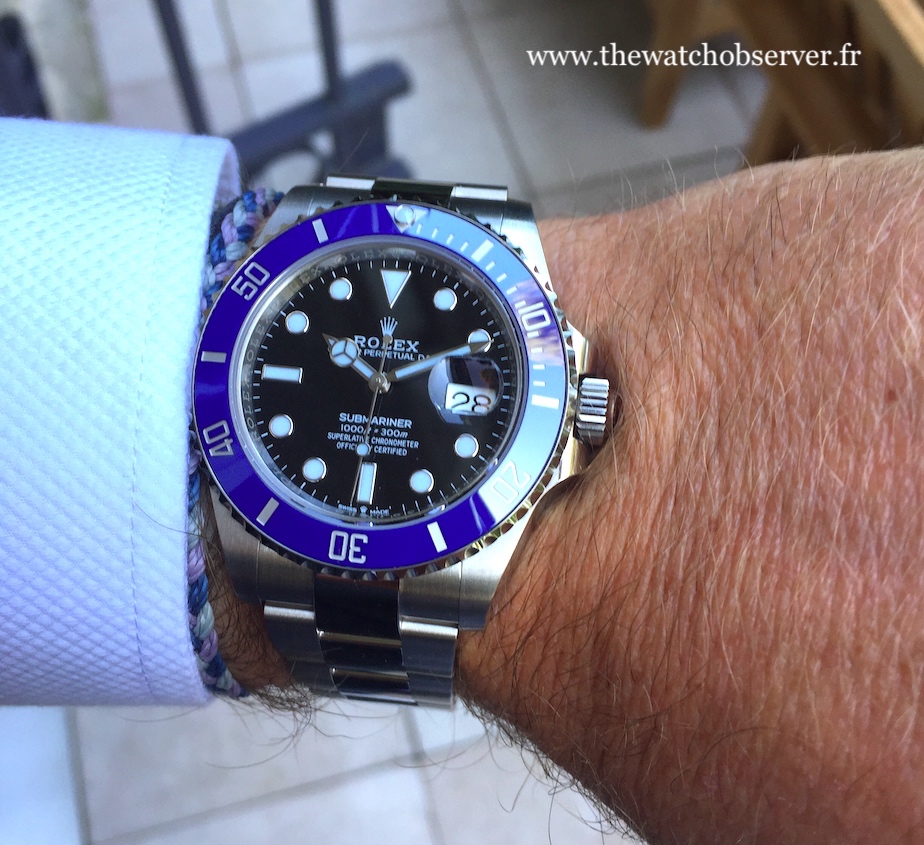 THE MOST SOUGHT-AFTER WATCH TYPES