Straight to the Point
Rolex Daytona white gold 116519LN Oysterflex strap
Ref.: 116519LN-0027
$29,700.00
US retail price February 17th, 2021
Pros
a mythical chronograph
a version of the Rolex Daytona that has never been so close to the spirit and aesthetics of the first references
the sportiest Daytona in the catalog
an irreproachable quality of realization
a very high degree of versatility
an innovative, resistant and comfortable strap
a reliable and robust chronograph movement
a guaranteed accuracy of -2/+2 sec. per day and, more generally, the Superlative Chronometer certification, which the model benefits from
a watch with a 5-year warranty
a watch that will not lose value on resale
Cons
the abundance of literature on the dial, characteristic of Rolex watches in general and Daytona watches in particular
a case which, apart from its emblematic screwed pushers, remains below the dial both in its shape and its treatments: virgin bottom, fully polished case…
a sapphire crystal that we would like to have anti-reflective coating on it
| | |
| --- | --- |
| Brand | Rolex |
| Model name | Cosmograph Daytona white gold 116519LN Oysterflex bracelet |
| Reference | 116519LN-0027 |
| Case material | White gold 18 carats |
| Case diameter (without crown) | 40 mm |
| Case diameter (crown included) | 42.80 mm |
| Movement type | Self winding |
| Caliber | Cal. Rolex 4130 |
| Base Caliber | Manufacture |
| Functions | Hour ; minute ; second ; chronograph |
| Crystal | Sapphire glass |
| Power reserve | 70h |
| Transparent back | No |
| Lug width | 20 mm |
| Length from lug to lug | 47.50 mm |
| Case thickness | 12.27 mm |
| Water resistance | 100 m |
| Strap material | Metallic blade overmolded with high performance black elastomer |
| Clasp type | Deployment clasp |
| Clasp material | White gold 18 carats |
| Total weight | 160 grams |
| Retail price USA at February 17th, 2021 | $29,700.00 |
| | |
| --- | --- |
| Comfort (/15) | 15 |
| Movement (/20) | 14.5 |
| Movement Optimisation / Garnishment (/5) | 4 |
| Ease of handling and adjustment (/5) | 5 |
| Movement control proceeded by the Manufacture / horlogical awards (/3) | 3 |
| Power reserve (/2) | 1.5 |
| Complications (/5) | 1 |
| Finishing (/20) | 14.5 |
| Dial finishing (/6) | 6 |
| Case finishing (/6) | 4.5 |
| Quality of garnishment / caseback engraving quality (/2) | 0 |
| Crystal quality (/4) | 2 |
| Clasp finishing (inner and extern) (/2) | 2 |
| Functionality (/20) | 17 |
| Diurnal legibility (/5) | 5 |
| Night legibility (/4) | 4 |
| Water resistance (/3) | 1 |
| Strap : ease of size adjustment + ease of substitution (/4) | 3 |
| Clasp : quality and safety (/4) | 4 |
| Additional items (/10) | 5 |
| Limited edition (/3) | 0 |
| Watch delivered with several straps (/2) | 0 |
| Quality of the watch box (/1) | 1 |
| Portability with shirtsleeves buttoned (/2) | 2 |
| Goodies included (/1) | 1 |
| Understandability of the brochure (/1) | 1 |
| Value for money (/15) | 15 |
| When to wear it ? | With a friend of yours waiting for a steel version! |
Users opinion
92%
like this watch
Rolex Daytona 116519LN: more iconic than ever before
In the age of smartphones and their alarm function, chronograph watches are (almost) useless in everyday life because they don't ring to warn you that the three minutes of your pasta cooking time have passed.
More prized by collectors and occasional buyers for their designs and for the part of the dream they potentially carry than for their real practical daily use, chronographs nevertheless still make men dream as much as ever.
Rolex, whose Cosmograph Daytona first appeared in 1963, knows this better than anyone.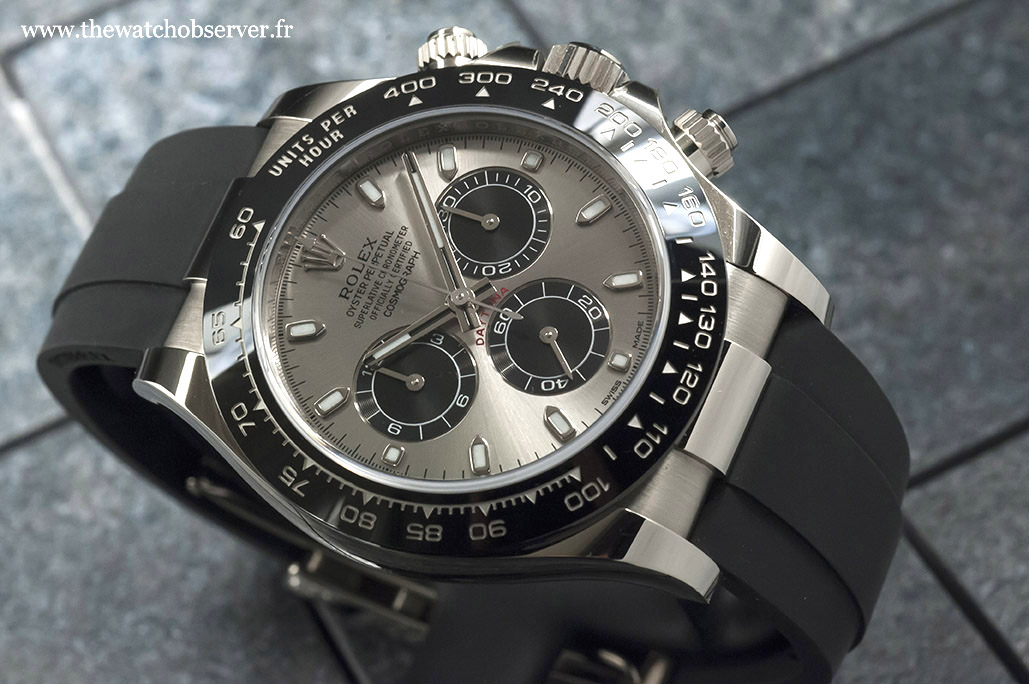 Indeed, this model, which takes its name from the Daytona International Speedway, a famous car racing circuit, has never since its launch ever left the Rolex catalog to the point of becoming the watchmaking grail for many collectors and reaching staggering amounts at various auctions.
The version with steel case and black ceramic bezel launched at Baselworld 2016 in particular is enjoying an ever-growing popularity – to be (re)discovered here: Review of the Rolex Daytona steel 116500LN – an enthusiasm that is not only due to the rarity of this reference…
At Basel 2017, Rolex created a surprise by unveiling new versions that can be described as revolutionary.
In fact, the brand with the crown simultaneously introduced three Daytonas with precious metal cases and elastomer straps to its catalog that year!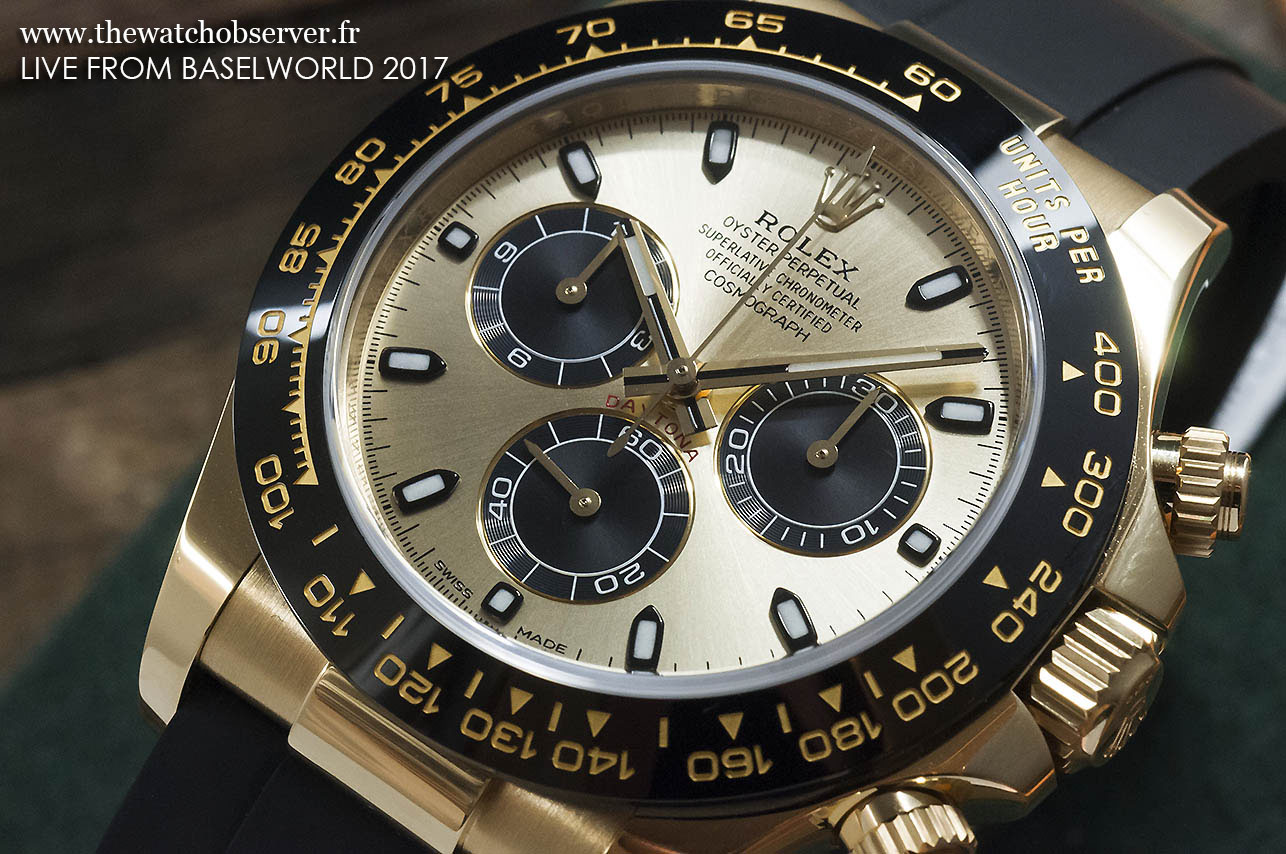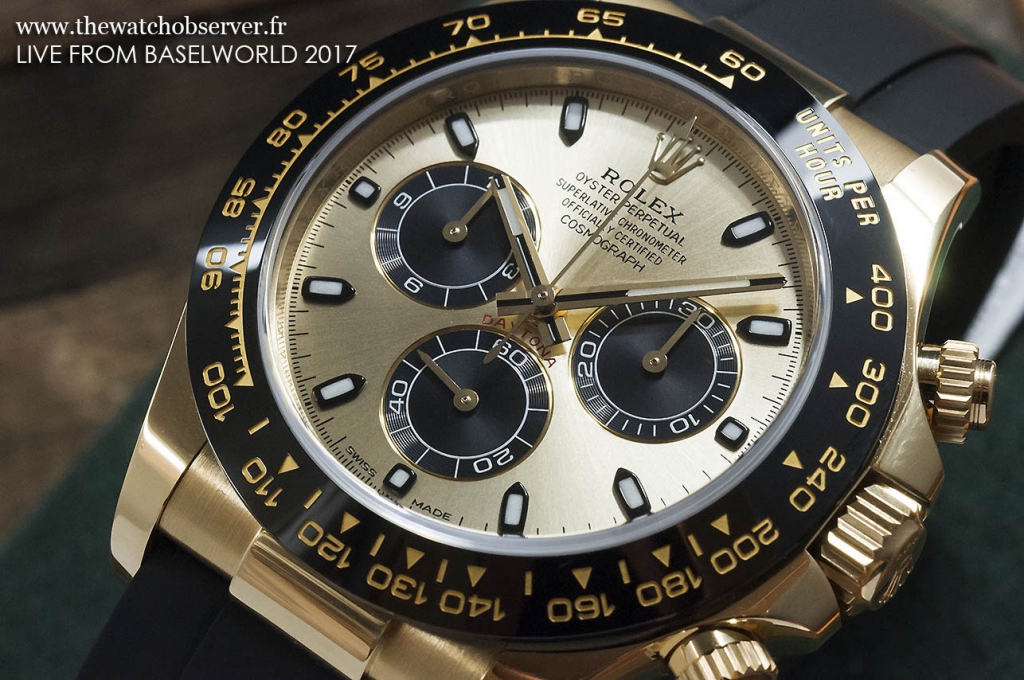 I propose to sift through the Cosmograph Daytona white gold bearing reference 116519LN-0027 by first exploring the watch itself before looking at its unexpected strap.
Aesthetically, the Rolex Daytona white gold on Oysterflex strap has the same seductive attributes as its steel elder.
Its case forged in 18-carat white gold from the Rolex foundries first of all displays measurements that are pleasing to most of us.
Both because they are reasonable (40mm in diameter for a thickness of 12.27mm) and because as such, they are suitable for all male wrists – even female wrists for women who love men's watches.
The Rolex Daytona 116519LN is also equipped with a screw-down winding crown sheltered by a classic crown guard from Rolex productions, itself framed on both sides by screw-down chronograph pushers.
To be continued below…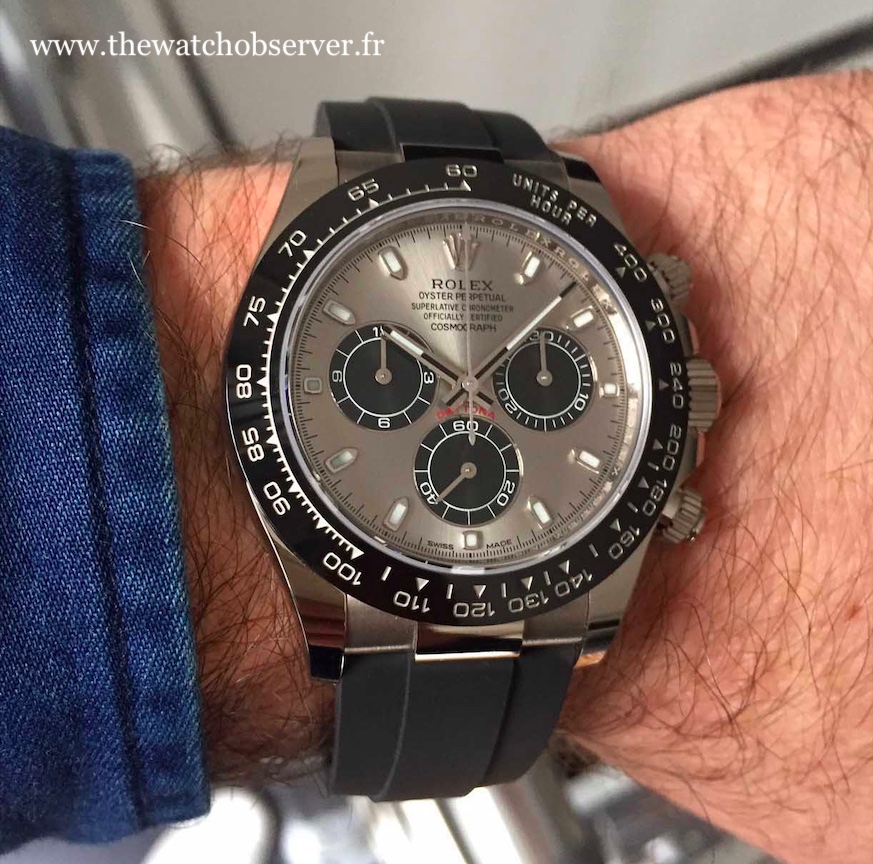 THE MOST SOUGHT-AFTER BRANDS
A gorgeous Panda dial for the Rolex Daytona 116519LN
If, as I have already mentioned that point about this iconic model, they hinder the spontaneous manipulation of the chronograph function (of course, they must first be unscrewed to be able to be activated), this is of no importance and is in no way an inhibiting characteristic.
Quite the contrary.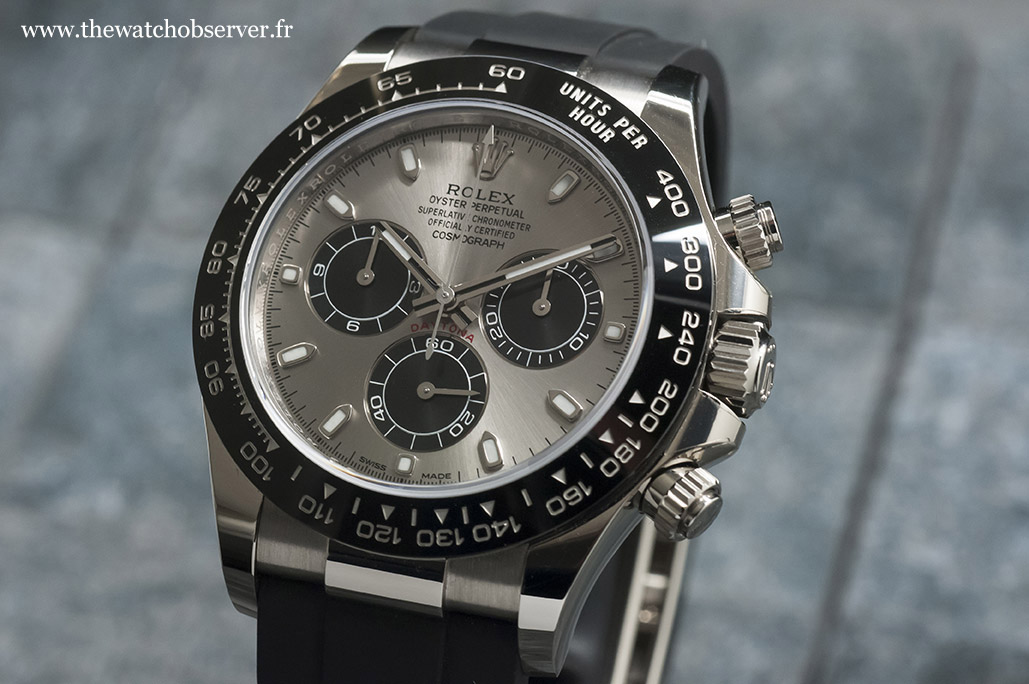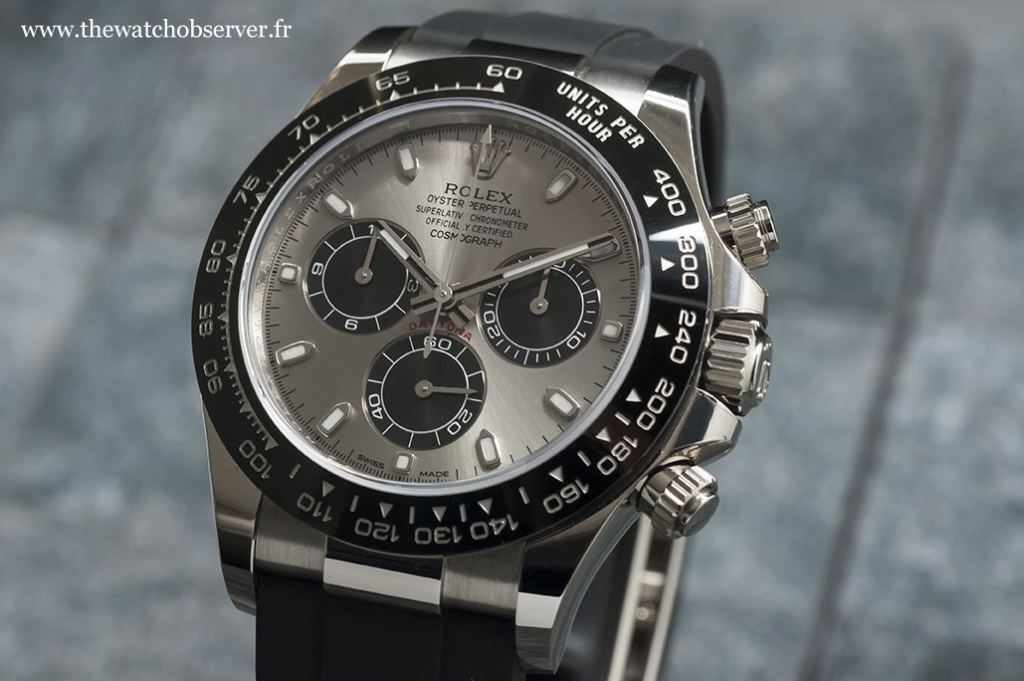 First of all, because you will only use this function for pure pleasure (and therefore with premeditation): to activate its pushers with a frank but unctuous release.
And secondly, and above all, because these screwed pushers are strong identity elements of the Cosmograph Daytona which contribute greatly to its sporty aesthetics and as such to the legend of this racing car driver's watch.
However, the most beautiful about this automatic watch is to be found on the front side.
The classic case of the Rolex Daytona 116519LN in white gold is first of all dressed with a very beautiful Cerachrom tachymeter bezel in black ceramic – the same as the steel version, its graduations being also obtained by a thin layer of platinum deposited in hollow by a PVD process.
Having replaced the previous polished steel bezels found notably on the Daytona 116520, which were both scratch-sensitive and not optimally legible, it offers several advantages.
In addition to its scratch resistance characteristic of ceramics in general and the superb contrast that it brings aesthetically to the model, it takes us back into the history of the Rolex Daytona by reminding us of some old and legendary references – Daytona 6263, 6240 and 6241 in particular – equipped at the time with black aluminum inserts.
Delivered in a polished finish, the Cerachrom bezel of the Rolex Daytona 116519LN opens on a sumptuous dial that the Geneva-based company offers us in a steel grey version punctuated with black counters.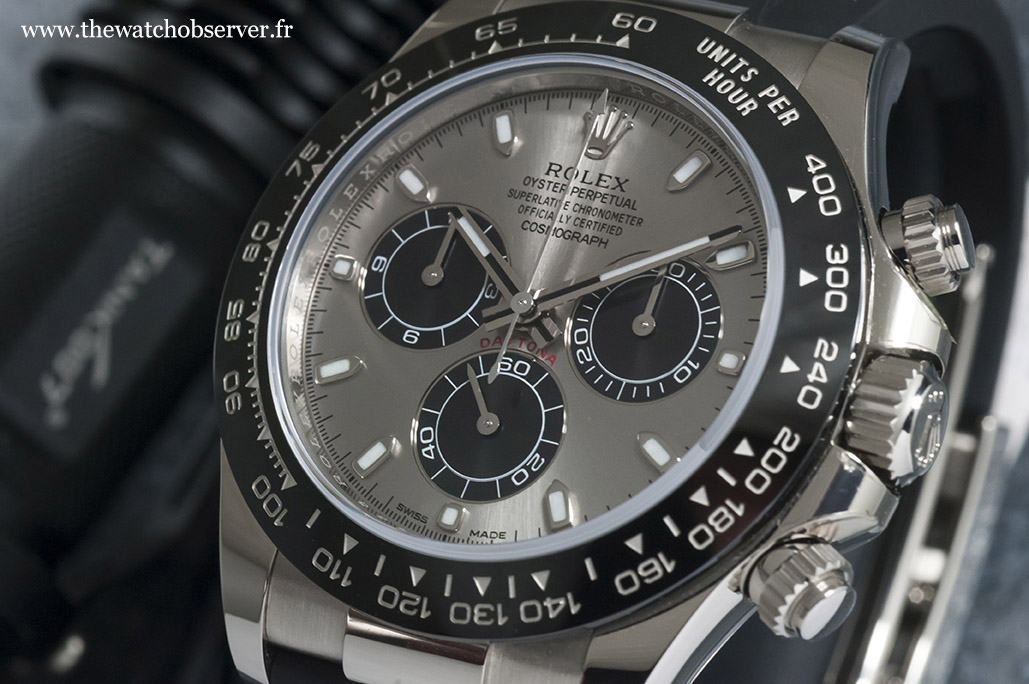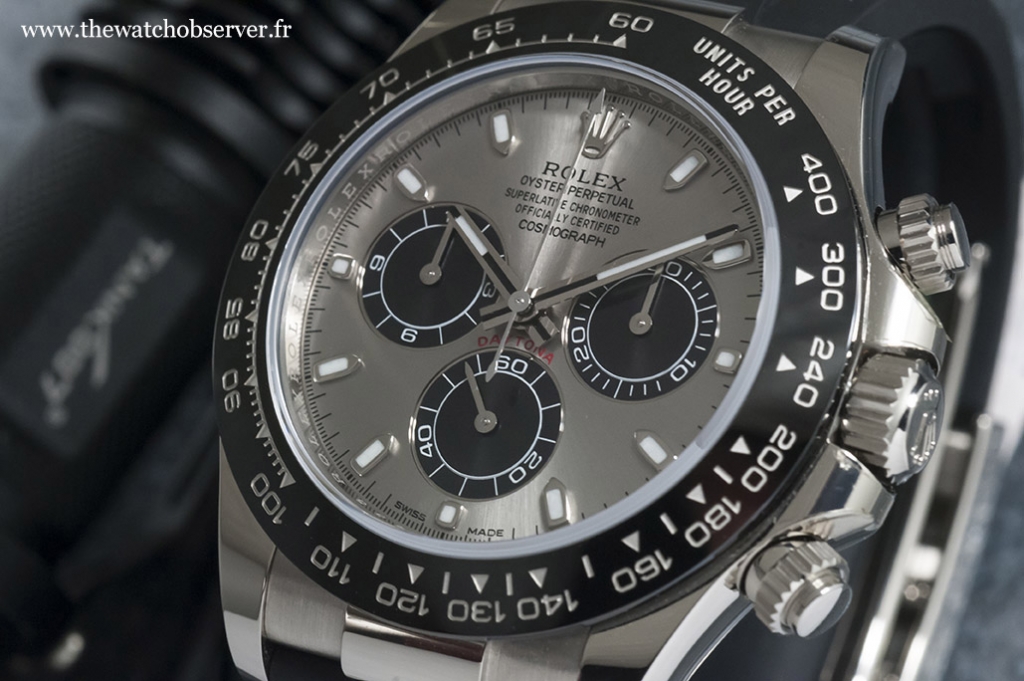 Here again, Rolex offers us effective and magnificent contrasts of tones and treatments.
The sunburst finish of the grey dial contrasts happily with the circular guilloché treatment of the graduated peripheral segment of the counters – small seconds at 6 o'clock and 30-minute and 12-hour chronograph totalizers at 3 and 9 o'clock respectively.
The difference with the Rolex Daytona steel 116500LN white dial lies in the central part of the counters that the Manufacture provides us on this iteration in white gold in an entirely black version – the center of the counters of the first one resuming the white color of the dial.
This detail, which may seem insignificant, nevertheless actively contributes to the irresistible side of this white gold Dayto, with its Panda dial allure plunging us like its black bezel directly into the mythical models of the prestigious chronograph.
Many of us are hoping (in vain?) for the edition of a steel version with a black ceramic bezel and a real Panda dial.
We still have the right to dream in 2020 and to try to convey subliminal messages?
To be continued below…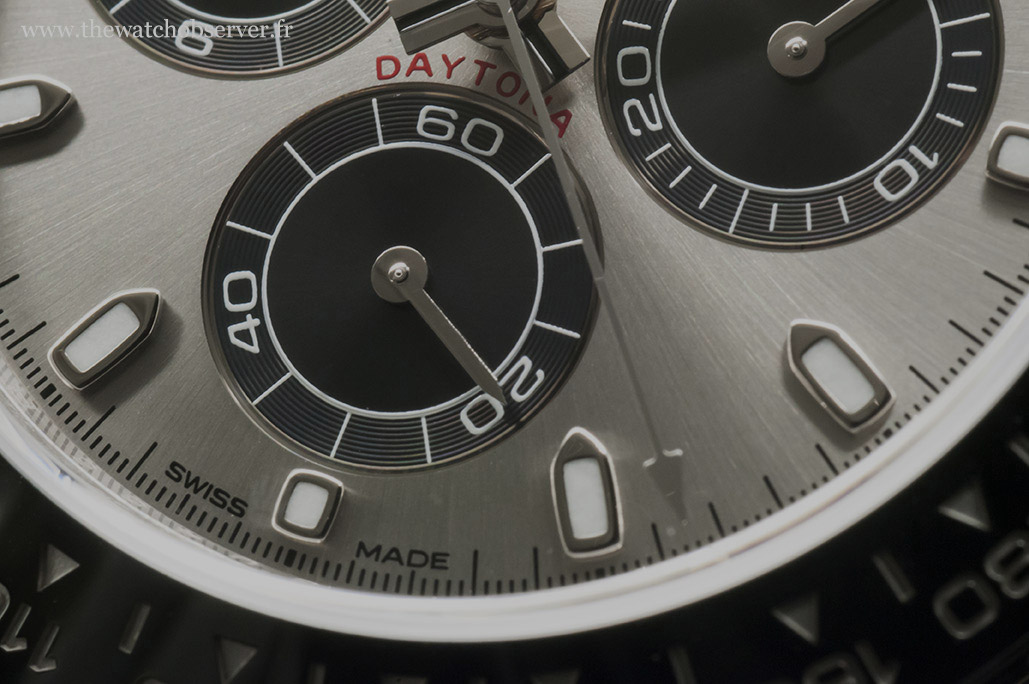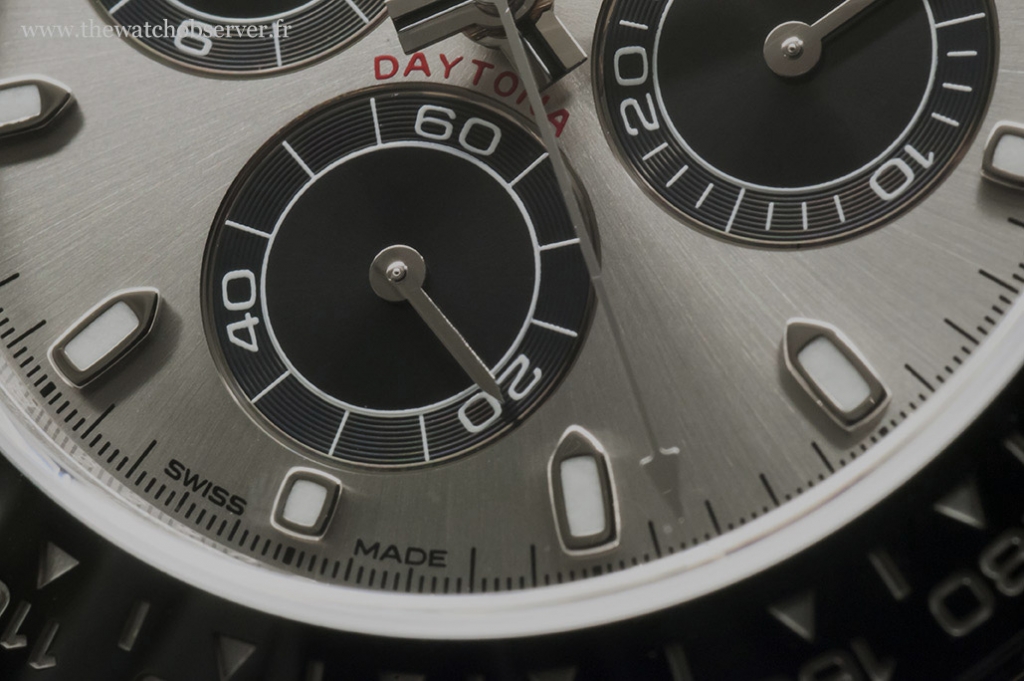 Daytona 116519LN: the sportiest Dayto in the Rolex catalog
To finish with the head of this automatic watch, it is impossible not to talk about the movement.
Behind a solid back as always devoid of any inscription (what a sadness!), the Cosmograph Daytona 116519LN in white gold houses, like all Dayto references in the Rolex catalog, the caliber 4130.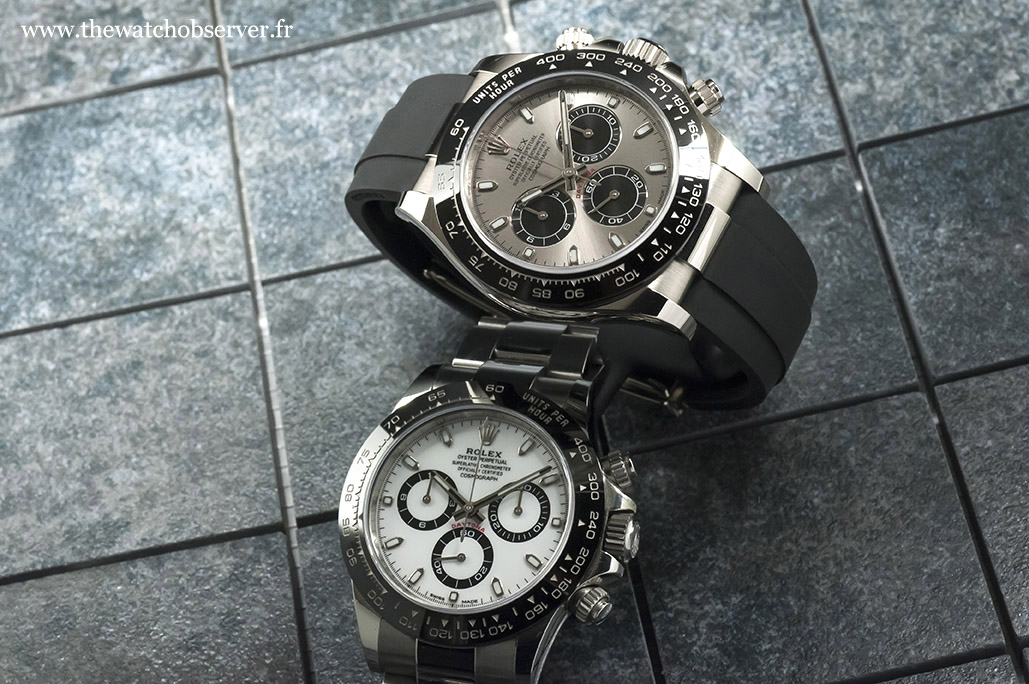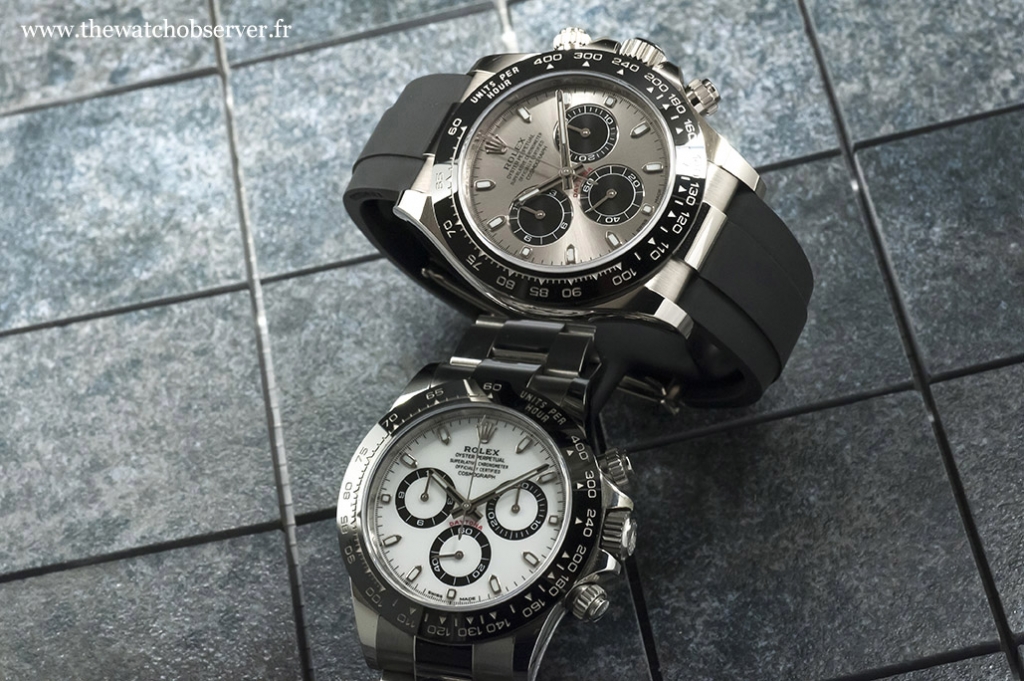 A true beast of precision and robustness, it combines in particular a column wheel, a vertical clutch and an anti-shock and anti-magnetic Parachrom balance-spring.
The most important thing to remember is its great accuracy, which Rolex guarantees within a tolerance margin of between -2 and +2 seconds per day at worst – exceptional performances with which only the houses Seiko / Grand Seiko and Omega are able to compete today.
For complete information on the Rolex 4130 caliber, I invite you once again to read my test of the Rolex Daytona steel.
The final touch brought by Rolex to the attractiveness of this white gold Daytona relies in its strap.
Indeed, the manufacture created the surprise in 2017 by abandoning the classic metal or crocodile straps, customary in previous references, in favor of its Oysterflex strap.
Presented for the first time in 2015 to dress the Oyster Perpetual Yacht-Master, a reference inspired by the world of regattas, few of us would have imagined seeing it one day on a Cosmograph Daytona – any more than we would have imagined before 2015 that there would one day be a rubber Rolex strap?
And yet!
Developed and patented by Rolex, the Oysterflex strap consists of a metal blade made of a titanium and nickel alloy overmolded with high-performance black elastomer.
Its revolutionary design combines the flexibility – and therefore comfort – expected from a polymer strap with the strength and durability that comes from its metal base.
In order to optimize wearing comfort, the Oysterflex strap is also equipped on the back with lateral cushions that stabilize the watch on the wrist – a patented Rolex system as well.
But beyond its comfort and resistance, the Oysterflex strap has a double advantage by dressing this Rolex Daytona.
Its color matches, of course, that of its ceramic bezel and its three counters and thus contributes to highlight its magnificent dial.
It also reinforces the sporty side of this luxurious chronograph by giving it almost a utilitarian dimension.
Finally, Rolex closes the strap of this Daytona with an 18-carat white gold Oysterlock safety clasp and an Easylink comfort quick extension (about +5mm) – the same as the one used on the traditional Oyster strap (functional, secure but sensitive to scratches).
To be continued below…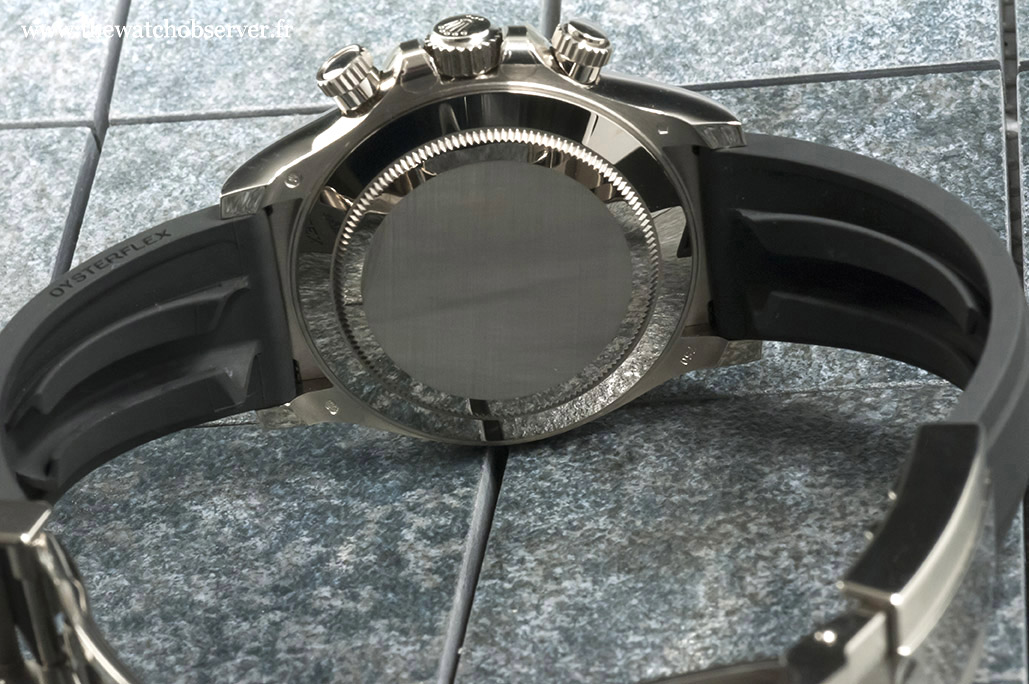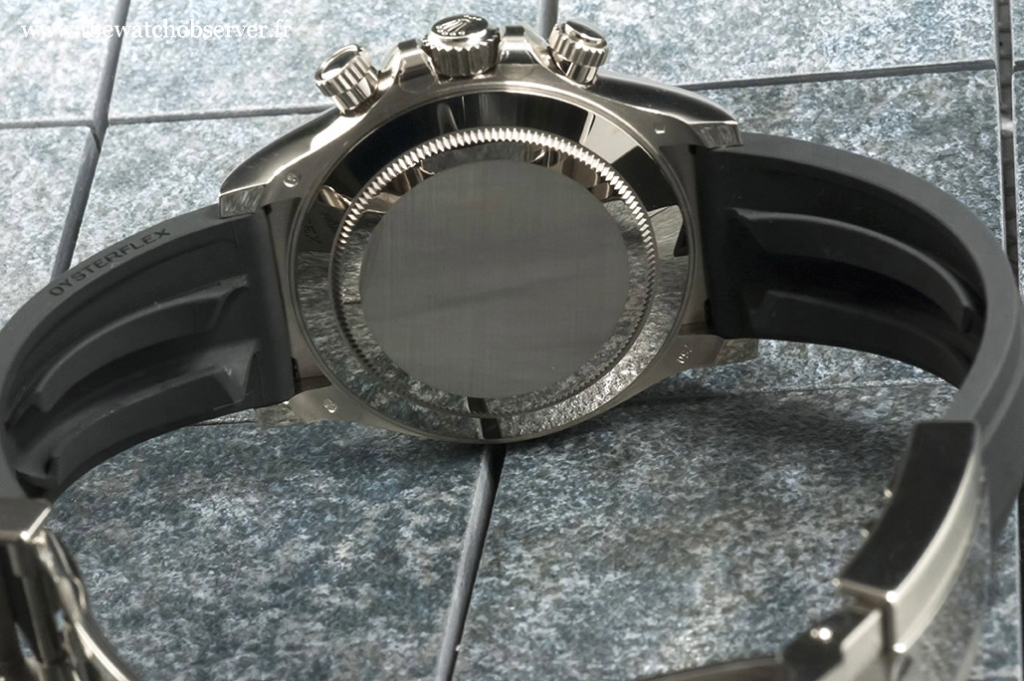 Rolex Daytona white gold 116519LN Oysterflex :
What to remember…
The idea that few of us could ever have had – to dress the legendary Cosmograph Daytona in a rubber strap? But you don't think about it my friend! – turns out in reality to be excellent.
Of course, this is not just a simple rubber strap, but the Oysterflex – a high-end Rolex strap with a remarkable and innovative design.
And indeed, the combination of this bracelet with a Daytona, which is also made of white gold, offers very attractive contrasts.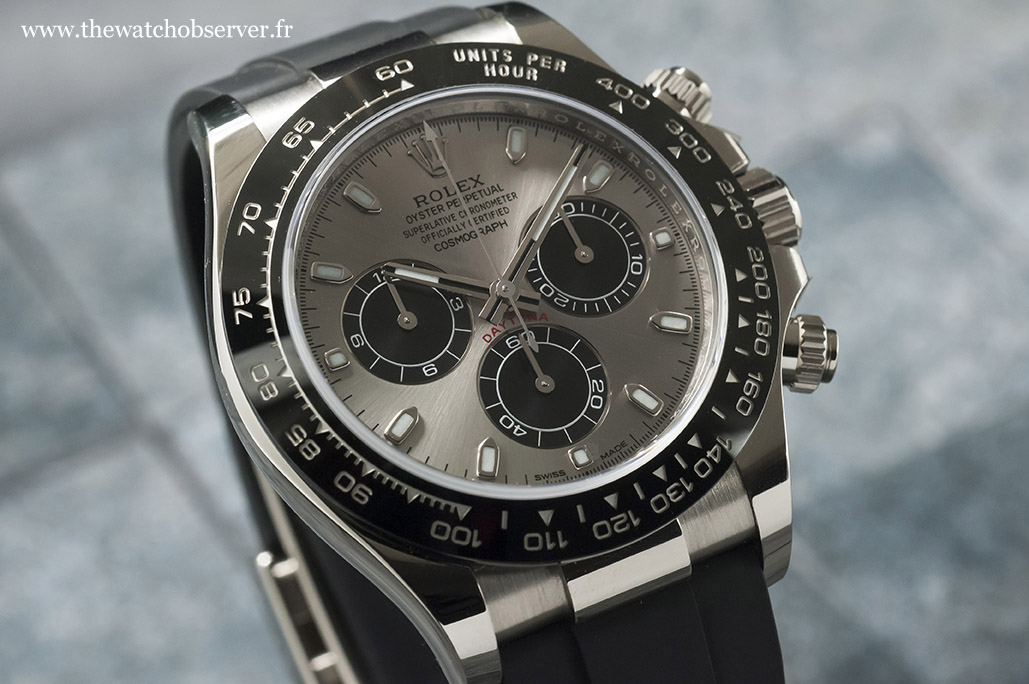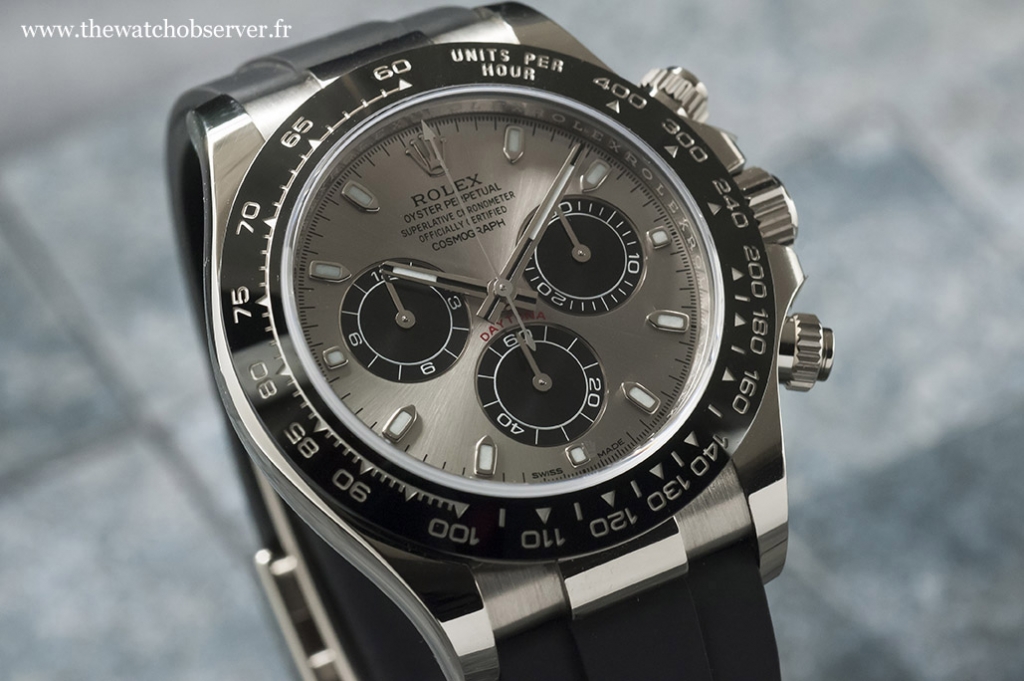 Truly superb with this association of polished white gold and matte black elastomer, the Rolex Daytona 116519LN and its sumptuous dial takes us back to the origins of this iconic chrono.
Contrasts of tones of course: black versus steel gray, a duo enhanced by the Daytona red marking.
Contrasts of textures too, the mirror-polished treatment of the cade admirably sharp with the matte aspect of the black polymer.
But also contrasts of philosophies, the luxury of the watch head and dial opposing the (apparent) simplicity of the strap.
If you add the Panda dial spirit that strongly inspires the dial of this Daytona 116519LN, you can be tempted – well, I am! – to say that this Rolex watch takes us back to the origins of the model: those of a chronograph watch designed for motor racing, a true tool for timing short times.
This Dayto 116519LN thus loses the shiny dimension that some may reproach for a more sporting dimension.
And it suits him to delight, this Rolex Daytona being a real little marvel.
If this association of styles seduces you as much as I do, I invite you to discover another version (probably my favorite): the Rolex Daytona 116518LN-0047… irresistible, isn't it?
Finally, I conclude by formulating a wish in the form of a question addressed not only to you but also to Rolex: what would you say of a steel version on an Oysterflex strap adorned with a real Panda dial (white dial / full black counters) or / and an inverted Panda dial ??
If one of them comes out, I order one without hesitation. What about you?