Straight to the Point
Panerai PAM 384 Radiomir 8 Days Ceramic 45mm
Ref.: PAM 384
$9,900.00
US retail price March 10th, 2011
Pros
quality ceramic case
8-day power reserve
its unobtrusive style
Cons
the smoked crystal sapphire back, giving reduced visibility on the movement
the date aperture's cut
the probably endless waiting list f those wishing to buy it from a store when it comes out
Brand
Panerai
Model name

PAM 384 Radiomir 8 Days Ceramic 45mm

Reference

PAM 384

Case material

Ceramic / Titanium

Case diameter (without crown)

45mm

Case diameter (crown included)

49.20mm

Caliber

P2002/3

Base Caliber

Manufacture

Functions

Date

Hour (GMT setting)

Minute

Power reserve

Second

Crystal

Dual-face crystal with anti-reflective coating

Power reserve

8 days (192 hours)

Transparent back

Yes

Lug width

26.40mm

Length from lug to lug

48.40mm

Case thickness

16.20mm

Clasp type

Pin buckle

Clasp material

Titane PVD

Total weight

112 grams

Retail price USA at March 10th, 2011

$9,900.00
| | |
| --- | --- |
| Comfort (/15) | 13 |
| Movement (/20) | 14 |
| Movement Optimisation / Garnishment (/5) | 4 |
| Ease of handling and adjustment (/5) | 5 |
| Movement control proceeded by the Manufacture / horlogical awards (/3) | 1 |
| Power reserve (/2) | 2 |
| Complications (/5) | 2 |
| Finishing (/20) | 15.5 |
| Dial finishing (/6) | 5 |
| Case finishing (/6) | 4.5 |
| Quality of garnishment / caseback engraving quality (/2) | 2 |
| Crystal quality (/4) | 3 |
| Clasp finishing (inner and extern) (/2) | 1 |
| Functionality (/20) | 17 |
| Diurnal legibility (/5) | 5 |
| Night legibility (/4) | 4 |
| Water resistance (/3) | 1 |
| Strap : ease of size adjustment + ease of substitution (/4) | 3 |
| Clasp : quality and safety (/4) | 4 |
| Additional items (/10) | 3 |
| Limited edition (/3) | 0 |
| Watch delivered with several straps (/2) | 0 |
| Quality of the watch box (/1) | 1 |
| Portability with shirtsleeves buttoned (/2) | 1 |
| Goodies included (/1) | 0 |
| Understandability of the brochure (/1) | 1 |
| Value for money (/15) | 13 |
| When to wear it ? | At a Batman Festival! |
Users opinion
79%
like this watch
Foreword
Panerai PAM 384 Radiomir 8 Days Ceramic 45mm

Panerai ceramic models are rare items!
Only three models have been included in the 2011 catalogue (including this PAM 384), each one coming in relatively small numbers of produced items.
That's why "black watch" Paneristi fanatics are so desperate to get their hands on these models!
Ceramic is indeed a very interesting material as it is almost unscratchable, while a watch casing using a typical PVD treatment can still end up with scratches – and once a PVD coating is scratched it cannot be buffed back.
Panerai thus broadens its ceramic line with a "manufacture-made" evolution of its famous Radiomir PAM 292 – actually the first ceramic Panerai ever, released back in 2008. People had been waiting for this one for so long that the first copies sold were immediately swapped on the second-hand market for at least a few thousand dollars over list price!
Beautiful quality of design
The case is entirely made in black matte ceramic, except for the back and the wire loop strap attachments – made of titanium with PVD coating.
Ceramic processing being very difficult, Panerai has decided to use metal for all parts with screw threads and pitches.
The color of the various materials used here is very homogeneous – you have to pay real attention before detecting a very minor sheen difference on the titanium parts.
Designing quality of this ceramic case is excellent.
The curves of the "cushion" are as delicate as with a stainless steel case.
The onion-shaped crown (ceramic also) alone is worth the trip – it is beautiful and pleasant to handle.
This Radiomir keeps the sandwich dial specific to the Panerai Historic Collection: a cutout-type dial covers a "plate" of luminous matter.
Perfectly engineered, it's a real "identity marker" of the Florentine brand's timepieces…
Only the date aperture's cut could have used a somehow enhanced finishing.
One can indeed see the dial's various plates here when looking at the watch from the side…
Movement
On the movement side, the PAM 384 is powered by the P2002/3 manufacture-made calibre.
Equipped with three spring barrels, it has an 8-day power reserve and a linear power reserve indicator.
Especially useful on an 8-day hand-wound movement, this indicator fits the dial well without being invasive.
Unlike the P2002/1 version it is derived from, the P2002/3 has no GMT function.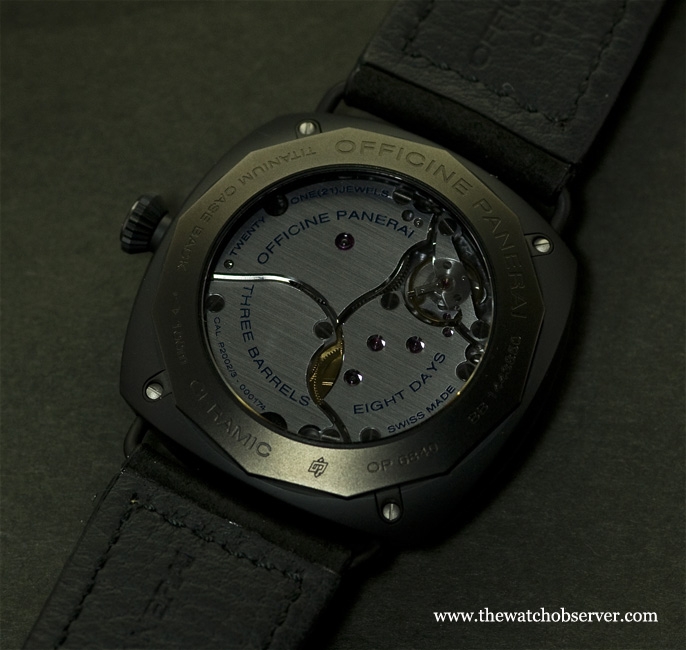 The movement's brushed finish is well-done, but has been willingly kept very "industrial".
It highlights the piece's "instrument" side while remaining consistent with the 8-day calibres' finishing used on the first Panerai watches such as the Angelus.
However, it is unfortunate that the visibility of this movement gets reduced due to the slightly smoked transparent sapphire crystal, which does not allow a full observation of the details…
Previously, and until now, Panerai had used a PVD coating to blacken its bridges and plates, this type of finish being way more pleasant from an aesthetic point of view!

Daily use
A real Panerai stronghold, legibility – day and night – is perfect as always, thanks to the dial's simplicity, and the generosity of the luminous indexes.
The generous 45 mm wrist diameter (same as the PAM 292's) stays very comfortable thanks to the cushion-shaped case…
The watch looks strikingly smaller than a 44 mm Luminor…
Anyway, it is much more discreet (and the matte black aspect of the case really helps) than most of the brand's other models.
Finally, although the substantial 16.20 mm thickness can be a little surprising when seen on a picture, it is actually no problem at all. Once you're wearing this watch, you completely forget any thickness issue whatsoever.
THE MOST SOUGHT-AFTER WATCH TYPES
What to remember
This new generation ceramic Radiomir is a very interesting evolution of its "young ancestor".
The 8-day power reserve of its manufacture-made calibre will appeal to watch-lovers in search of a "nobler" movement than the PAM 292's Unitas.
Its price, although almost twice as high, remains relatively "reasonable" when compared to the services it offers.
THE MOST SOUGHT-AFTER BRANDS