Straight to the Point
Omega Speedmaster Moonwatch
Ref.: 311.30.42.30.01.006
Pros
a mythical chronograph
a watch with timeless aesthetics
a sporty-chic model that can be worn in all circumstances
a very nice case
a magnificent dial
a perfect readability
a sapphire case-back revealing an air show
an attractive package
an excellent value for money
Cons
a water-resistance limited to 50 meters
a power reserve that is a little short regarding current standards, which are around 70 hours
a watch you'll often see on other people's wrists – but it's the price of success
| | |
| --- | --- |
| Brand | Omega |
| Model name | Speedmaster Moonwatch Professional 42mm |
| Reference | 311.30.42.30.01.006 |
| Case material | Steel |
| Case diameter (without crown) | 42 mm |
| Case diameter (crown included) | 43.08 mm |
| Movement type | Manual winding |
| Caliber | Calibre 1863 |
| Base Caliber | Calibre 1861 |
| Functions | Hour ; minute ; second ; chronograph |
| Crystal | Domed-crystal glass with anti-reflective coating |
| Power reserve | 48h |
| Transparent back | Yes |
| Lug width | 20 mm |
| Length from lug to lug | 47.80 mm |
| Case thickness | 13.72 mm |
| Water resistance | 50 m |
| Strap material | Steel bracelet + 2 additional straps (a NATO one + an astronaut Velcro strap) |
| Clasp type | Deployment clasp |
| Clasp material | Steel |
| Total weight | 154 grams (with the steel bracelet set for a 17.5cm wrist) |
| | |
| --- | --- |
| Comfort (/15) | 14 |
| Movement (/20) | 10.5 |
| Movement Optimisation / Garnishment (/5) | 3 |
| Ease of handling and adjustment (/5) | 4.5 |
| Movement control proceeded by the Manufacture / horlogical awards (/3) | 1 |
| Power reserve (/2) | 1 |
| Complications (/5) | 1 |
| Finishing (/20) | 17 |
| Dial finishing (/6) | 4.5 |
| Case finishing (/6) | 5 |
| Quality of garnishment / caseback engraving quality (/2) | 2 |
| Crystal quality (/4) | 4 |
| Clasp finishing (inner and extern) (/2) | 1.5 |
| Functionality (/20) | 15.5 |
| Diurnal legibility (/5) | 5 |
| Night legibility (/4) | 4 |
| Water resistance (/3) | 0.5 |
| Strap : ease of size adjustment + ease of substitution (/4) | 3 |
| Clasp : quality and safety (/4) | 3 |
| Additional items (/10) | 7 |
| Limited edition (/3) | 0 |
| Watch delivered with several straps (/2) | 2 |
| Quality of the watch box (/1) | 1 |
| Portability with shirtsleeves buttoned (/2) | 2 |
| Goodies included (/1) | 1 |
| Understandability of the brochure (/1) | 1 |
| Value for money (/15) | 15 |
| When to wear it ? | When you're miles away! |
Users opinion
100%
like this watch
Omega Speedmaster Moonwatch: icon among icons
If you've said and heard everything about the Omega Speedmaster Moonwatch, you can't get enough of it. At least not me, who is lucky enough to own one and who wears it on my wrist every time with infinite pleasure.
That's why I wanted to put this legendary chronograph in the spotlight before reviewing the Caliber 321 version and the brand new Master Chronometer one.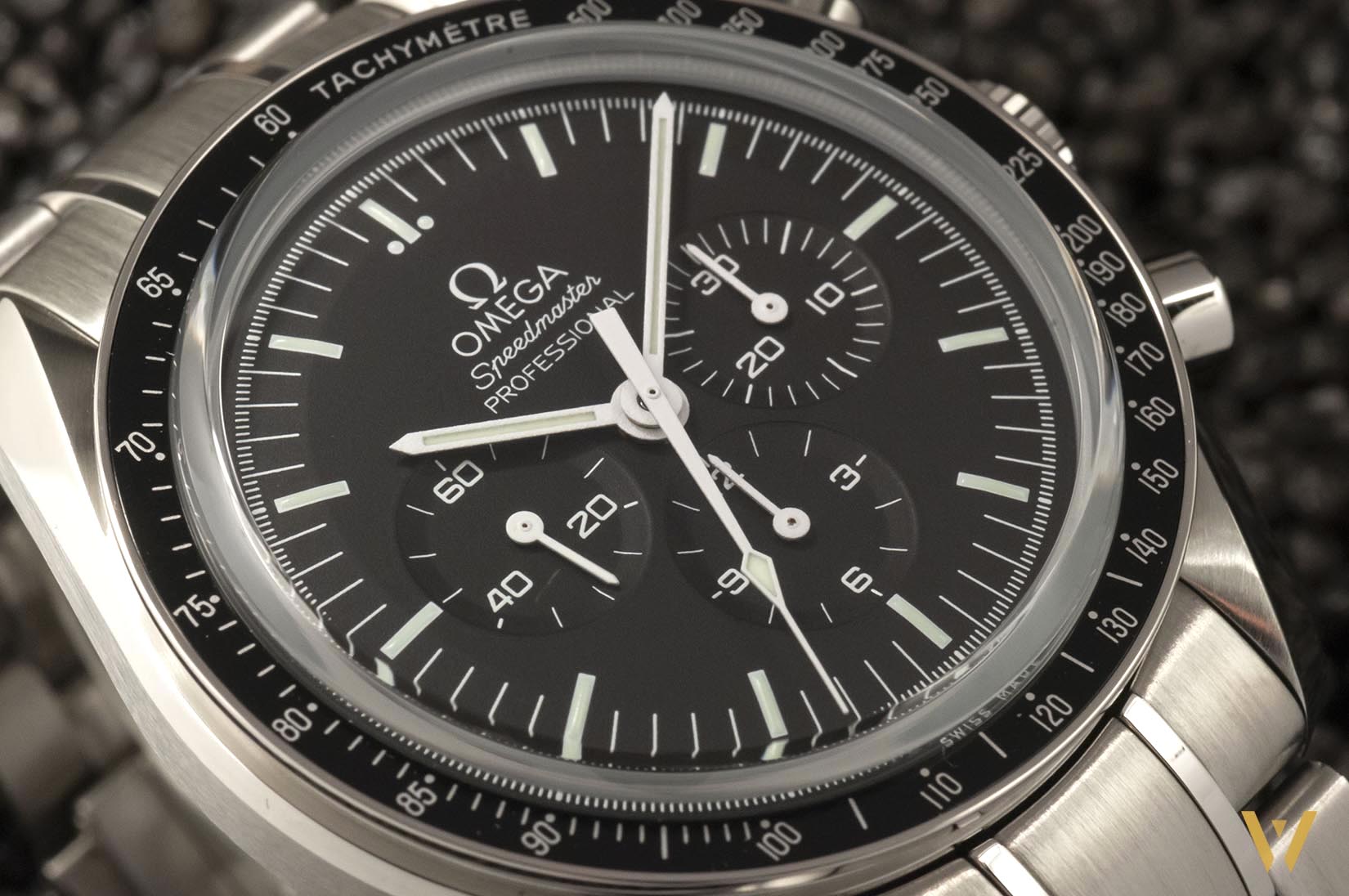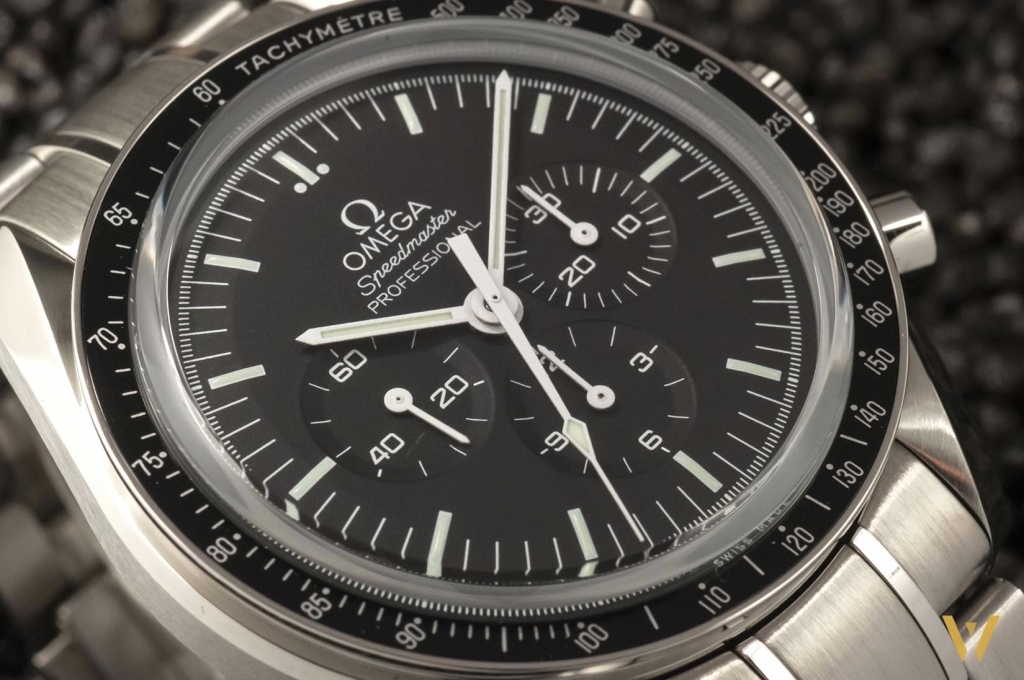 Those who are not really familiar with the Speedmaster Moonwatch may wonder how this Omega watch achieved iconic status.
In my opinion, there are two major reasons that explain its status and the fact that the Speed (for friends) is probably the most sold luxury chronograph in the world.
First of all, the Omega Speedmaster Moonwatch has an absolutely extraordinary history.
In 1962, astronaut Walter Schirra made an orbital flight aboard the Sigma 7 capsule for the Mercury-Atlas 8 mission, wearing on his wrist an Omega Speedmaster which he acquired personally – a Speed ref. CK2998, the second generation of this chronograph.
Very satisfied with his Omega, Walter Schirra drew the attention of his superiors to the performance and reliability of his chronograph.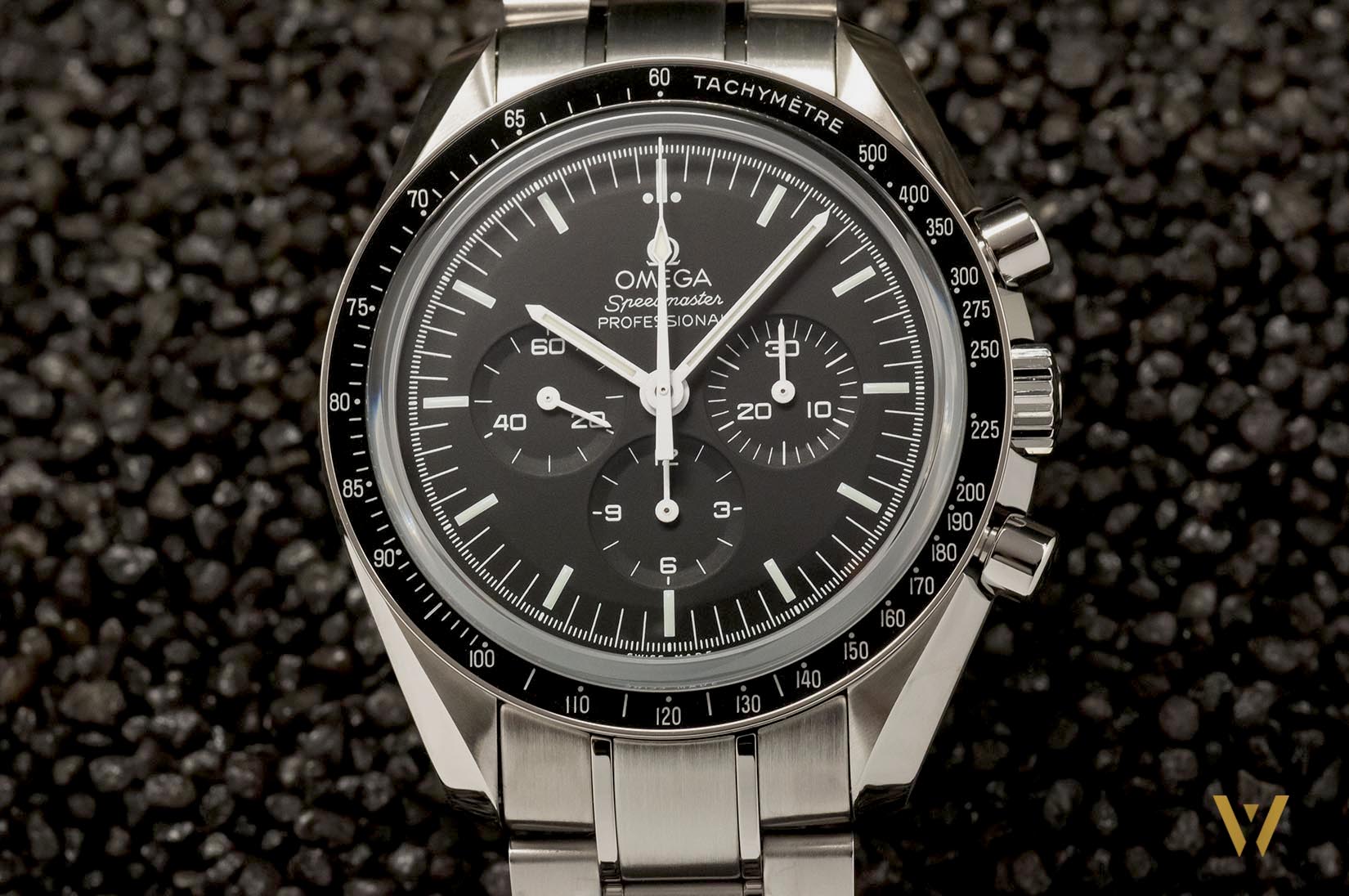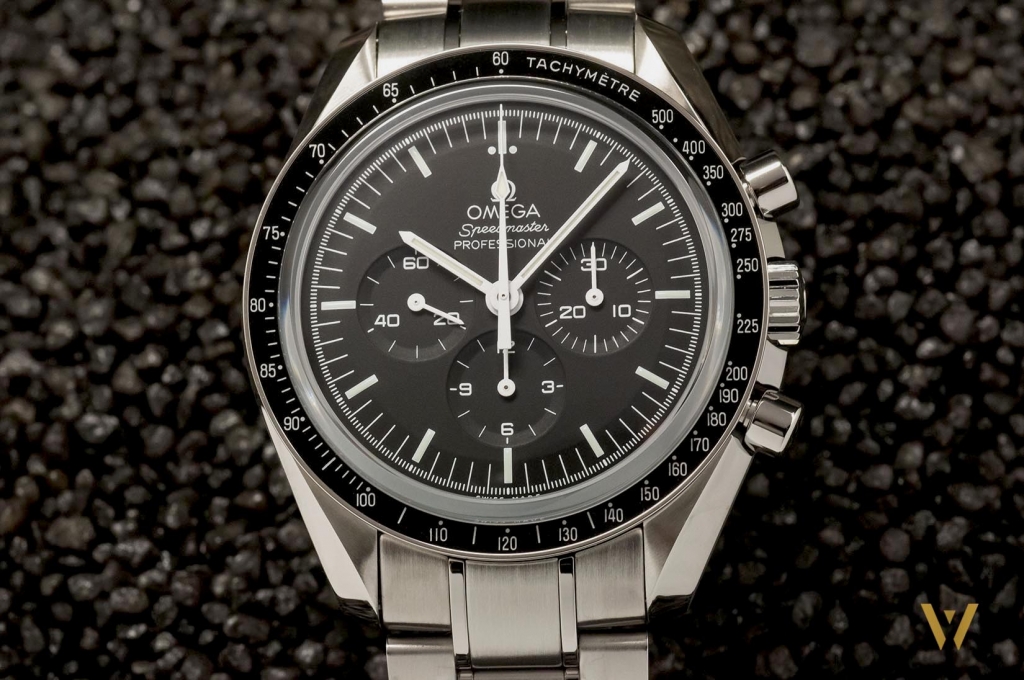 At the time, NASA astronauts were not equipped with any particular watch.
It is the astronauts of the Mercury mission who will express the wish to be equipped with a watch model capable of accompanying them during their training and missions.
To be continued below…
THE MOST SOUGHT-AFTER BRANDS
March 1st, 1965: the Omega Speedmaster
becomes the Moonwatch
Their request comes at just the right time: a team of engineers has just been appointed to test, select and certify the equipment supplied to NASA astronauts for the Gemini and Apollo programs.
A circular dated September 21st, 1964 insists in particular on the need for astronauts to have chronographs that are both precise and resistant in the context of their future missions.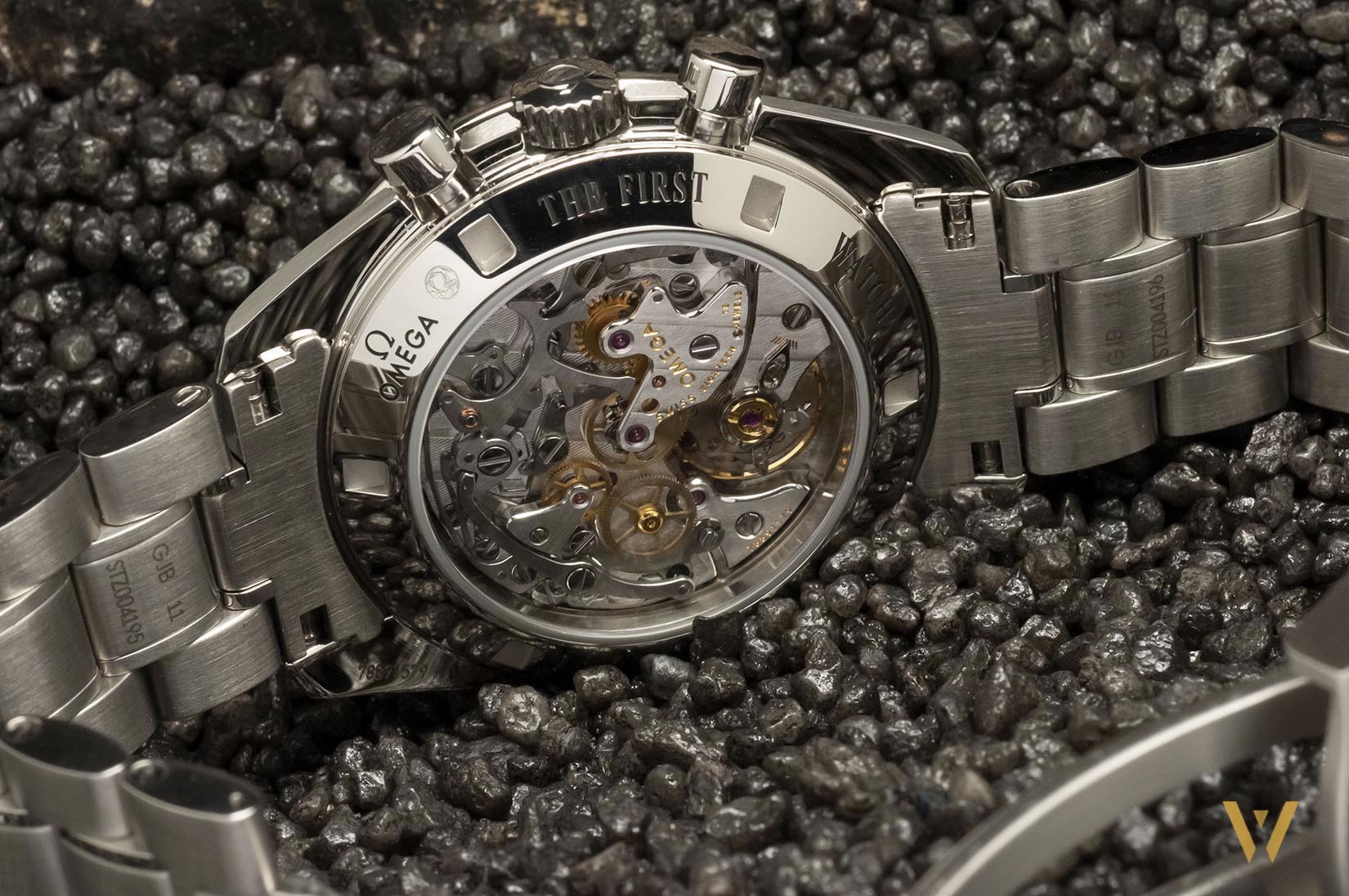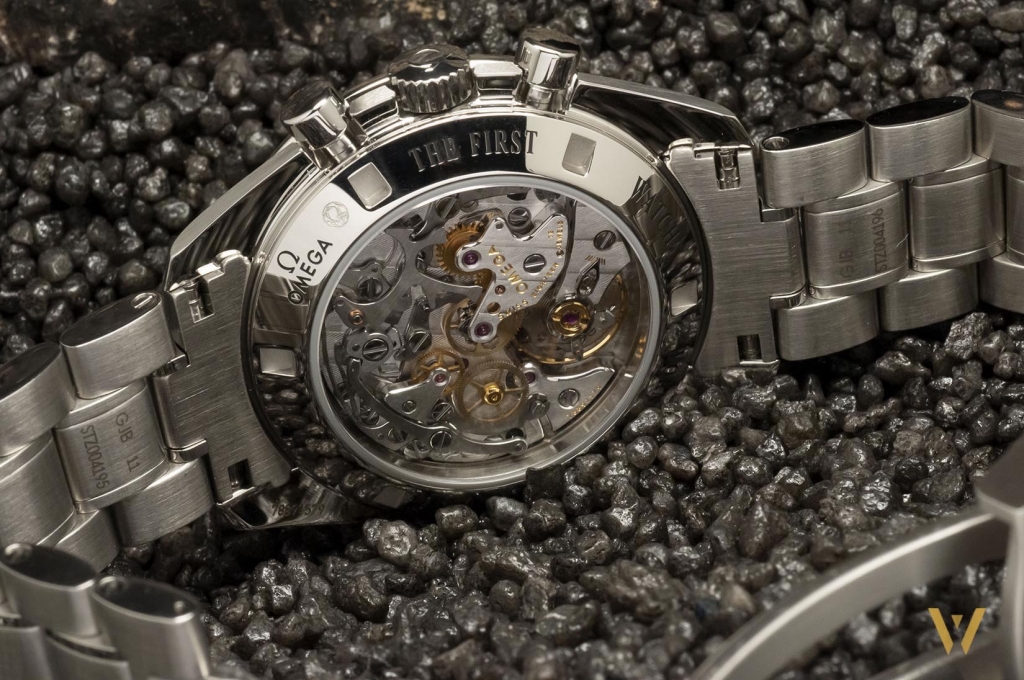 A set of specifications for this chronograph was drawn up by the engineer James Ragan, who sent it to several watchmaking companies and asked them to send him three models each.
Only four brands responded favorably to this invitation to tender, and the twelve models sent in could then begin a battery of incredible tests that neither you nor I would be able to resist…
I will quote two of them:
– Chronographs are subjected to temperatures ranging from 71° to 93°C over two days and then frozen at -18°C;
– they are exposed to impacts of 40 g in six different directions.
At the end of this series of tests, only the Speedmaster is intact!
Thus, on March 1st, 1965, NASA declared the Omega Speedmaster approved for all manned space missions.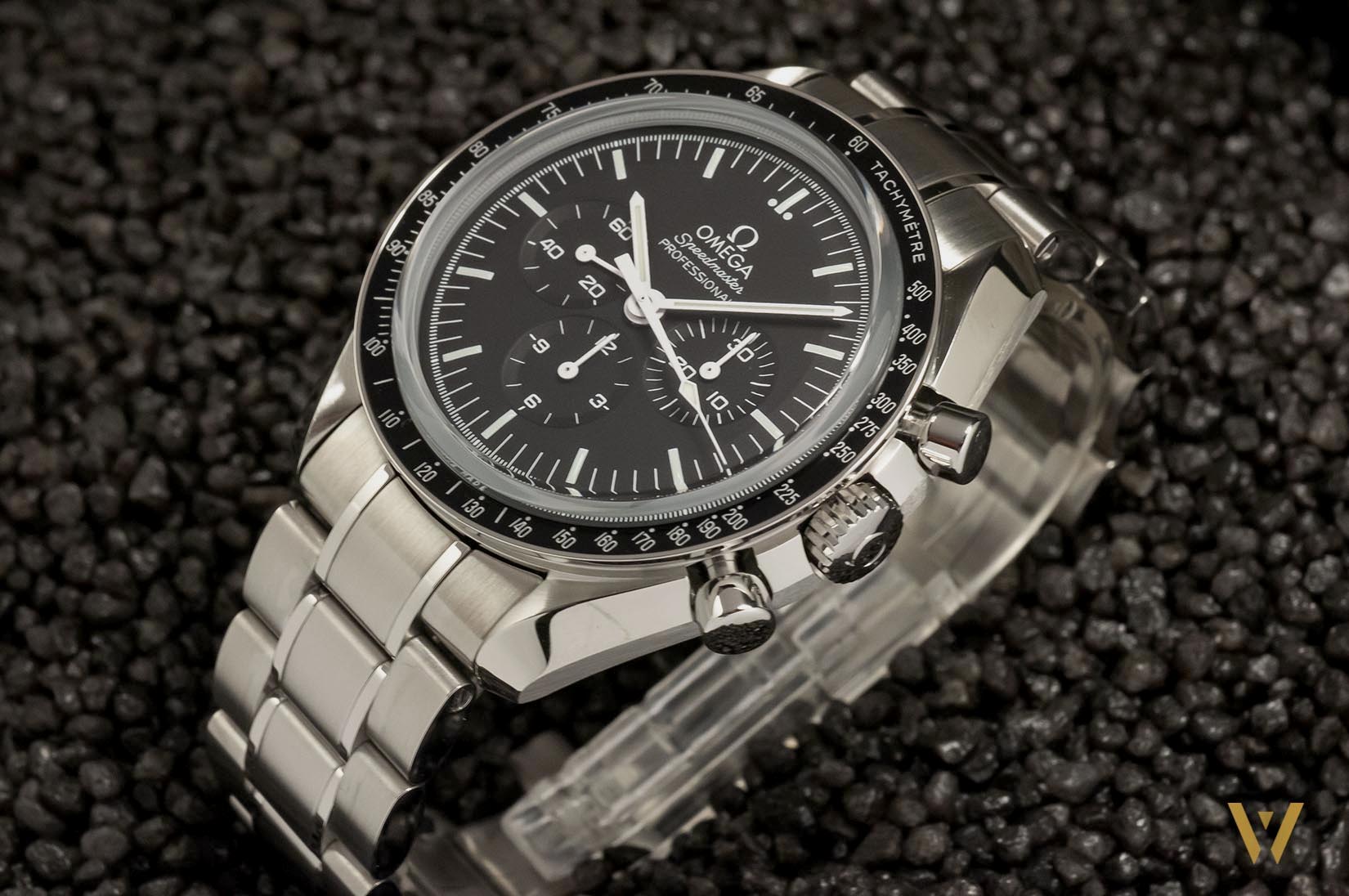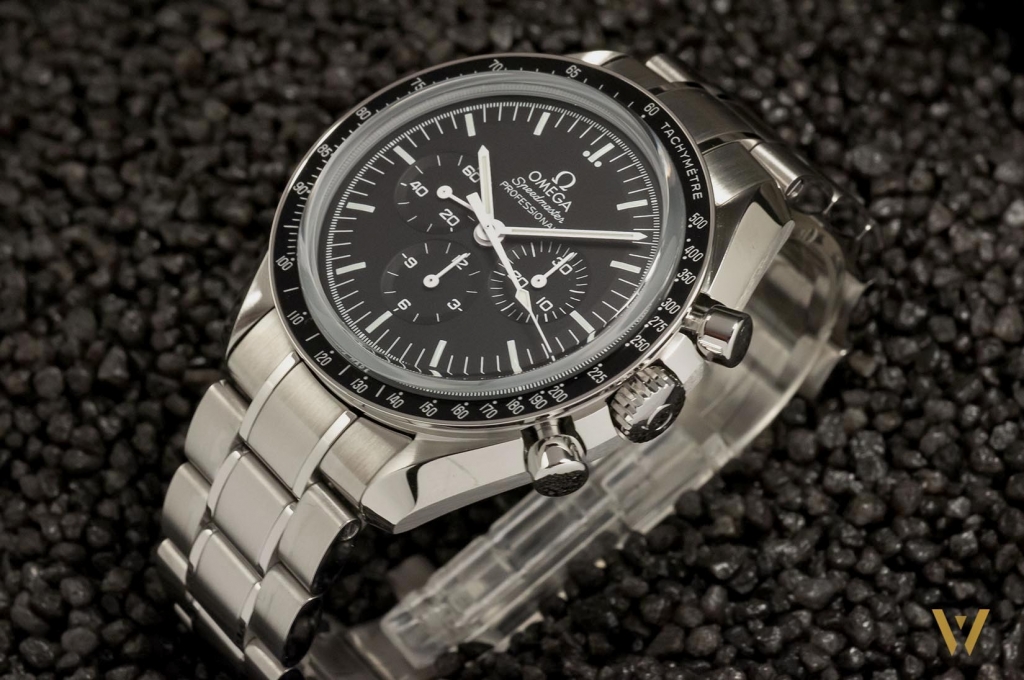 We will see it in particular on television on July 21st, 1969 when Buzz Aldrin, its Speedmaster of function on the wrist, joins Neil Armstrong who has just become the first man to set foot on the Moon.
And it was from this historic event that the Omega Speedmaster became the Omega Speedmaster Moonwatch.
But the incredible story of this chronograph does not end here. And I look forward to continuing it very soon, as Omega has just launched the Speedmaster Silver Snoopy Award 50th Anniversary, which I am expecting in the next few days for a test.
To be continued below…
Omega Speedmaster Moonwatch:
A timeless chronograph
Let's now come to the second reason which, in my opinion, explains the exceptional notoriety and desirability of the Omega Speedmaster Moonwatch.
It can be summed up in two words: functionality and aesthetics.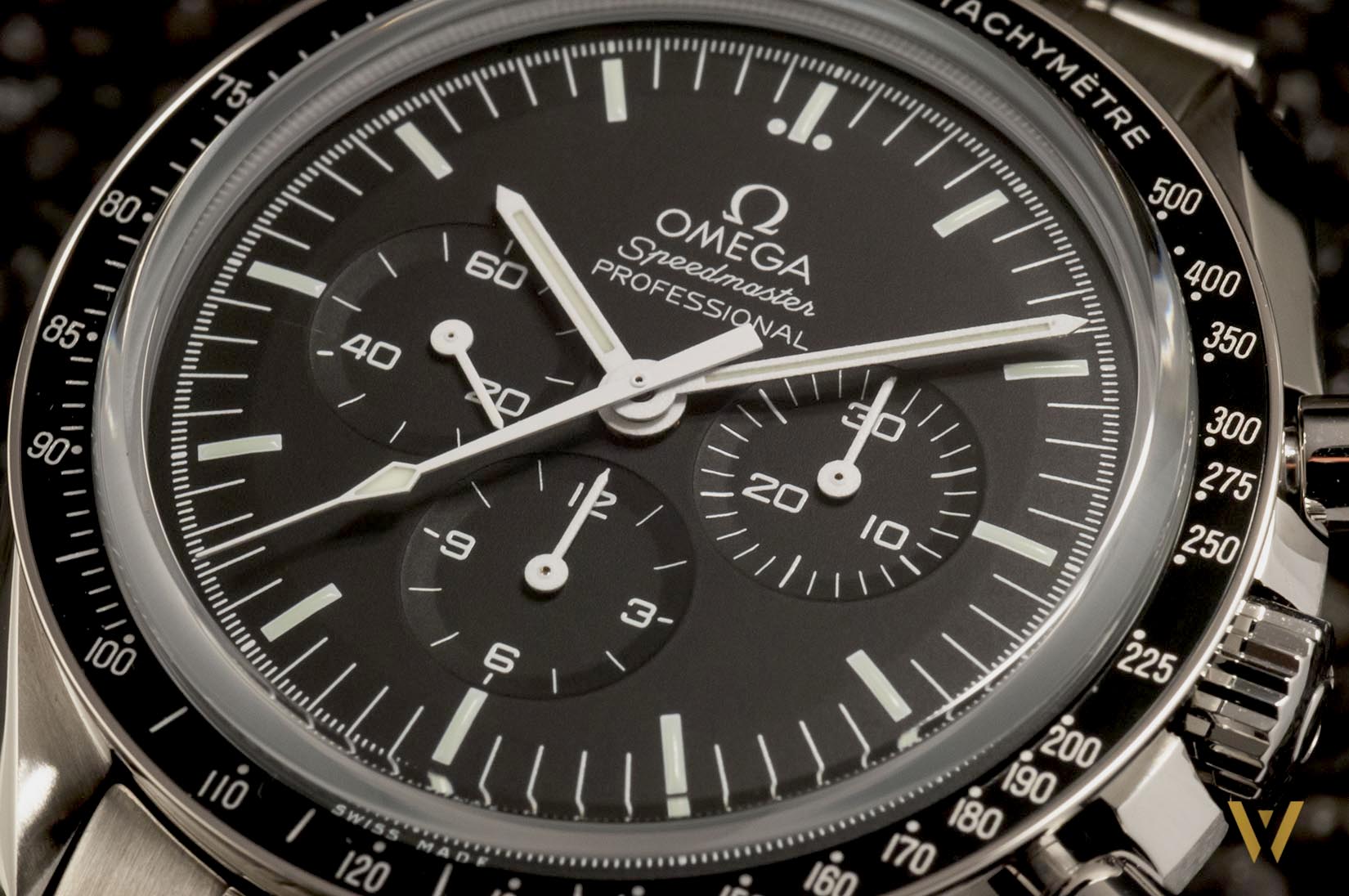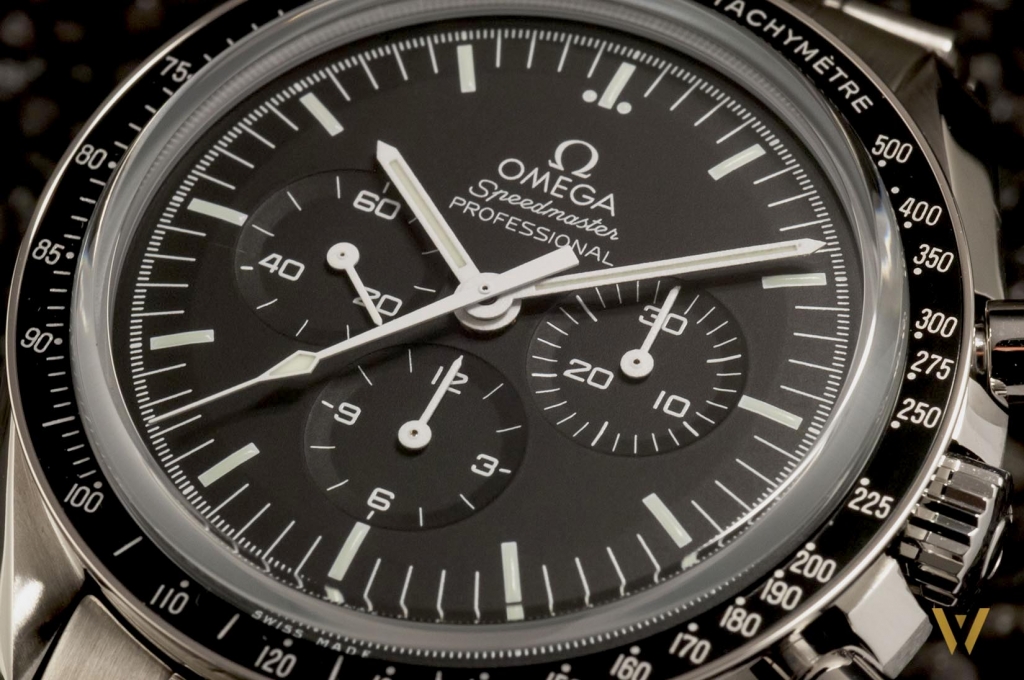 It is above all its functionality and more particularly its day and night legibility that explains why NASA chose it.
Indeed, the Omega Speedmaster Moonwatch is adorned with a matte black dial which absorbs light perfectly.
This dial is also punctuated with white graduations and markings, like its hands, which offer an optimal contrast from which stems its legendary daytime readability.
At night, the Super-LumiNova coating on the hour markers and hands ensures readability until the morning.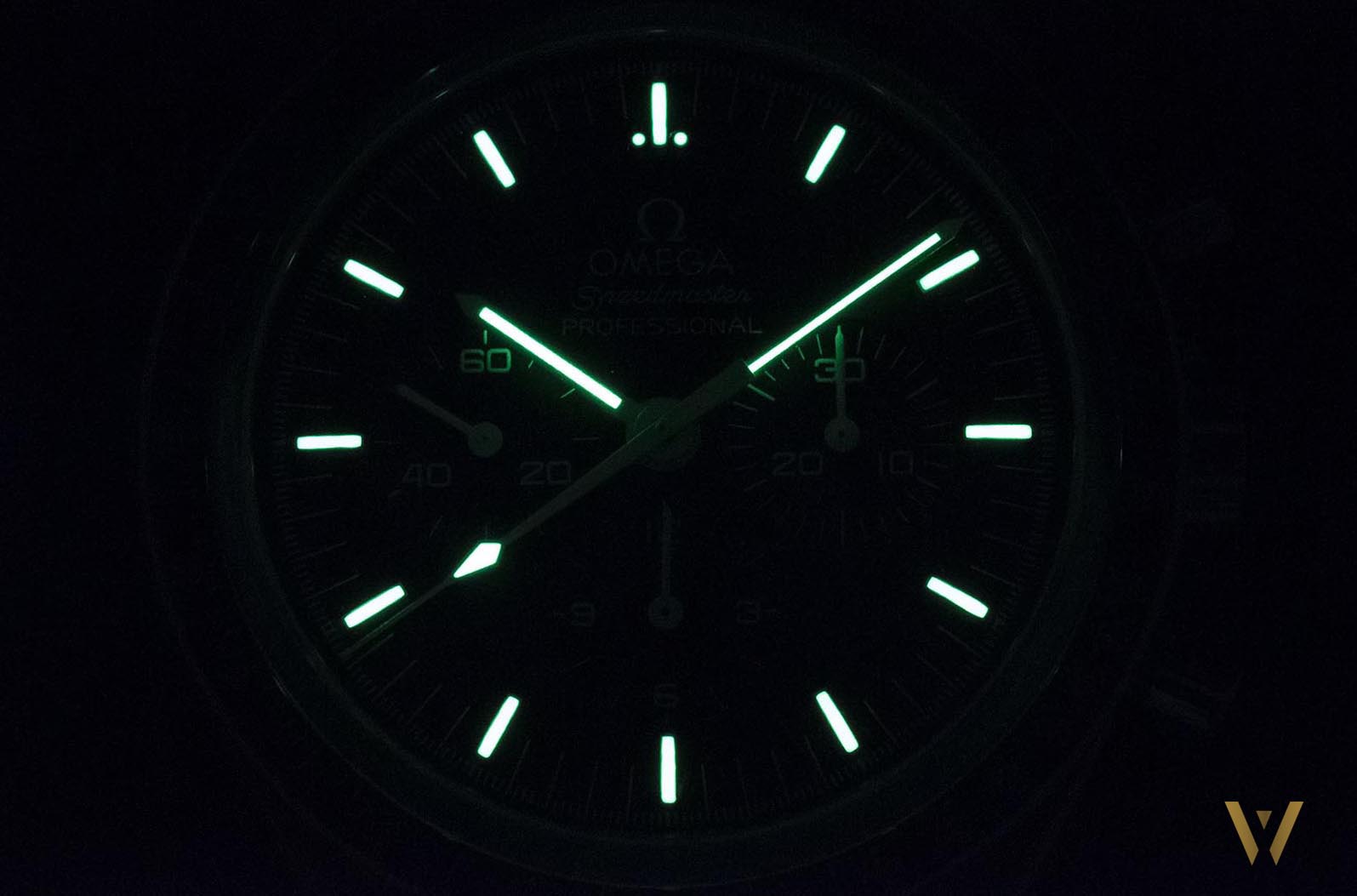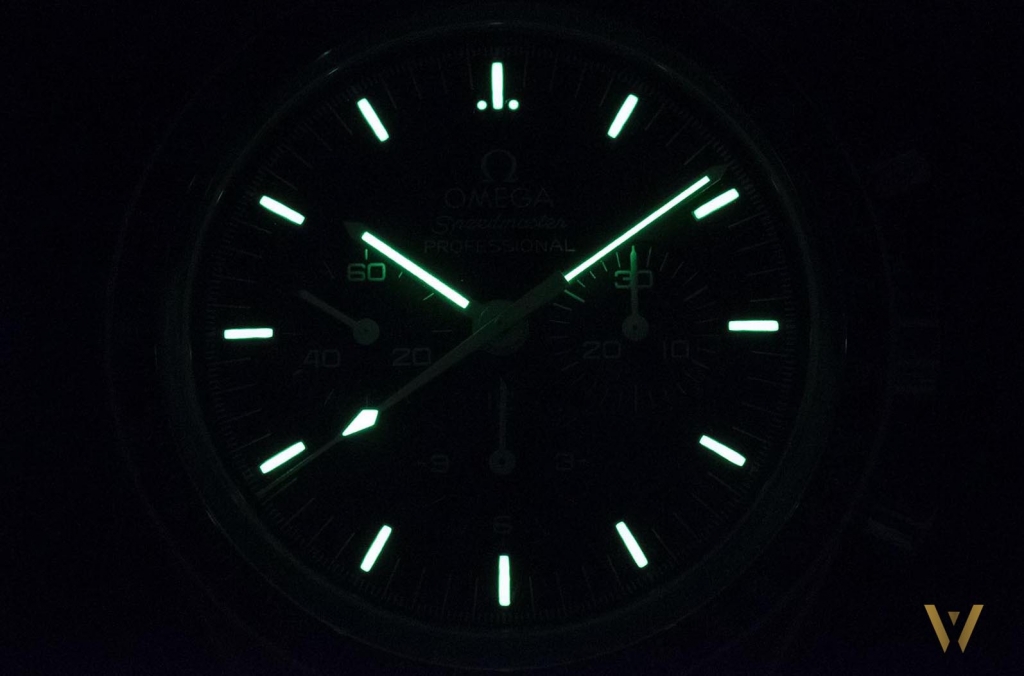 Functional as it may be, the Omega Speedmaster Moonwatch does not forget to be aesthetically appealing.
First of all, it is dressed in a very beautifully crafted steel case: satin-finished twisted lugs (known as lyre lugs to borrow from the collectors' lexicon) with a wide mirror-polished chamfer, thin satin-finished case middle, mushroom-shaped chronograph pushers, thin and legible tachometric bezel…
It is worth recalling here that the Omega Speedmaster, before accompanying the conquest of space, was intended for speed enthusiasts and other racing drivers.
At the time, it was the first chronograph to display a tachymeter scale on the outside of the dial to offer an optimized reading of times.
To conclude on this point, it is a flawless: the case of the Omega Speedmaster Moonwatch is very beautiful and impeccably crafted.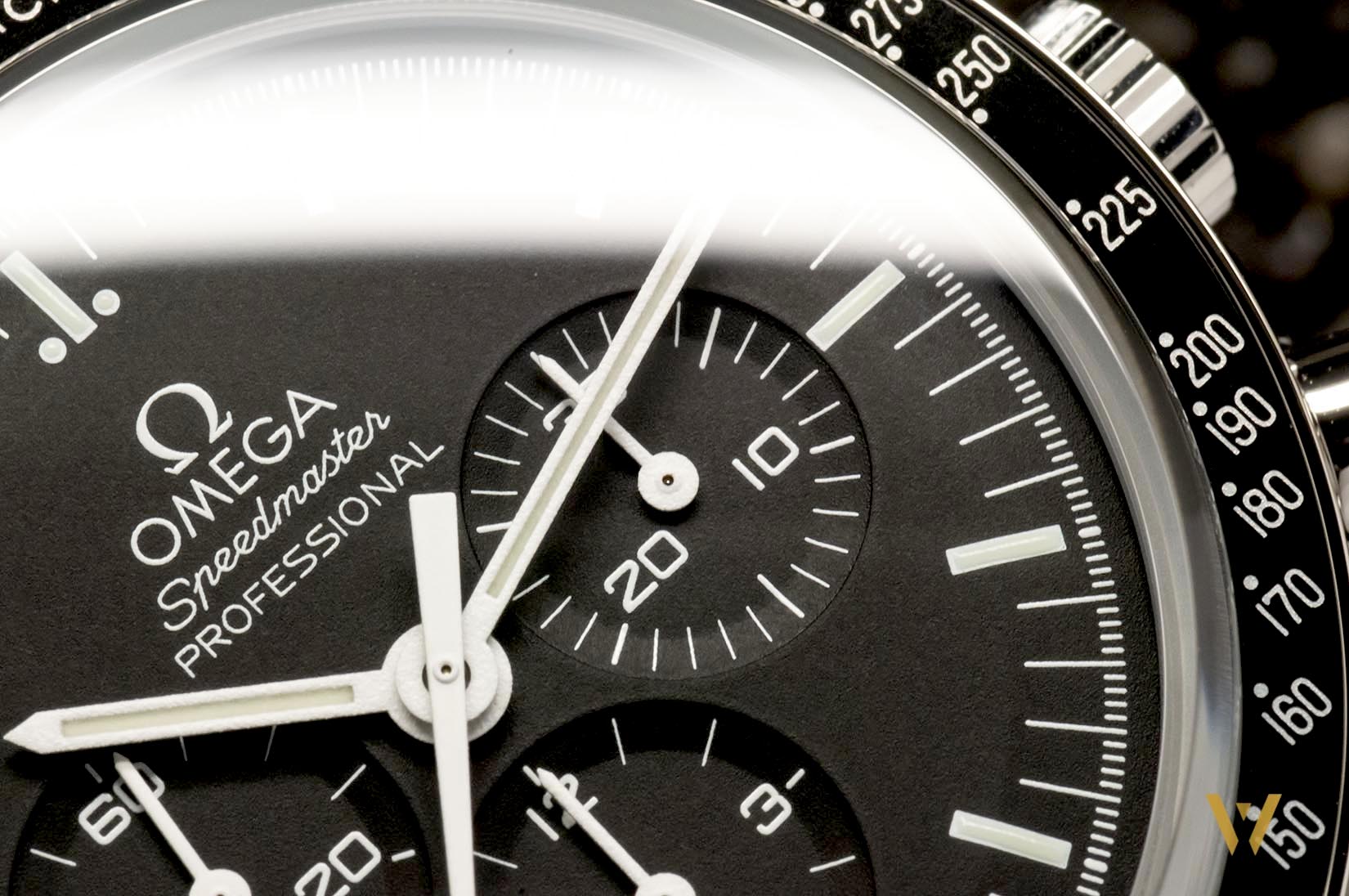 If its dial is impeccably functional, it is also beautiful.
Slightly curved at the periphery, it is punctuated by three counters hollowed out of the surface which offer a magnificent spectacle to the eye.
There is a 30-minute totalizer at 3 o'clock, a 12-hour totalizer at 6 o'clock and a small seconds at 9.
The Omega Speedmaster Moonwatch owes its tricompax layout to the mechanics on board.
While this legendary chrono is available with a solid steel case back (ref. 311.30.42.30.01.005), Omega also offers a version equipped with a sapphire back.
This is the one I undoubtedly prefer because the view offered by the caliber 1863, a hand-wound mechanical movement with a classic 48-hour power reserve, is a permanent delight.
Its open, almost aerial architecture allows you to see its various components in motion: a spectacle you never tire of!
To be continued below…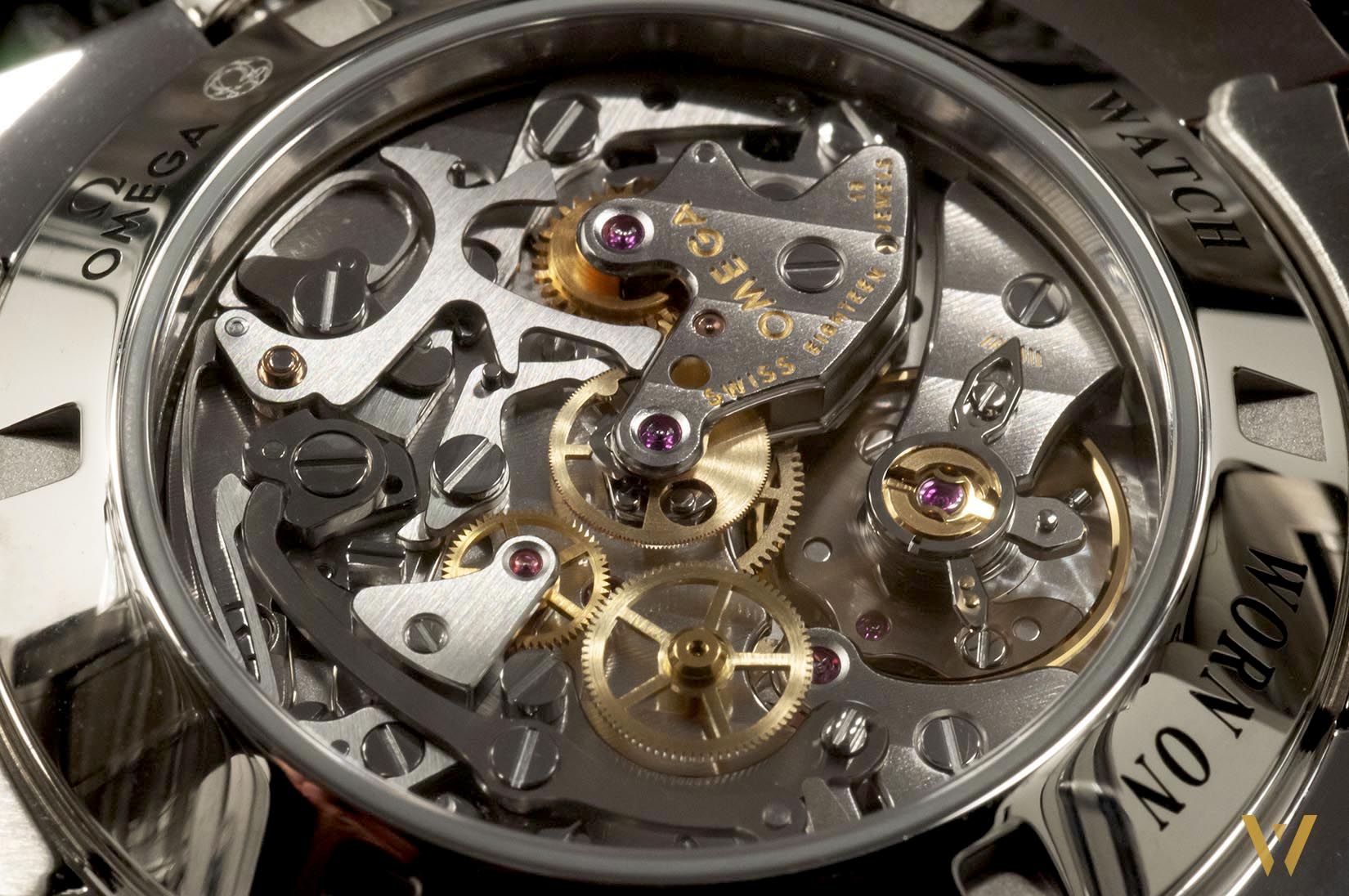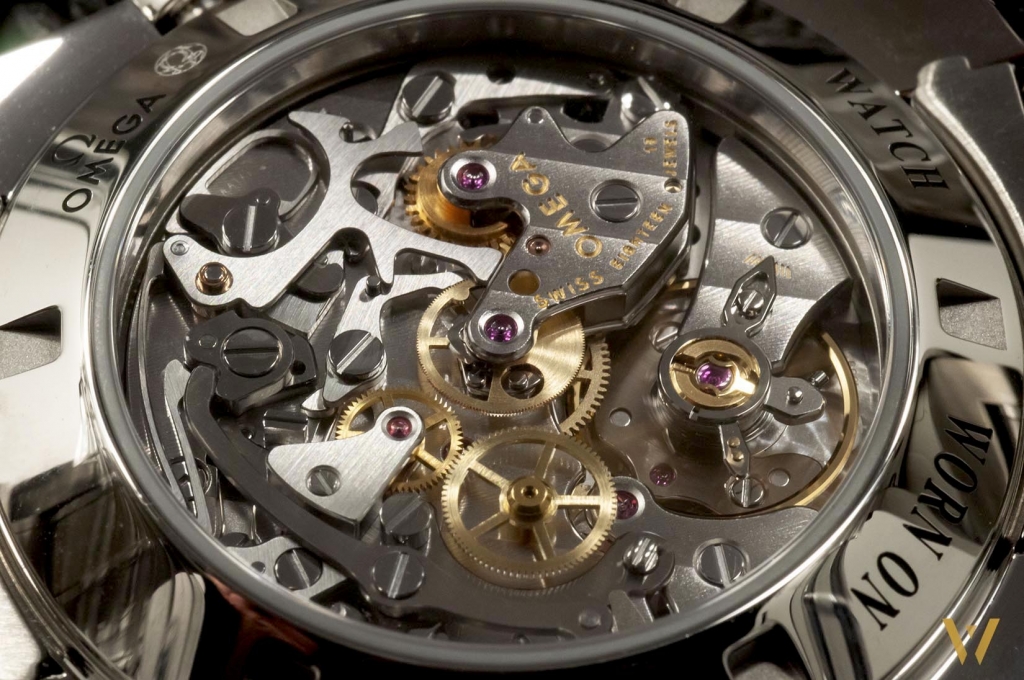 Omega Speedmaster Moonwatch:
A true must-have
Omega achieved a masterstroke when it launched the Speedmaster in 1957.
Propelled by history thanks to its intrinsic qualities, the Moonwatch is for me an essential piece in a watch collection worthy of the name.
First of all, it is a timeless chronograph that you will be able to keep all your life without it getting wrinkled and, what is rare, without ever getting tired of it.
Secondly, the Omega Speedmaster Moonwatch is both elegant and sporty, allowing you to wear it in all circumstances.
I only regret the fact that its water-resistance is limited to 50 meters, which means that it should not be worn on the wrist when swimming. It's a pity.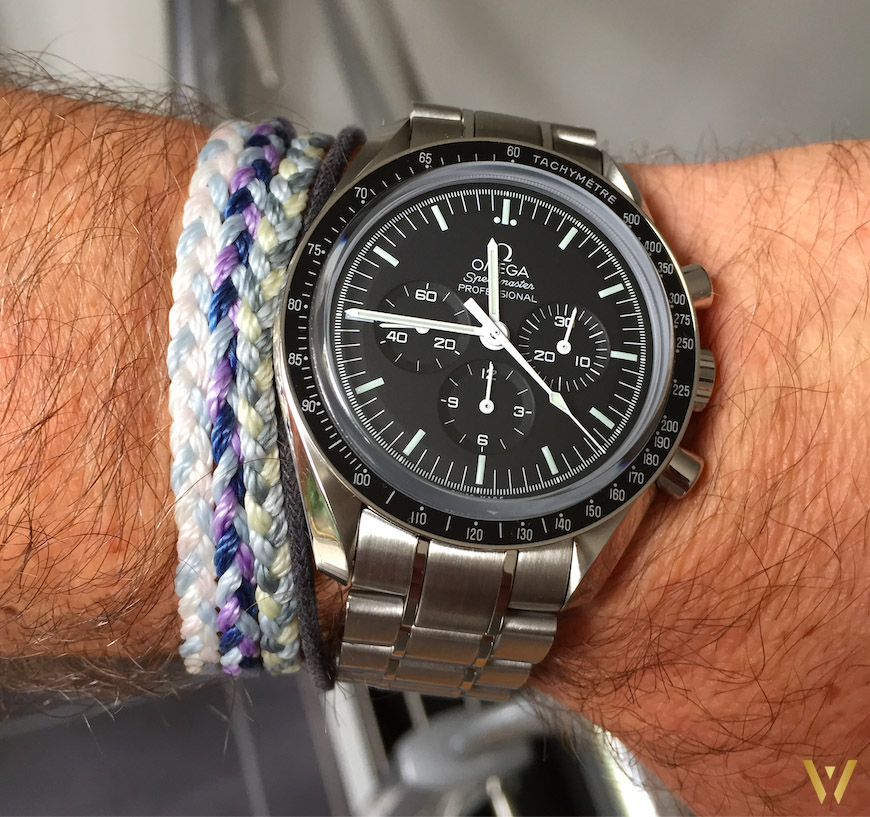 The Omega Speedmaster Moonwatch is finally of a formidable functionality and discretion that make it a chronograph that is completely irresistible to me.
If its price has increased somewhat in recent years, this Omega watch still benefits from an excellent quality/price ratio compared to what the competition offers, with Rolex at the forefront with its Daytona selling for more than $13,150.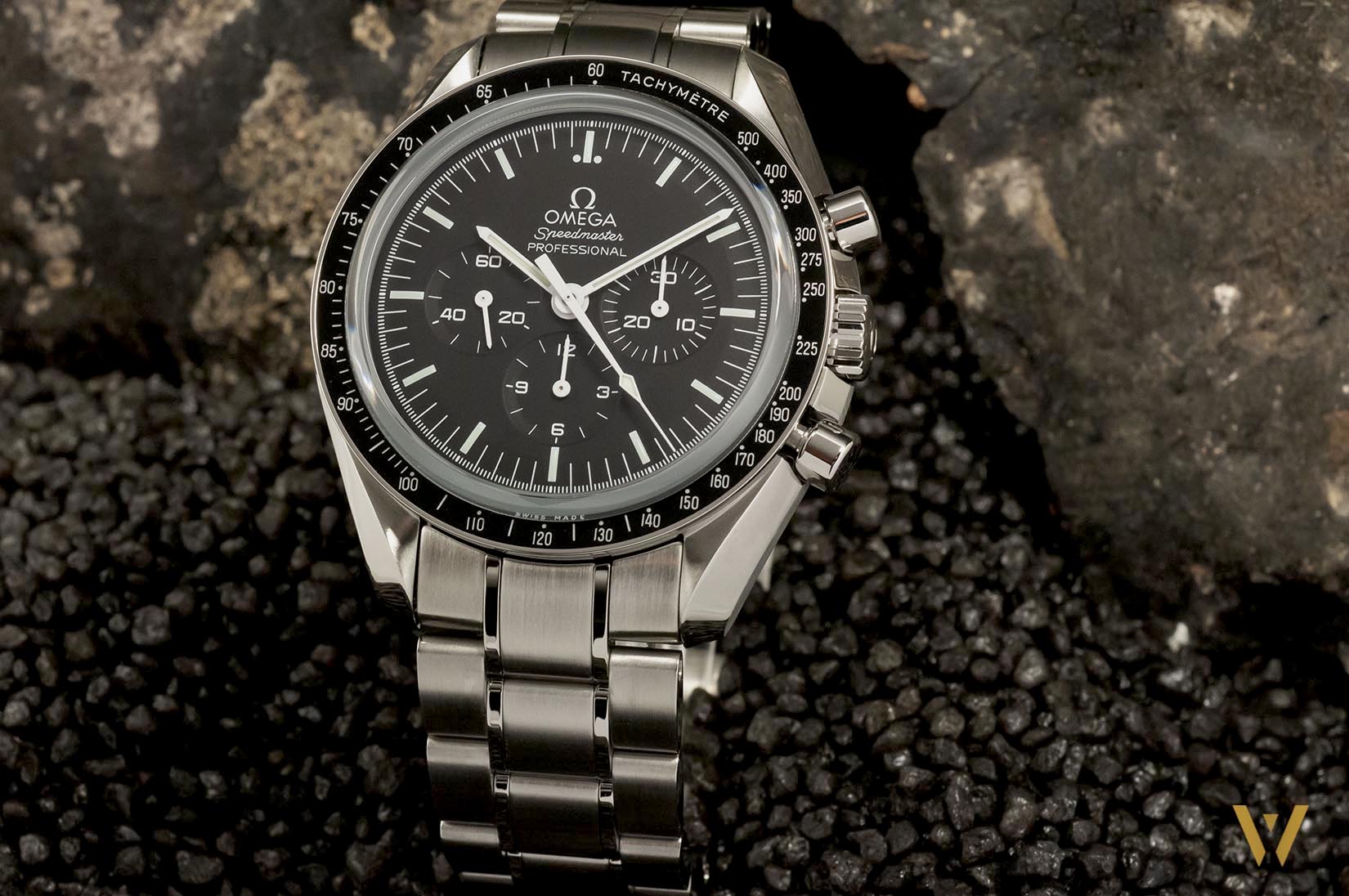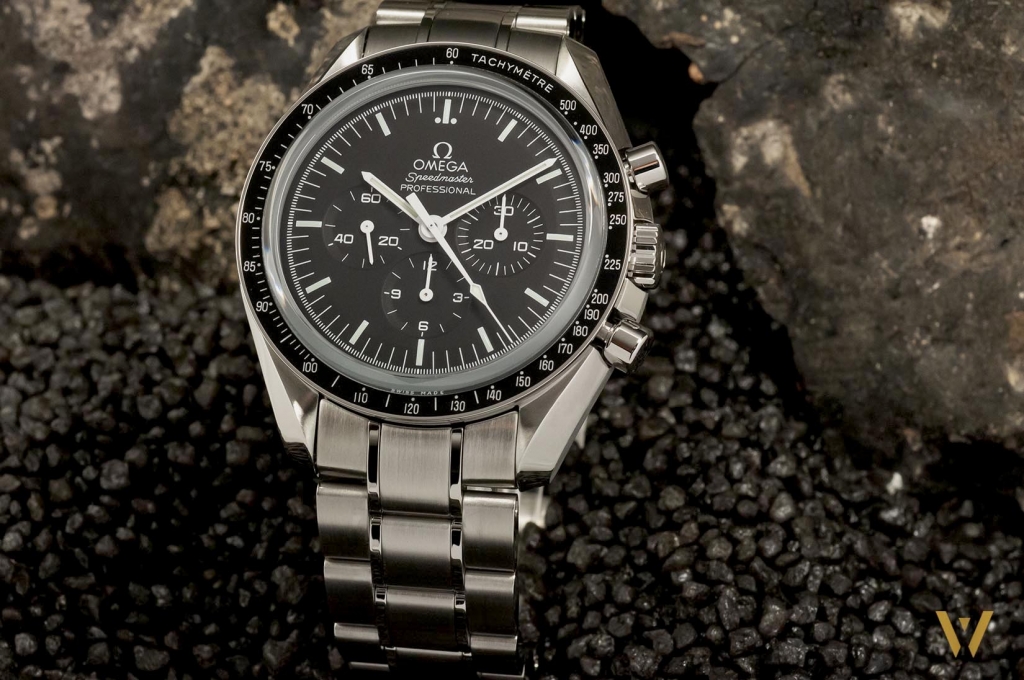 In conclusion, the price increase for the Omega Speedmaster Moonwatch has been accompanied by a very nice new package including, in addition to the steel bracelet, two additional straps (a NATO one and an astronaut's Velcro strap) and the necessary tool to switch from one to the other.
Further Information
Omega delivers the Speedmaster Moonwatch in a special Moonwatch case containing a NATO strap, an astronaut's strap, a tool for changing the bracelet and a book recounting the adventures of the Speedmaster
Wrist of the writer / tester = 17.5 cm
THE MOST SOUGHT-AFTER WATCH TYPES