Straight to the Point
TAG Heuer Monaco Chronographe
Ref.: CAW2110.FC6177
$3,800.00
US retail price October 6th, 2010
Pros
the finishing of the case
the distinguishing design of the watch
the work on the sapphire glass
Cons
a transparent back that does not allow seeing a lot
the imperfections of the chronograph
an angular case that marks easily
Brand
TAG Heuer
Model name

Monaco Chronograph

Reference

CAW2110.FC6177

Case material

Steel

Case diameter (without crown)

39 mm x 39 mm

Case diameter (crown included)

39 mm x 42,28 mm

Movement type

Automatic

Caliber

TAG Heuer calibre 12

Base Caliber

ETA 2892-2 + Dubois Depraz module

Functions

Chronograph

Date

Hour

Minute

Second

Crystal

Dual-face crystal with anti-reflective coating

Power reserve

42h

Transparent back

Yes

Lug width

22,01 mm

Length from lug to lug

47,23 mm

Case thickness

14,44 mm

Strap material

Alligator

Clasp type

Deployment clasp

Clasp material

Steel

Total weight

122 grammes

Retail price USA at October 6th, 2010

$3,800.00
| | |
| --- | --- |
| Comfort (/15) | 14 |
| Movement (/20) | 9.5 |
| Movement Optimisation / Garnishment (/5) | 2 |
| Ease of handling and adjustment (/5) | 4 |
| Movement control proceeded by the Manufacture / horlogical awards (/3) | 1 |
| Power reserve (/2) | 1 |
| Complications (/5) | 1.5 |
| Finishing (/20) | 15 |
| Dial finishing (/6) | 4 |
| Case finishing (/6) | 5 |
| Quality of garnishment / caseback engraving quality (/2) | 1 |
| Crystal quality (/4) | 4 |
| Clasp finishing (inner and extern) (/2) | 1 |
| Functionality (/20) | 15 |
| Diurnal legibility (/5) | 4.5 |
| Night legibility (/4) | 2 |
| Water resistance (/3) | 1 |
| Strap : ease of size adjustment + ease of substitution (/4) | 3.5 |
| Clasp : quality and safety (/4) | 4 |
| Additional items (/10) | 4 |
| Limited edition (/3) | 0 |
| Watch delivered with several straps (/2) | 0 |
| Quality of the watch box (/1) | 1 |
| Portability with shirtsleeves buttoned (/2) | 2 |
| Goodies included (/1) | 0 |
| Understandability of the brochure (/1) | 1 |
| Value for money (/15) | 13 |
| When to wear it ? | To drink a White Russian after work! |
Users opinion
67%
like this watch
TAG Heuer Monaco Chronograph
Foreword
Presented in 1969 with the automatic chronograph "caliber 11" movement produced by Dubois-Depraz and Buren (for Breitling, Hamilton and Heuer-Leonidas), the Monaco remained in the Heuer catalog during a part of the 1970's.
Then it was put aside, as many of its competitors.
TAG Heuer launched again this model in 1998 and has quite largely declined it since.
The range has been renewed two years ago.
This is the case with the tested model: a "full-dressed Monaco", with its black dial and its leather strap of the same shade.
A flattering design
The preservation of the Monaco line, which successfully distinguishes it from its competitors, does not preclude a well-conceived work on the details.
The basis of the case benefits a rounded chamfer that lightens it.
The dual-face crystal with anti-reflective coating is similarly chamfered.
With the alternations of polished/brushed finishing and the faceted hands and markers, the whole is flattering.
TAG Heuer has preserved the system of a folding buckle by pinching.
When the strap is well-adjusted, the Monaco, of a reasonable size, can easily be forgotten.
The movement
The calibers 11, 12 and 15, developed in the late 1960's and at the beginning of the 1970's, even if they were not "great watch making", were interesting thanks to their architecture (a chronograph's module set to a Buren micro-rotor automatic movement) and their novelty.
The actual movement of the Monaco claims filiations with its ancestors by taking over the name "caliber 12". And indeed, it is also a Dubois-Depraz module, set on an automatic movement, namely an ETA 2892-2.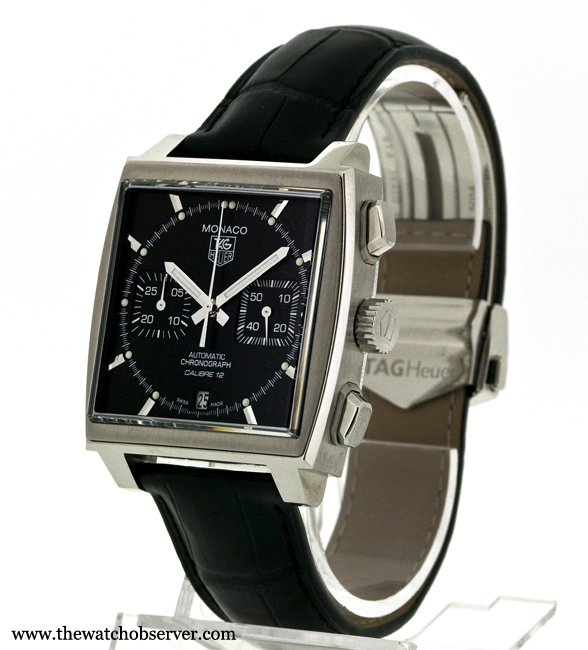 The comparison ends here. The actual module is installed differently and does not benefit the aura attached to the novelty of its 40-year-old predecessor.
As for the 2894-2 supplied by ETA between 1998 and 2009, the complication plate Dubois-Depraz, set on the 2892-2 suffers several flaws: slight jump of the seconds hand of the chronograph when starting it, shuffling hand for the minutes counter and firm push-buttons.
The Steve Mc Queen's fans willing to measure the length of their coffee's percolation or the average speed of the bus between home and work might thus be disappointed.
All the more that this Monaco does not include a tachymeter.
Conversely, the manual winding and the time and date setting are very comfortable.
Lastly, this new Monaco is waterproof up to 100 meters depth.
So you can fearlessly take a bath with it – provided that you change the strap first.
But you will not be able anymore to polish the glass of your TAG Heuer with toothpaste, such as it was possible in the past, the plexiglas being replaced on this version by a beautiful sapphire glass.
What to remember
Born in the 1970's as a chronograph evocative of the race, the Monaco remains, in this "smart" version, a serious competitor on the market of "sport/smart" watches.
Related TAG Heuer articles
Editor's opinion
65.5 / 100
THE MOST SOUGHT-AFTER WATCH TYPES
THE MOST SOUGHT-AFTER BRANDS