Straight to the Point
March LA.B Bonzer Double Steel
Ref.: BONZERADBS310
$1,675.00
US retail price July 23rd, 2020
Pros
an elegant and sporty watch that you can wear in any circumstance
a personality of its own, both vintage and contemporary
a sumptuous dial, pure and luminous
an exemplary finish in this price range
a permanent attention to detail: sculpted winding crown and periphery of the rotating bezel, blue-gray minute track on the flange, green-tinted glass on the back, personalized clasp on the steel bracelet…
a very beautiful and masculine steel bracelet
a choice of 3 bracelets equipped with flash spring bars for a quick change without tools
a Made in France watch
an attractive price/quality ratio
Cons
a power reserve of 42 hours, a little short regarding the current trend of 70 hours
anecdotal night-time readability
like any steel-on-steel watch: a watch of a certain weight that requires you to like the watches present if you opt for this configuration
| | |
| --- | --- |
| Brand | March LA.B |
| Model name | Bonzer Double Steel |
| Reference | BONZERADBS310 |
| Case material | Stainless steel |
| Case diameter (without crown) | 41 mm |
| Case diameter (crown included) | 44.70 mm (4 O'clock - 10 O'clock) |
| Movement type | Automatic |
| Caliber | Caliber Miyota 9015 |
| Base Caliber | Caliber Miyota 9015 |
| Functions | Hour ; minute ; second ; date |
| Crystal | Convex sapphire glass with anti-reflective coating |
| Power reserve | 42h |
| Transparent back | Yes |
| Lug width | 20 mm |
| Length from lug to lug | 46.50 mm |
| Case thickness | 12.20 mm |
| Water resistance | 100 m |
| Strap material | Stainless steel |
| Clasp type | Deployment clasp |
| Clasp material | Stainless steel |
| Total weight | 136 grams (bracelet set for a 17.5cm wrist) |
| Retail price USA at July 23rd, 2020 | $1,675.00 |
| | |
| --- | --- |
| Comfort (/15) | 15 |
| Movement (/20) | 7 |
| Movement Optimisation / Garnishment (/5) | 1.5 |
| Ease of handling and adjustment (/5) | 4 |
| Movement control proceeded by the Manufacture / horlogical awards (/3) | 0 |
| Power reserve (/2) | 1 |
| Complications (/5) | 0.5 |
| Finishing (/20) | 16.5 |
| Dial finishing (/6) | 4.5 |
| Case finishing (/6) | 4.5 |
| Quality of garnishment / caseback engraving quality (/2) | 1.5 |
| Crystal quality (/4) | 4 |
| Clasp finishing (inner and extern) (/2) | 2 |
| Functionality (/20) | 14 |
| Diurnal legibility (/5) | 4.5 |
| Night legibility (/4) | 0.5 |
| Water resistance (/3) | 1 |
| Strap : ease of size adjustment + ease of substitution (/4) | 4 |
| Clasp : quality and safety (/4) | 4 |
| Additional items (/10) | 4.5 |
| Limited edition (/3) | 0 |
| Watch delivered with several straps (/2) | 0 |
| Quality of the watch box (/1) | 0.5 |
| Portability with shirtsleeves buttoned (/2) | 2 |
| Goodies included (/1) | 1 |
| Understandability of the brochure (/1) | 1 |
| Value for money (/15) | 15 |
| When to wear it ? | Every day! |
Users opinion
80%
like this watch
Bonzer: the new March LA.B. surfer's watch
March LA.B's creativity seems to be unstoppable, with new collections following a yearly rhythm.
I'm not talking about new outfits for existing models, but about new lines in their own right.
Just have a look.
In 2017, the French brand launches the very beautiful Agenda of which it proposes a new version two years later adorned with a new diameter.
In 2018, the watchmaking house that draws its inspiration from two surfing hot spots (Biarritz, France, and Los Angeles, USA) unveils the Belza, a surfer's watch adorned with the attributes of a diver's watch.
The year 2019 saw the arrival of the very elegant March LA.B Mansart.
So what does the Made in France brand have in store for 2020?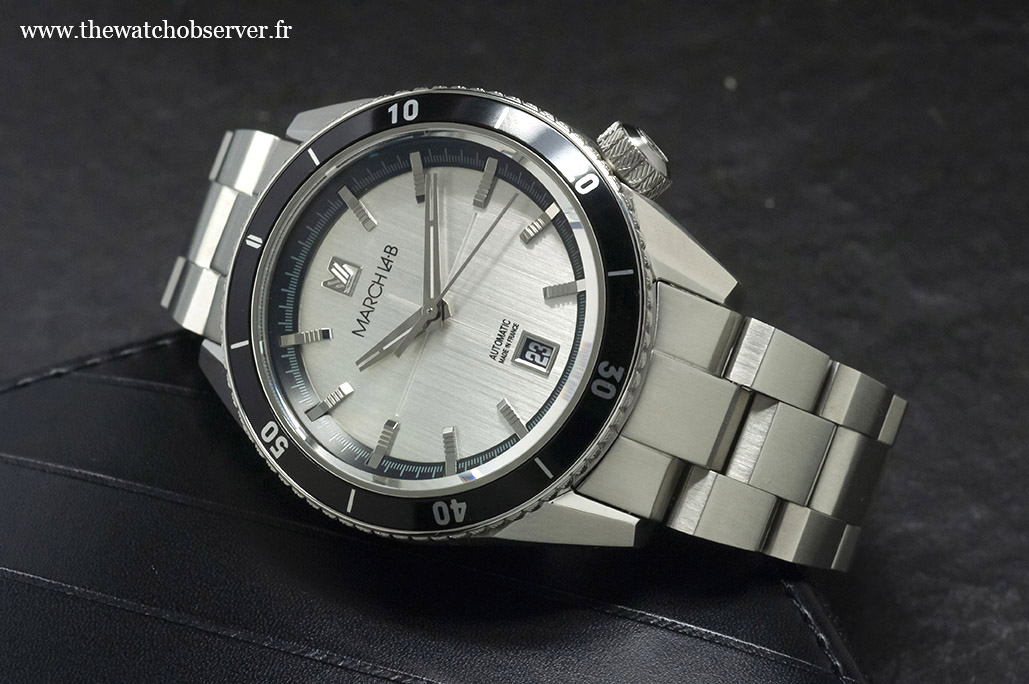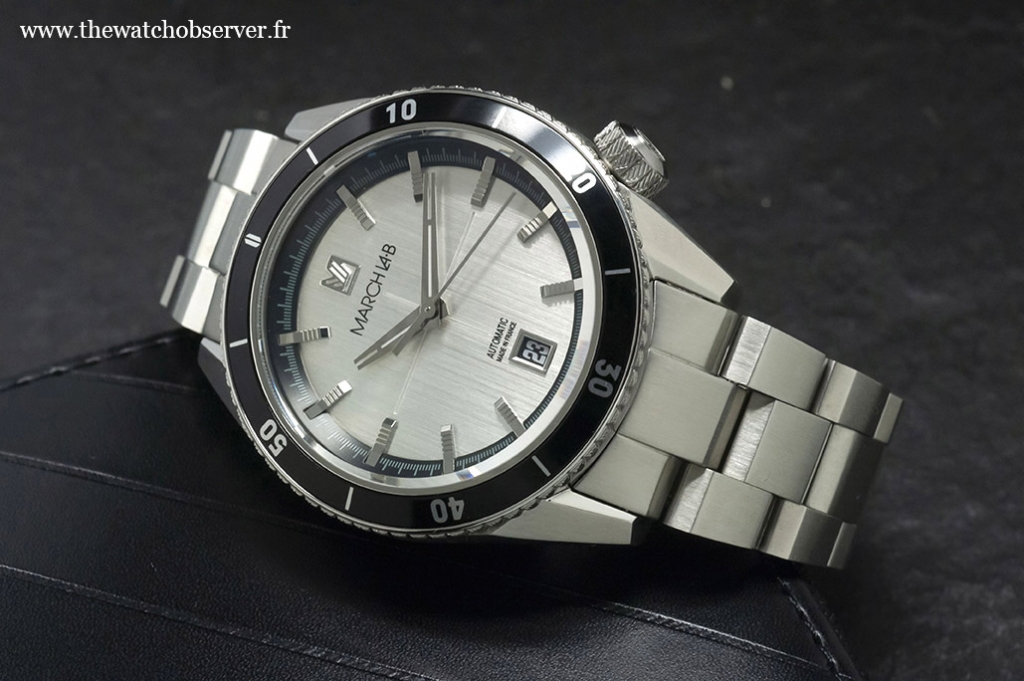 Well, today she is launching a line called Bonzer, which is composed of four versions, including this Double version.
Where does this name come from, you may ask?
Let me answer you by quoting the press release that March LA.B. sent me: It takes its name from the revolutionary surfboards designed by the Duncan brothers and Malcolm Campbell in the 70s. Faster, more maneuverable and more aggressive boards, easy to surf and suitable for all types of waves.
You've got it: this brand new Bonzer is in line with the Belza by complementing the March LA.B surf watches offer but with even more versatility.
First of all, it is presented on a steel case of 41 millimeters in diameter and has a contained thickness of 12.20 millimeters (16mm for the Belza!).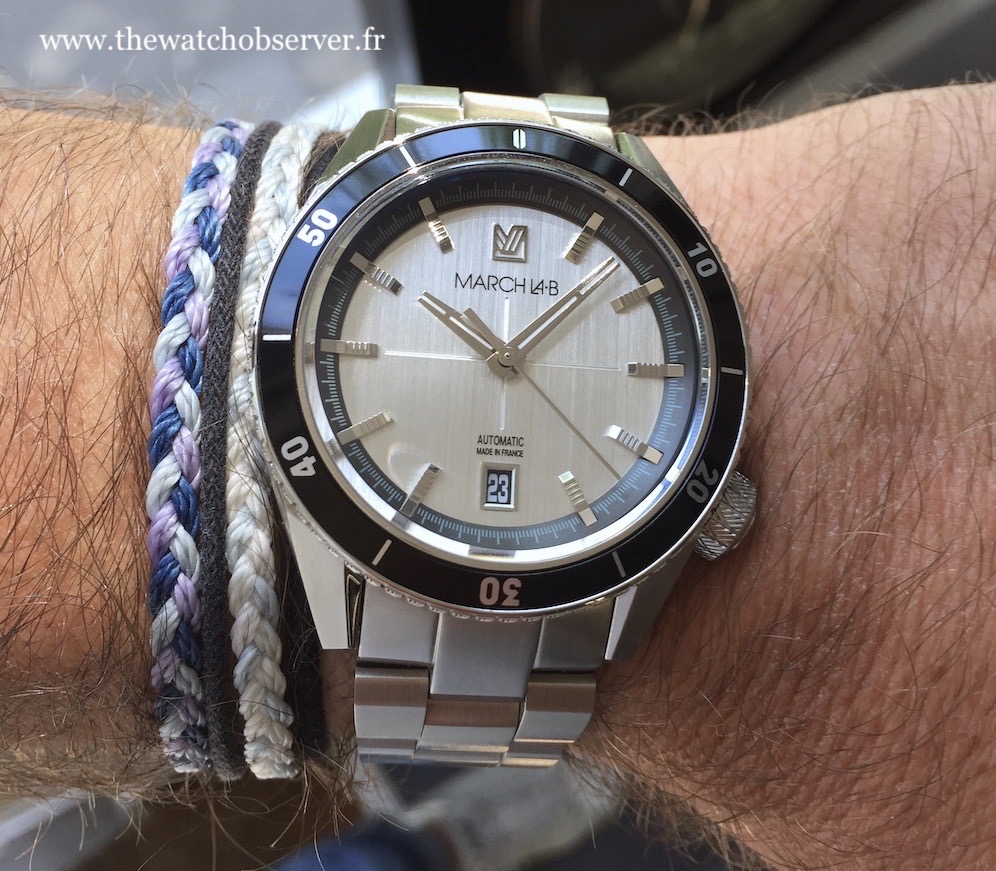 However, you will most likely be as surprised as I was when I put it on my wrist: the Bonzer is
not too small but smaller than its official diameter would suggest.
In other words, it gives the feeling of a diameter that would be 39 or even 40mm.
To be continued below…
March LA.B Bonzer Double: a high-end case
This impression most probably results from the presence of a unidirectional rotating bezel adorned with a thin black aluminum insert that brings contrast in this monochrome landscape.
The vocation of this bezel is, by the way, more decorative than utilitarian – all the more so because its peripheral notching carved in steel is beautiful and makes it easy to handle.
This impression is also probably due to the presence of thin, short, plunging lugs, which also ensure excellent wearing comfort.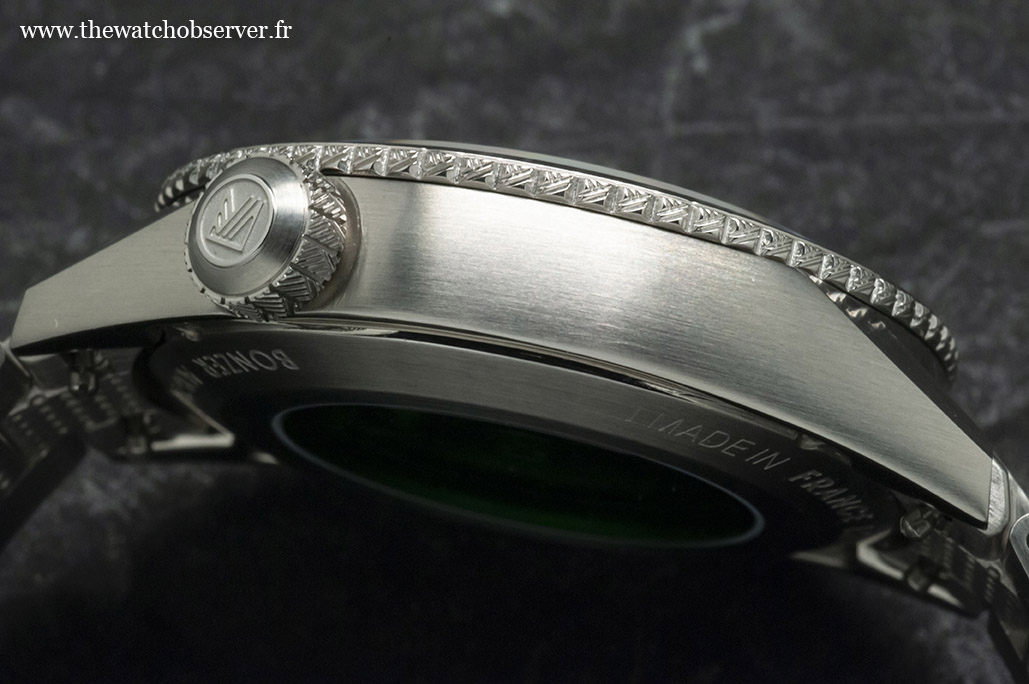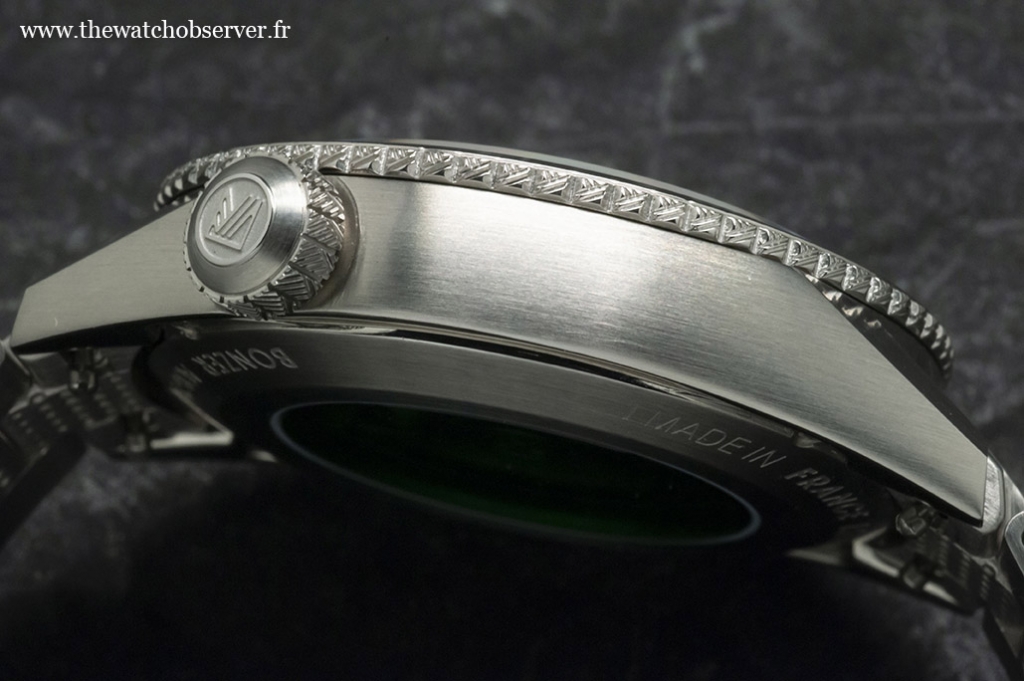 The most observant among you will appreciate as I do, in the register of pleasing details, the inner chamfer of the lugs that March LA.B serves us in a mirror-polished version, the rest of the Bonzer's case being adorned with a satin finish, which is ideal given the sporty vocation of this new automatic watch.
But to confine the March LA.B Bonzer to its aquatic and sporting vocation would be simplistic.
This novelty Made in France can indeed boast a beautiful elegance.
It is the result of some of the details I just mentioned.
To be continued below…
March LA.B Bonzer Double: a beautiful dial
But it owes it above all to its magnificent, refined dial.
On this Bonzer Double, we are offered a silver dial with a particularly balanced minimalist literature.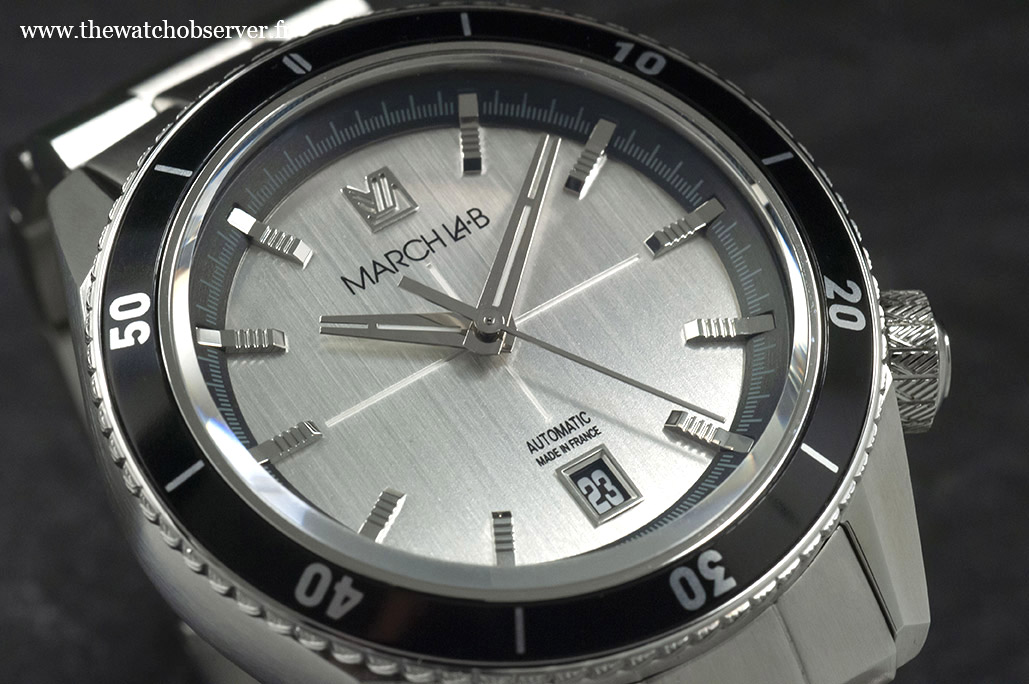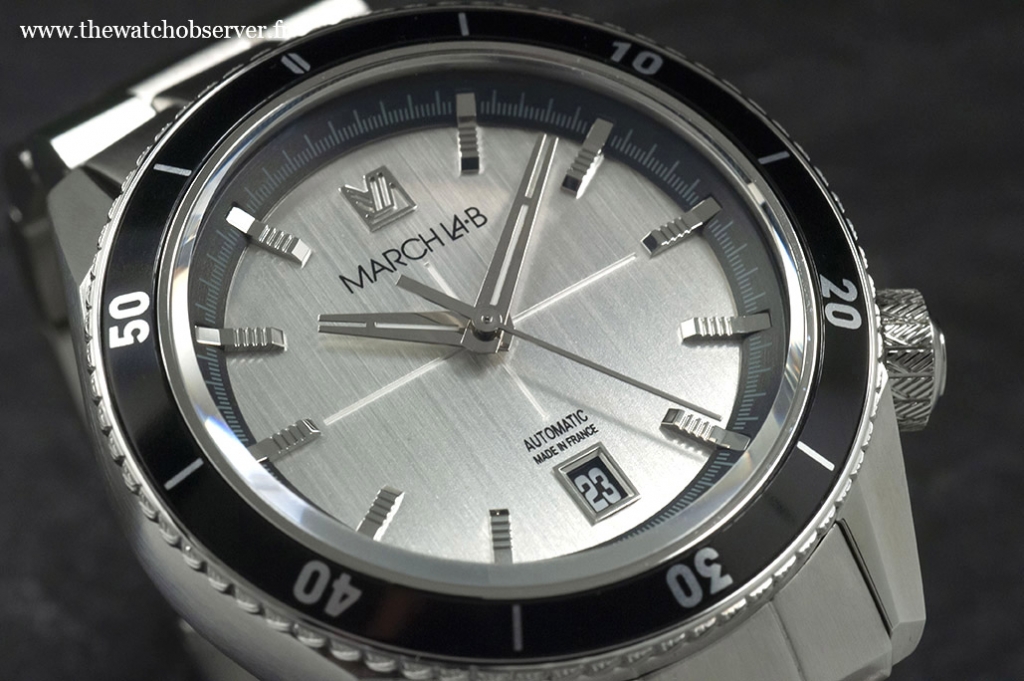 March LA.B adorns it with a vertical brushed treatment and the rhythm of applied notched hour-markers that originate in an anthracite gray inclined flange carrying the minute and second track.
Mirror-polished and rhodium-plated hour-markers and hands offer a beautiful contrast with the dial to allow a perfect reading by capturing the slightest source of light.
The result is absolutely magnificent and so original that it can justify in my opinion alone the acquisition of the model thanks to the seductive personality that emerges from it.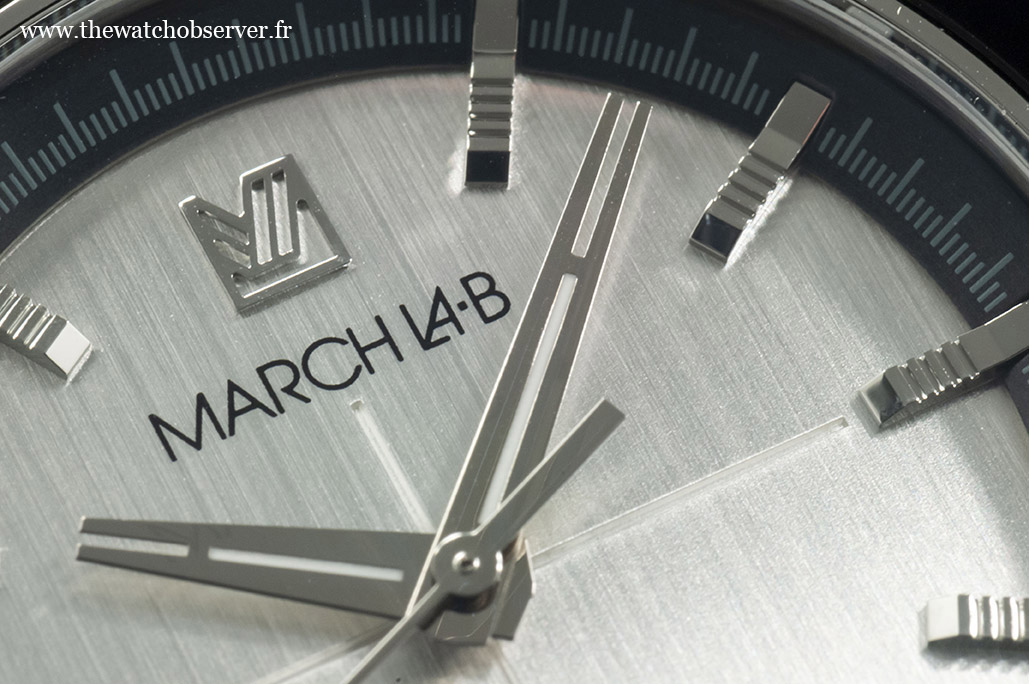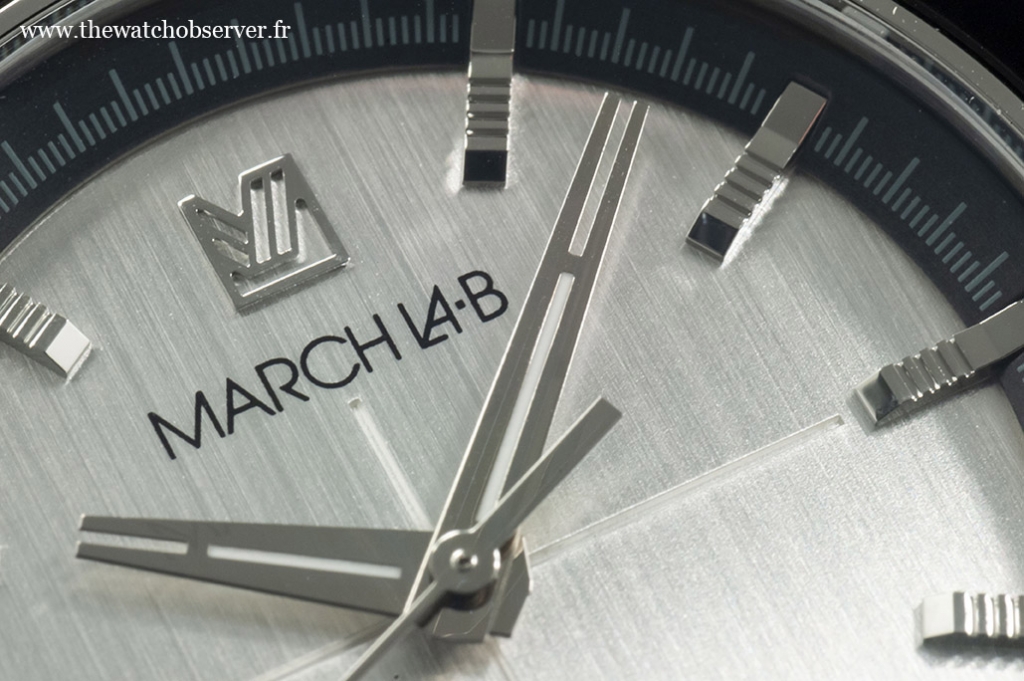 The most observant among you (them again!) will notice the only but discreet touch of color brought by March LA.B to the dial of its Double Bonzer: the graduations of the flange are proposed in a very elegant faded blue-gray.
This is not actually the only touch of color offered by the dial of this watch.
Indeed, on the 3rd of each month (and only on this day), the date turns green – an identifying feature of March LA.B watches, whose date disc systematically carries this pleasant particularity.
To be continued below…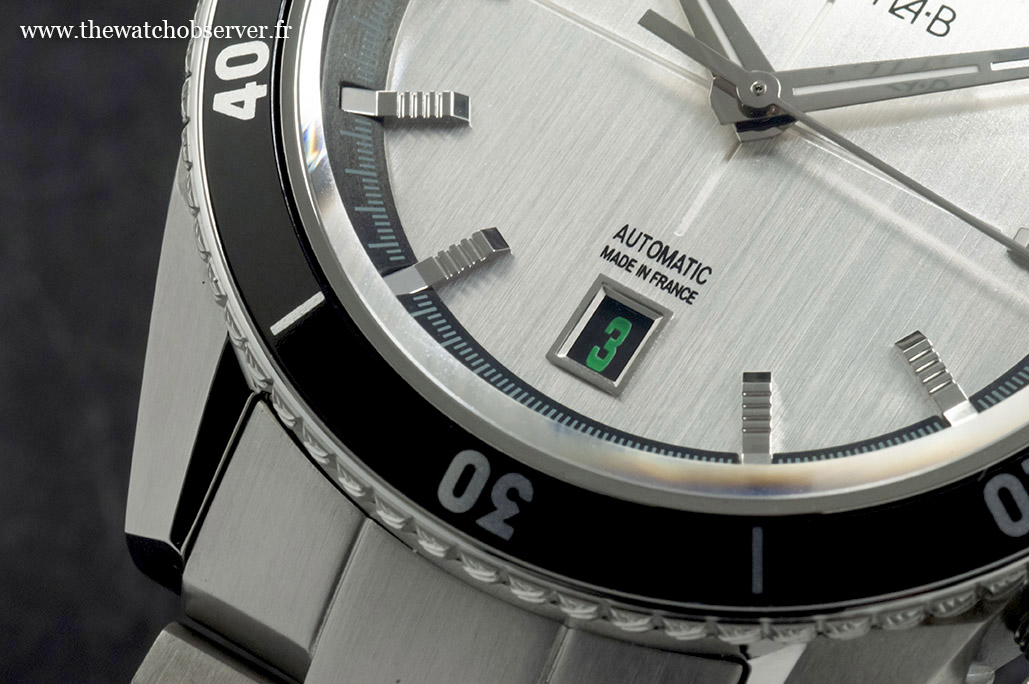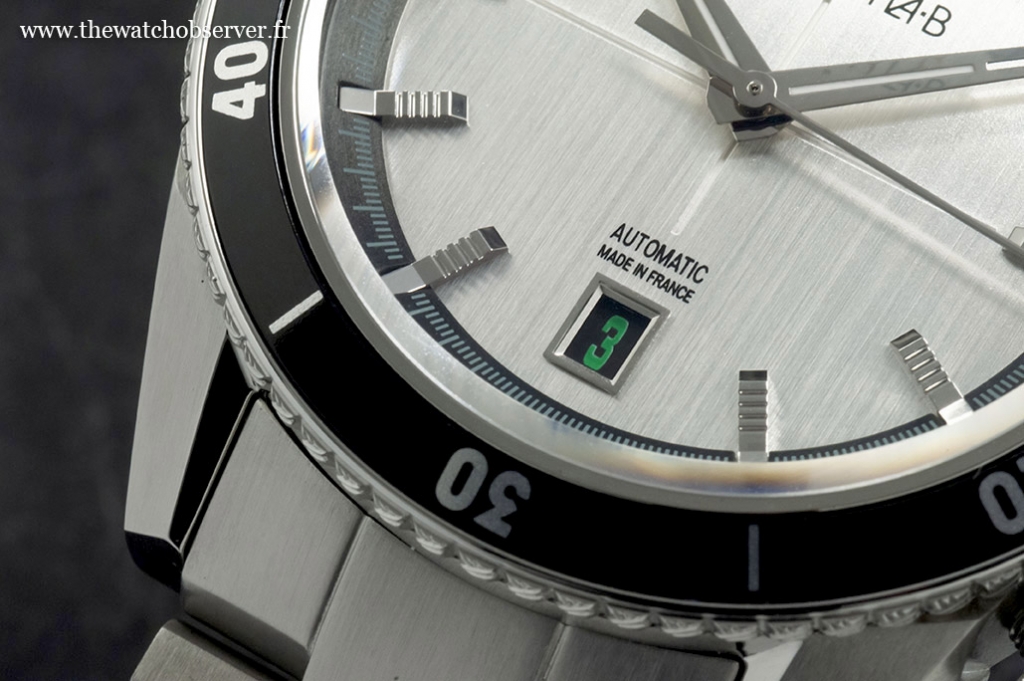 March LA.B Bonzer: versatile and sporty-chic
Finally, and here we find another component of the French brand's DNA, the back of the Bonzer's case is equipped with a green-tinted glass revealing the Miyota 9015 caliber that animates it, its oscillating weight being stamped with the unmistakable blackened March LA.B. coat of arms.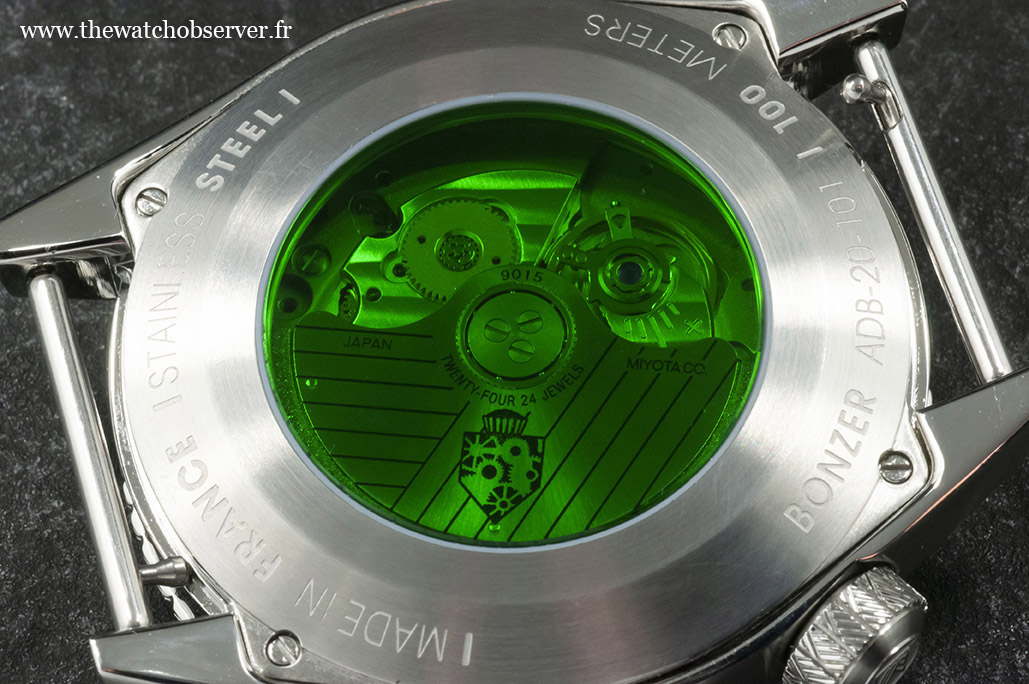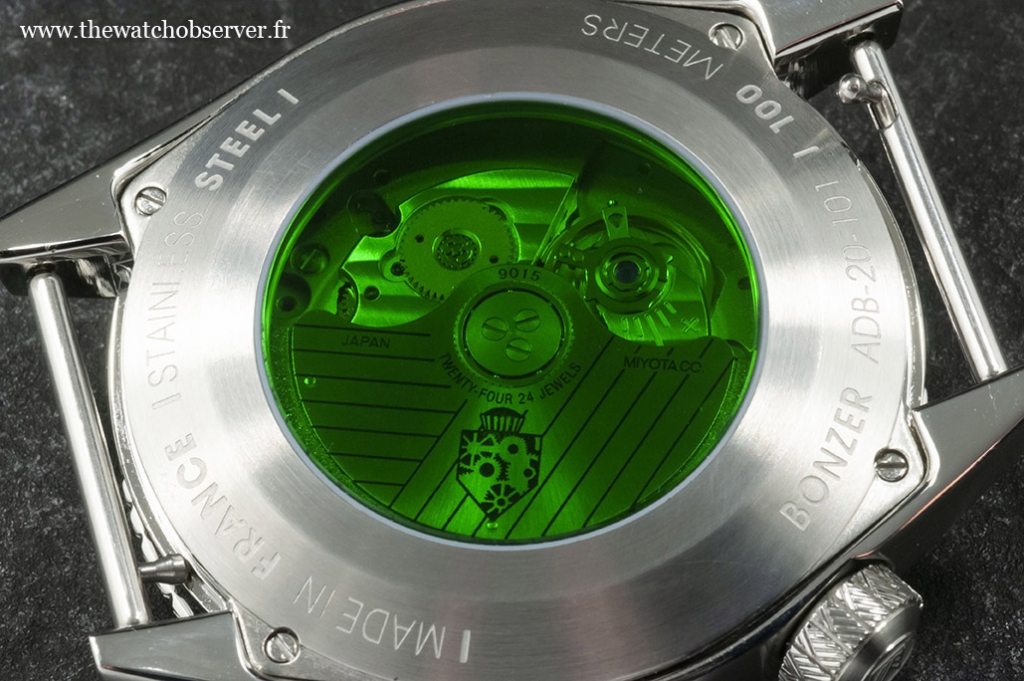 The March LA.B Bonzer is also adorned, for optimized wrist comfort, with a winding crown placed at 4 o'clock and sculpted in steel with the same beautiful brand identity motif found on the bezel.
This screw-down crown allows it to be water-resistant to 100 meters, its pattern allowing an ideal grip for adjustments.
Finally, March LA.B dresses its model with a very beautiful steel bracelet that gives it total versatility.
But as usual, the brand offers two other options: silicone strap or leather strap.
Equipped with flash spring bars, it will be easy for you to switch from one to the other without tools to dress the Bonzer according to your mood and/or your schedule.
The NATO bracelet also fits it rather well as you can see in my photo series.
To be continued below…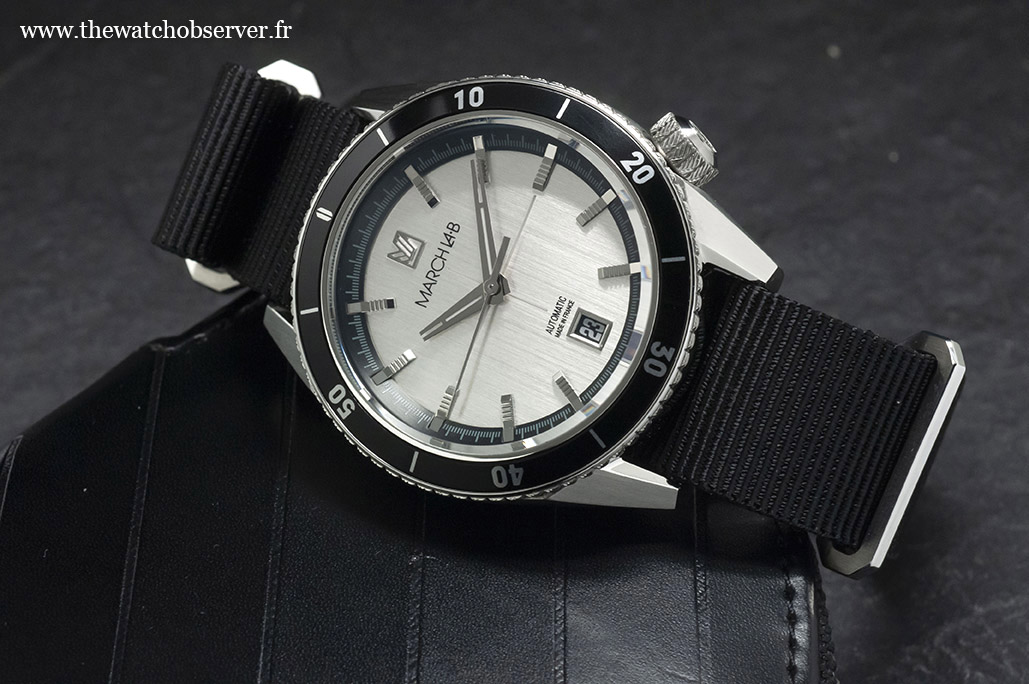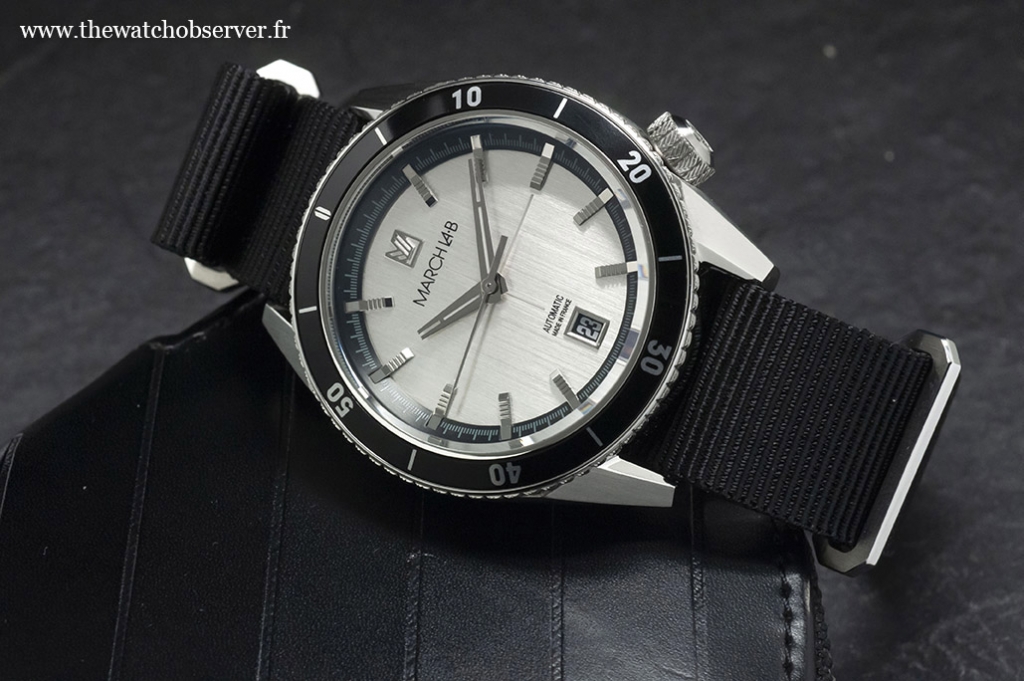 March LA.B Double Bonzer
What to remember
March LA.B keeps on surprising and seducing me.
While remaining faithful to its DNA, the French brand multiplies its creations with talent.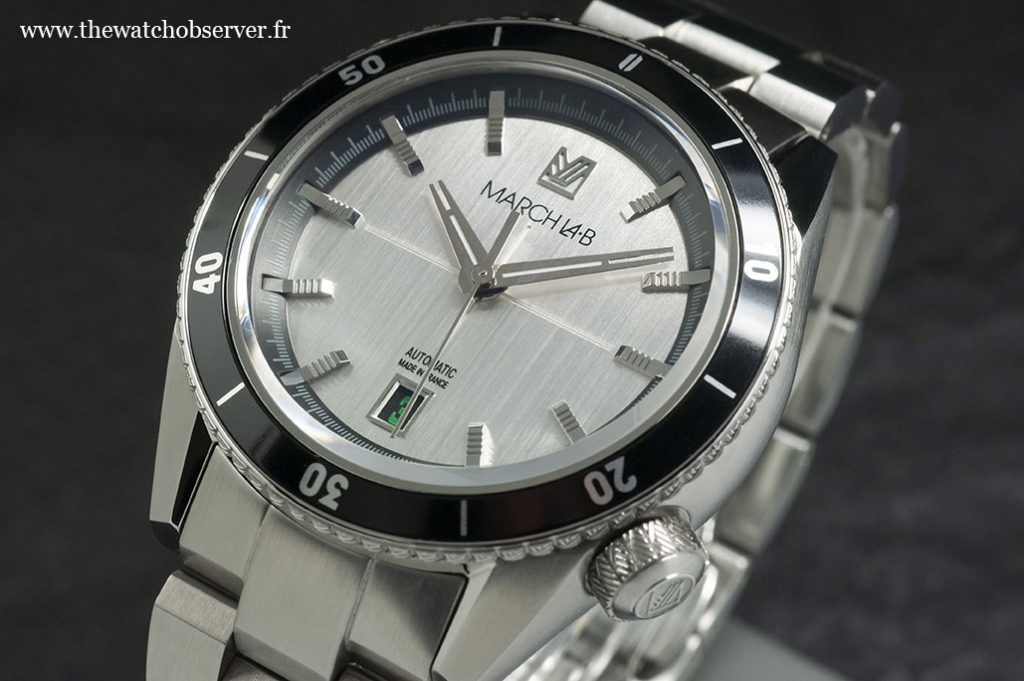 This brand new Bonzer is a perfect illustration of this.
Its versatility is first of all absolute thanks to a clever mix of sportiness and elegance.
You can wear it during your next surfing session in Bali as well as wear it at the office on more formal outfits.
The quality of its realization and the care given to details are once again pleasing, its magnificent dial being a delight at all times with its changing shades according to the luminosity and the inclination of the watch.
The result is a very March LA.B. watch, but one that does not resemble the previous models in its catalog – in short, a unique and very seductive personality.
Sold at the price of USD 1,675 on a steel bracelet, the Bonzer Double finally displays an excellent quality/price ratio.
One last piece of information: March LA.B offers this new Bonzer in three other versions.
Thus, alongside the Bonzer Double, the brand offers an Ocean version (black bezel / blue lacquered dial), a Forest version (black bezel / green sunburst dial) and a Mars version (green bezel / black dial).
Each of these three versions comes with a steel, black leather or black silicon strap.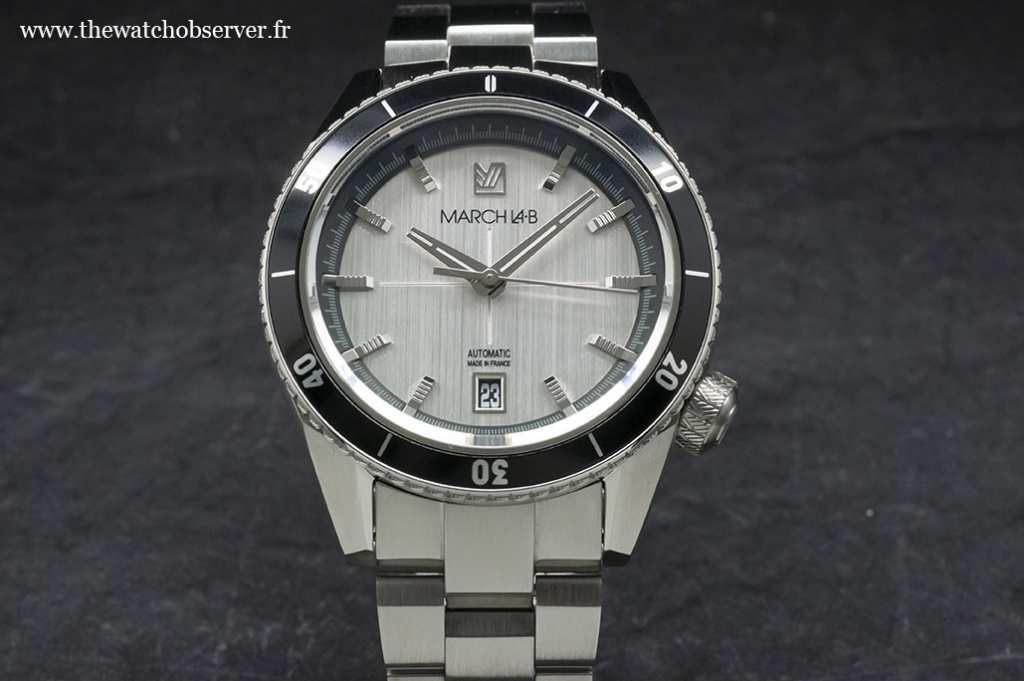 Further Information
March LA.B offers the Bonzer in 4 versions: Bonzer Double (black bezel / brushed silver dial); Bonzer Ocean (black bezel / blue lacquered dial); Bonzer Forest (black bezel / sunray green dial) and Bonzer Mars (green bezel / black dial)
Retail price of the Bonzer on steel bracelet = USD 1,675 / Retail price of the Bonzer on leather or silicone bracelet = USD 1,495 €
Wrist of the writer / tester = 17.5 cm
__________________________
In addition to its network of official retailers, March LA.B has three of its own stores, including 2 in Paris:
March LA.B boutiques / Practical information
> March LA.B Marais : 50, rue Charlot – 75003 Paris, FRANCE
Schedules: Monday and Sunday: from 14h to 19h – Tuesday to Saturday, from 11h to 19h
Phone: 01 75 57 93 90

> March LA.B Palais Royal : Gardens of the Palais Royal – 83 allée de Beaujolais – 75001 Paris, FRANCE
Opening hours: Tuesday to Saturday, from 12h to 19h – Tel: 01 75 57 93 90

> March LA.B Lexington: 47 Lexington Street London W1F 9AW, UK
Phone: +44 20 7734 3444 / Hours: Monday to Saturday, 11am / 7pm – Sunday, 12pm / 7pm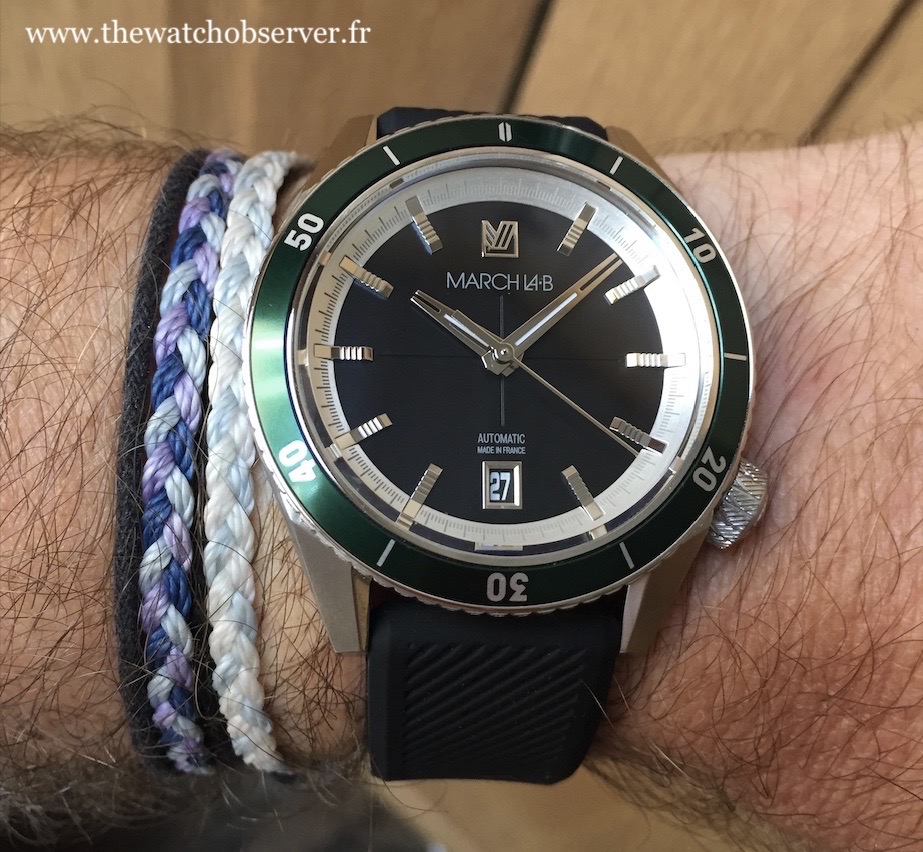 THE MOST SOUGHT-AFTER WATCH TYPES