Straight to the Point
Grand Seiko Spring Drive SBGA011
Ref.: SBGA011
$5,900.00
US retail price May 13th, 2010
Pros
a remarkable finishing
an innovative movement
Cons
the discreteness of the watch could be perceived as too clinical for some
no anti-reflective coating on the crystal glass
Brand
Grand Seiko
Model name

Grand Seiko Spring Drive

Reference

SBGA011

Case material

Titanium

Case diameter (without crown)

41,5 mm

Case diameter (crown included)

42 mm

Movement type

Automatic

Caliber

9R65

Base Caliber

9R65

Functions

Date

Hour

Minute

Power reserve

Second

Crystal

Sapphire glass

Power reserve

72h

Transparent back

Yes

Lug width

20 mm

Length from lug to lug

49 mm

Case thickness

12 mm

Strap material

Titanium

Clasp type

Deployment clasp

Clasp material

Titanium

Total weight

100 grammes

Retail price USA at May 13th, 2010

$5,900.00
| | |
| --- | --- |
| Comfort (/15) | 15 |
| Movement (/20) | 15 |
| Movement Optimisation / Garnishment (/5) | 3.5 |
| Ease of handling and adjustment (/5) | 5 |
| Movement control proceeded by the Manufacture / horlogical awards (/3) | 3 |
| Power reserve (/2) | 1.5 |
| Complications (/5) | 2 |
| Finishing (/20) | 17.5 |
| Dial finishing (/6) | 6 |
| Case finishing (/6) | 5 |
| Quality of garnishment / caseback engraving quality (/2) | 1.5 |
| Crystal quality (/4) | 4 |
| Clasp finishing (inner and extern) (/2) | 1 |
| Functionality (/20) | 13 |
| Diurnal legibility (/5) | 5 |
| Night legibility (/4) | 0 |
| Water resistance (/3) | 1 |
| Strap : ease of size adjustment + ease of substitution (/4) | 3 |
| Clasp : quality and safety (/4) | 4 |
| Additional items (/10) | 4 |
| Limited edition (/3) | 0 |
| Watch delivered with several straps (/2) | 0 |
| Quality of the watch box (/1) | 1 |
| Portability with shirtsleeves buttoned (/2) | 2 |
| Goodies included (/1) | 0 |
| Understandability of the brochure (/1) | 1 |
| Value for money (/15) | 15 |
| When to wear it ? | At work, very discreetly... |
Users opinion
80%
like this watch
The GS Spring Drive SBGA011 is a prime example of current high-end Seiko watches. On the classical aesthetic principles defined 50 years ago, Seiko varies its Spring Drive movement in a model which has discrete refinement.
A light watch with pleasing proportions
The watch looks like a dressed model showing pleasing proportions and a relative lightness thanks to titanium, which here has been well worked.
It is polished on the sides of the case and brushed on the top of lugs and the bracelet.
The case keeps the classic principles of the Grand Seiko and in order to adapt to the size of the watch, the lugs are quite long and deep.
The crown is screwed and is housed partially inside the case.
An astonishing dial for the
Grand Seiko SBGA011
The dial of the watch is quite unique.
It represents the snowy mountain landscape of the Watch Studio in the Shizukuishi region, where the top models of Seiko are made.
It uses colours and textures which change in different light conditions, which pleasing to the eye but could be more so if the sapphire were treated with antiglare.
As often with the Grand Seiko, hour-markers are polished and applied, the date window is finely treated in the same manner and the Seiko/GS logos are applied on the dial.
And to finish it off, some additional literature is painted at the bottom of the dial, black for the Grand Seiko, blue for the Spring Drive wordingusing the blue of the second hand.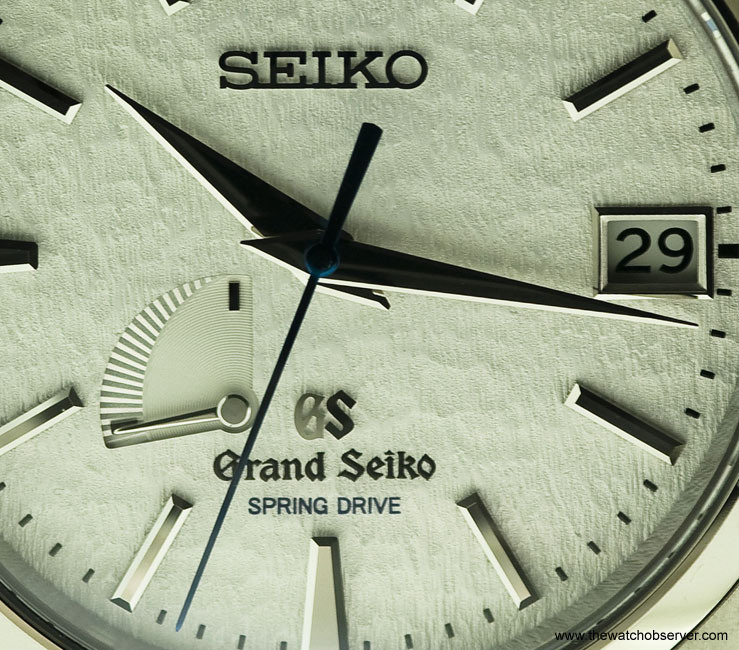 Perfectly realized hands
This is the most surprising part of the movement: the seconds move effortlessly, with perfect fluidity.
As if to emphasize this specificity, the second hand is painted blue, adding much needed contrast to the dial.
The dauphine hour and minute hands are perfectly realized. The work of polishing on all surfaces and sharp angles of the bevels in x12 detail is enlightening.
The last component of the dial is the power reserve, located between 7 and 8am, a polished hand, under the guilloche dial : the package is well integrated and does not break the harmony of the dial.
The movement: Cal. Spring Drive 9R65
The Spring Drive movement that drives this model is the 9R65 automatic.
It has Seiko's ultimate mainspring, in Spron 510, giving a range of 72h.
The Spring Drive technology, which today is still exclusive to Seiko, is a hybrid mechanical/electronic/electric movement : mechanical provides the driving force necessary for the hands and electronic provides control through tri-synchronous regulation, braking the unwinding of the mainspring.
The result is a very accurate watch (certified for 15 seconds of monthly deviation maximum) showing in its sapphire crystal engraved base a nicely finished automatic movement.
What to remember
The Grand Seiko Spring Drive is certainly a success.
Suiting those seeking a discrete and comfortable watch, manufacturing quality, innovation and modernity.
THE MOST SOUGHT-AFTER WATCH TYPES
THE MOST SOUGHT-AFTER BRANDS