Straight to the Point
Jaeger-LeCoultre AMVOX3 Tourbillon GMT
Ref.: 193K450
$68,000.00
US retail price May 11th, 2011
Pros
coherent design
impeccable manufacturing quality
its comfort, and ease of use
Cons
the finish of the movement is too classical
the less-than-optimal readability due to the relatively busy dial
Brand
Jaeger-LeCoultre
Model name

AMVOX3 Tourbillon GMT

Reference

193K450

Case material

Ceramic / Platinum 950

Case diameter (without crown)

44 mm

Case diameter (crown included)

47.65 mm

Movement type

Automatic

Caliber

Jaeger-LeCoultre 988

Base Caliber

Manufacture

Functions

GMT

Hour (GMT setting)

Indication AM/PM

Jumping date

Minute

Second

Tourbillon

Crystal

Dual-face crystal with anti-reflective coating

Power reserve

48h

Transparent back

Yes

Lug width

22.90 mm

Length from lug to lug

49.33 mm

Case thickness

15.52 mm

Strap material

Calfskin / Nylon

Clasp type

Deployment clasp

Clasp material

Grey gold 18 carats

Total weight

126 grams

Retail price USA at May 11th, 2011

$68,000.00
| | |
| --- | --- |
| Comfort (/15) | 15 |
| Movement (/20) | 17 |
| Movement Optimisation / Garnishment (/5) | 4 |
| Ease of handling and adjustment (/5) | 5 |
| Movement control proceeded by the Manufacture / horlogical awards (/3) | 2 |
| Power reserve (/2) | 1 |
| Complications (/5) | 5 |
| Finishing (/20) | 19 |
| Dial finishing (/6) | 6 |
| Case finishing (/6) | 6 |
| Quality of garnishment / caseback engraving quality (/2) | 2 |
| Crystal quality (/4) | 4 |
| Clasp finishing (inner and extern) (/2) | 1 |
| Functionality (/20) | 12 |
| Diurnal legibility (/5) | 3.5 |
| Night legibility (/4) | 2 |
| Water resistance (/3) | 0.5 |
| Strap : ease of size adjustment + ease of substitution (/4) | 3 |
| Clasp : quality and safety (/4) | 3 |
| Additional items (/10) | 6 |
| Limited edition (/3) | 2 |
| Watch delivered with several straps (/2) | 0 |
| Quality of the watch box (/1) | 1 |
| Portability with shirtsleeves buttoned (/2) | 2 |
| Goodies included (/1) | 0 |
| Understandability of the brochure (/1) | 1 |
| Value for money (/15) | 15 |
| When to wear it ? | For a ride on board of an Aston Martin! |
Users opinion
81%
like this watch
Foreword
While some watchmakers are perfectly satisfied with simply slapping on an "automobile" logo on a standard model for purely marketing purposes, the partnership between Jaeger-LeCoultre and Aston Martin believes instead in legitimacy and continuity.
Their partnership has resulted in a complete range of watches created for the occasion.
The AMVOX2 is for example the first mechanical chronograph without push buttons: all it takes to trigger it and stop it is to apply some pressure on the glass at 12 and 6 o'clock, respectively.
A series exclusively designed for Aston Martin owners has even been created – the AMVOX2 DBS.
This watch is equipped with a transponder allowing you to unlock the DBS' doors using a small amount of pressure on the watch's glass. Very classy!
Exceptional manufacturing quality
While this AMVOX3 does not offer any radical innovations from a mechanical perspective, it does not rest on its laurels when it comes to its GMT tourbillon movement.
The Holy Grail for many connoisseurs, the tourbillon is the watchmaking equivalent of a Aston Martin V12 manually assembled in Newport Pagnell.
Like the cars that it draws its inspiration from, the AMVOX3 demands a certain amount of respect the moment you lay eyes on it.
The extremely polished dial conveys a sense of power and technicality.
Put together using "grating" (reminiscent of an Aston Martin's radiator grill), sapphire plaques and naked components, it makes you think you could be admiring an engine compartment.
The overall manufacturing quality is so exceptional that it becomes difficult to find any faults at all…
But let's take a closer look.
THE MOST SOUGHT-AFTER WATCH TYPES
A competition movement: cal. JLC 988
The Jaeger-LeCoultre 988 caliber is no ordinary tourbillon!
It is on the one hand equipped with a GMT function linked to sapphire discs indicating AM or PM.
On the other hand, its date pointer makes a bigger jump between the 31st and the 1st of each month in order to not block the view of the tourbillon chamber. A nice technical feat!
It is also equipped with an oscillating weight made of carbon and platinum-iridium (the non-toxic metal with the highest density in the world) mounted on ceramic bearings without lubrication.
This rotor comes directly from the Jaeger-LeCoultre Extrem LAB, the first watch in the world to run without any kind of lubrication.
This is the kind of attention to details that will be appreciated by collectors, a little bit as if a standard Aston Martin model was equipped with rims that came from a prototype used at the Le Mans 24-hour race.
If the quality of the Jaeger-LeCoultre 988 caliber is impressive from a watchmaking standpoint, it leaves us asking for more in terms of design…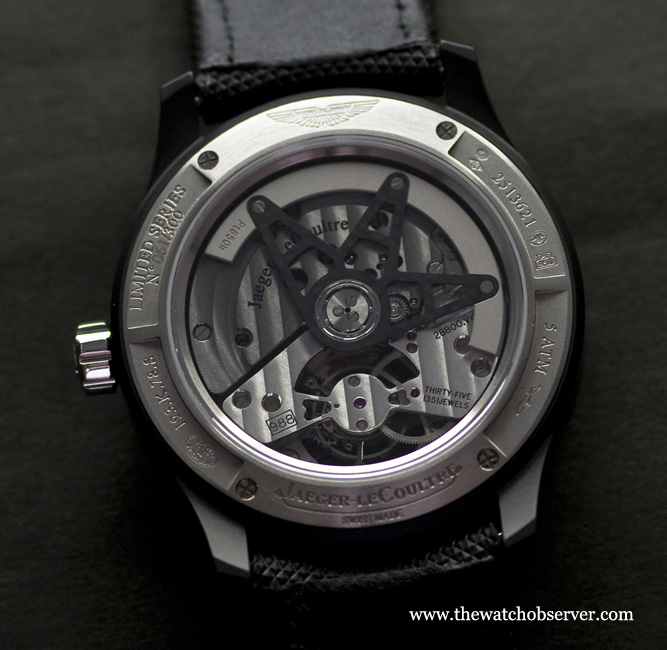 Except for its high-tech rotor, its finish is otherwise very classical – a finish that is incidentally very cleanly executed, using Côtes de Genève, circular-graining…
Surely such a watch really deserved a little bit more audacity in its design style!
It's almost as if there is this big gap between the techy-avant-garde approach to the treatment of the dial and rotor, and the conventional one used for the movement's design…
There is another small grievance that fans of fine watchmaking engineering might have: while the tourbillon bridge looks solid, it is rather large, and hinders the view of the moving parts' ballet.
And to finish this tour of the movement, let's note that Jaeger-LeCoultre is more demanding for the tuning of this tourbillon than for the brand's other models.
The set tolerance is -1 second/+ 4 seconds per day, as opposed to -1 second/+6 seconds for the brand's traditional "1,000 Hour Control" – knowing, for the record, that the level of tolerance allowed by the C.O.S.C. is itself -4 seconds/+6 seconds per day.
This attention to detail is especially commendable of Jaeger-LeCoultre since tourbillons are particularly hard to tune…
A beautiful finish
Regarding the bodywork, Jaeger-LeCoultre uses a combination of black ceramic and platinum.
The distinctive characteristic of this ceramic case is that it is machined, and not molded, as is most often the case.
The machining of ceramic is a long and painstaking process (necessitating diamond tools).
It allows for the creation of very sharp angles and a perfect finish.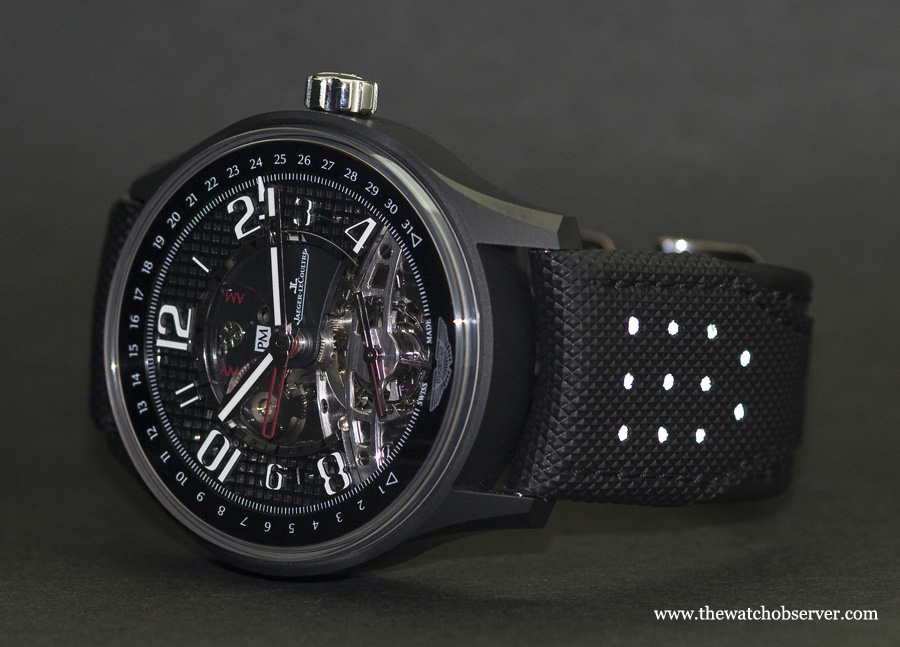 The platinum spindles on the crown and the backside agree very well with the case, a little like chromes well placed on the fine black bodywork of a car.
The strap also deserves some attention.
It's a combination of "technical fibers", calfskin, and Alcantara, and it is the perfect watchmaking incarnation of a GT's bucket seat.
The homogeneity of the whole piece is at a level that is rarely achieved.
When wearing this automatic watch, you realize this AMVOX is more adaptable to daily use than a Supercar!
With its reasonable 44mm diameter, it combines discreetness, elegance, and comfort, and will be at ease in any situation.
What to remember
Jaeger-LeCoultre succeeds in this tour-de-force of proposing a genuine watchmaking incarnation of the works of art on wheels produced by Aston Martin.
With its impeccable quality and its price worthy of a nice used GT, the AMVOX3 Tourbillon GMT will delight the fans of fine engineering – whether it'd be an automobile, or a watch!
Related Jaeger-LeCoultre articles
THE MOST SOUGHT-AFTER BRANDS