Straight to the Point
Panerai Luminor Submersible PAM 24
Ref.: PAM 24
$4,500.00
US retail price May 13th, 2010
Pros
originality of design
quality manufacturing
exclusivity
Cons
price too "salty" for a simple hour / minute / second watch
boucle clasp not really consistent with its "diving tool" purpose
Brand
Panerai
Model name

Luminor Submersible

Reference

PAM 24

Case material

Steel 316L

Case diameter (without crown)

44 mm

Case diameter (crown included)

49,64 mm

Movement type

Automatic

Caliber

Panerai OPIII

Base Caliber

ETA 7750 (without the chronograph module)

Functions

Date

Hour

Minute

Second

Crystal

Dual-face crystal with anti-reflective coating

Power reserve

42h

Transparent back

No

Lug width

24 mm

Length from lug to lug

52 mm

Case thickness

15,62 mm

Clasp type

Deployment clasp

Clasp material

Steel 316L

Total weight

162 grammes

Retail price USA at May 13th, 2010

$4,500.00
| | |
| --- | --- |
| Comfort (/15) | 13 |
| Movement (/20) | 8.5 |
| Movement Optimisation / Garnishment (/5) | 1 |
| Ease of handling and adjustment (/5) | 4 |
| Movement control proceeded by the Manufacture / horlogical awards (/3) | 2 |
| Power reserve (/2) | 1 |
| Complications (/5) | 0.5 |
| Finishing (/20) | 13 |
| Dial finishing (/6) | 4 |
| Case finishing (/6) | 4 |
| Quality of garnishment / caseback engraving quality (/2) | 1 |
| Crystal quality (/4) | 3 |
| Clasp finishing (inner and extern) (/2) | 1 |
| Functionality (/20) | 19 |
| Diurnal legibility (/5) | 5 |
| Night legibility (/4) | 4 |
| Water resistance (/3) | 2 |
| Strap : ease of size adjustment + ease of substitution (/4) | 4 |
| Clasp : quality and safety (/4) | 4 |
| Additional items (/10) | 5 |
| Limited edition (/3) | 1 |
| Watch delivered with several straps (/2) | 1 |
| Quality of the watch box (/1) | 1 |
| Portability with shirtsleeves buttoned (/2) | 0 |
| Goodies included (/1) | 1 |
| Understandability of the brochure (/1) | 1 |
| Value for money (/15) | 10 |
| When to wear it ? | For the casual friday wear! |
Users opinion
75%
like this watch
The "bottle opener" crown guard
The first characteristic of the Luminor : the "bottle opener" crown guard.
This has been the stylistic signature of the Luminor since the first models from the 1930's: it acts as a lever putting pressure on the crown ensuring a water resistant seal.  
The advantages compared to the classic screwed crowns are plentiful: instant opening/ closing, no fragility in the thread and forgetting to screw down the crown after handling is impossible.
A "pumped up cushion" shape case with a sober finishing
The case is harmonious despite its "pumped up cushion" shape.
The plain, brushed/polished finishing goes well with the spirit of the watch.
The Luminor Submersible is quite comfortable because it is well balanced, despite its build and its weight.
A very good legibility in diving conditions
Tested under real conditions on a dozen dives, the legibility is indeed exceptional; the watch is evidentlyperfectly suited for "serious" use.
This unidirectional bezel has catches, allowing easy handling, even underwater.
The notches are firm, perfectly adjusted and their construction emanates seriousness.
The brushed steel finishing is original and relatively scratch resistant.
One small reservation, the bezel needs to be rinsed out after every trip to the sea because it tends to seize up a little after immersion.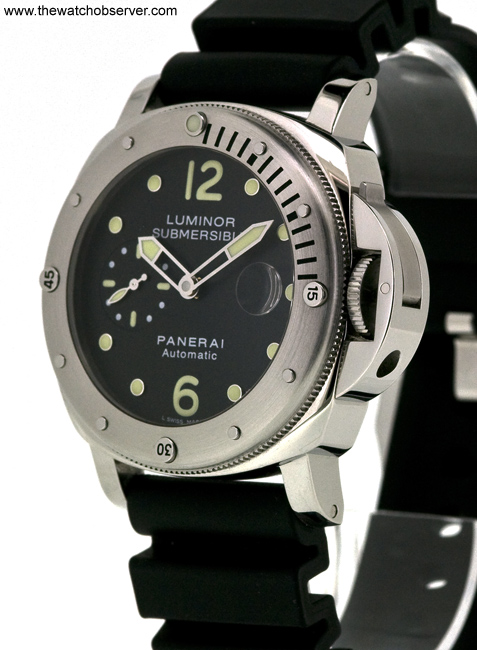 A water-resistance "Divers Professional"
Even if most of the Luminor models are water resistant up to 300m, only the "submersible" versions, which are equipped with the turning bezel, are adapted to scuba diving.
It is worth taking note that « Divers Professional » engraved on the back means that this Luminor is compliant with the ISO 6425 norms that define professional diving watches.
The principal criteria are : unidirectional bezels (for measuring the immersion time or the cooking time of pasta), indication that the watch is running(here the little second hand), legibility at a distance of25 cm in dark conditions and a successful water resistance test at 125% of the indicated depth capacity on the watch (ie 375m).
An easy new strap change system
The new strap change system allows the easy switching of bracelets to suit the activity : rubber for diving, crocodile for evenings by the sea, etc…
Anyway, the standard look of this Submersible means that it is more suited to casual weareven if it can be "dressed up" with a leather strap. The Luminor "classics" are more versatile.
What to remember
In conclusion, the rigorous design of this Submersible makes it worthy of the best divers in its class.
The only criticism which can be made is its rather salty price for a 3-hand watch…
THE MOST SOUGHT-AFTER WATCH TYPES