Straight to the Point
Chanel J12 Marine
Ref.: Automatic - WD - 83282
$3,700.00
US retail price June 18th, 2010
Pros
a beautiful success of the combination material/color/shape
an elegant and discreet sport style, not really designed for the diving, but for life, smart tendency and light glamour
Cons
the polished buckle that scratches
the rubber loops which are too big and can pinch the skin
the blue patch on the crown, too loud and not really necessary
Brand
Chanel
Model name

J12 Marine

Reference

Automatic - WD - 83282

Case material

Ceramic

Case diameter (without crown)

38 mm

Case diameter (crown included)

44 mm

Movement type

Automatic

Caliber

Unspecified by the manufacture

Base Caliber

ETA 2892

Functions

Date

Hour

Minute

Second

Crystal

Dual-face crystal with anti-reflective coating

Power reserve

42h

Transparent back

No

Lug width

20 mm

Length from lug to lug

45 mm

Case thickness

13 mm

Clasp type

Pin buckle

Clasp material

Steel

Total weight

98 grammes

Retail price USA at June 18th, 2010

$3,700.00
| | |
| --- | --- |
| Comfort (/15) | 14 |
| Movement (/20) | 6.5 |
| Movement Optimisation / Garnishment (/5) | 0 |
| Ease of handling and adjustment (/5) | 5 |
| Movement control proceeded by the Manufacture / horlogical awards (/3) | 0 |
| Power reserve (/2) | 1 |
| Complications (/5) | 0.5 |
| Finishing (/20) | 16.5 |
| Dial finishing (/6) | 5 |
| Case finishing (/6) | 4 |
| Quality of garnishment / caseback engraving quality (/2) | 1.5 |
| Crystal quality (/4) | 4 |
| Clasp finishing (inner and extern) (/2) | 2 |
| Functionality (/20) | 15 |
| Diurnal legibility (/5) | 5 |
| Night legibility (/4) | 4 |
| Water resistance (/3) | 2 |
| Strap : ease of size adjustment + ease of substitution (/4) | 2 |
| Clasp : quality and safety (/4) | 2 |
| Additional items (/10) | 4 |
| Limited edition (/3) | 0 |
| Watch delivered with several straps (/2) | 0 |
| Quality of the watch box (/1) | 1 |
| Portability with shirtsleeves buttoned (/2) | 2 |
| Goodies included (/1) | 0 |
| Understandability of the brochure (/1) | 1 |
| Value for money (/15) | 13 |
| When to wear it ? | Smart and sport ! To be worn eveywhere... |
Users opinion
73%
like this watch
A Man Chanel dive watch, is it possible?
The "Grande Mademoiselle" said: "luxury is not contrary to poverty, but to vulgarity."
An exciting test for the auto-declared anti-people that I am.
A blend of sensations
First contact, a known field: it has the same stylistic codes as the technical diving watch.
Second impression: there is something else…
But what?
The tactile aspect first: its 38 mm diameter, combined to the shape of the casing, falls naturally on the wrist.
Neither too heavy nor too light ! Thanks to ceramics: the Marine J12 Chanel keeps a low profile immediately, natural's hallmark.
The contact with the rubber strap is soft and pleasant.
A very strong visual
Then a very strong visual, with the alternation of the mat black casing and strap versus the metal of the bezel and the crown, emphasized with the surprise effect of this discreet, deep and changing blue.
The hands surprise: the hour one in a broad arrow type, short, made of steel, contrasts with the blue stick minutes one, and the seconds one which is totally blue.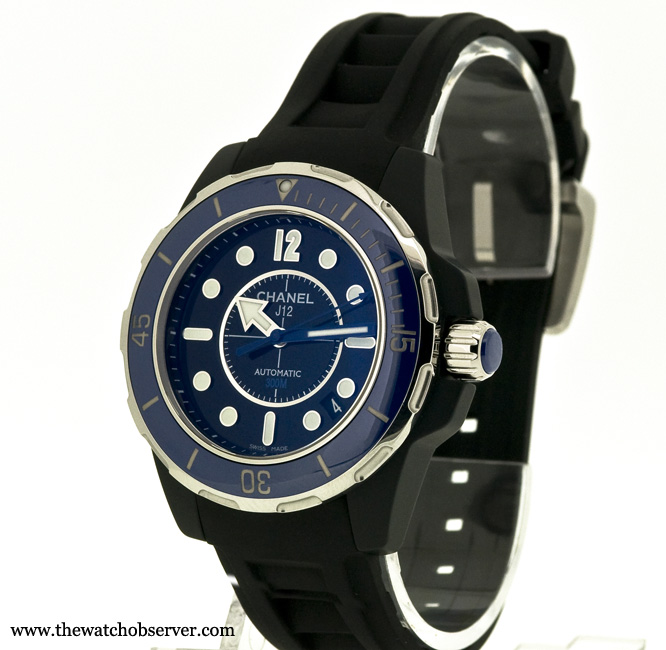 Nice effects of contrasts
The contrasts effects between the size, color and material are astonishing.
And the visual depth of the dial is furthermore emphasized with the central register, slightly in-depth and framed with a little steel bezel.
The railroad could have been avoided, graduated on 60° that is meaningless for the hours and weight down the purity of the dial.
The luminous material compensates the little visibility of the minute's hand, blue with an enameled black background.
On the contrary, the second hand, arrow-shaped, can slightly be seen.
A very sober watch
The circled markers contribute to the sobriety of the whole, as well as the graduation of the minutes on the internal bezel: the visibility in instinctive reading is excellent, by day and night.
The date, located at 4:30 keeps a low profile.
Well, it is a diver. How to qualify it?
Since it was not tested in deep water, it has nevertheless successfully gone through a torrential rain of this rotten month of May that costs me a suit.
Then it has been plunged into the sink: no bubbles, no condensation…
Announced for 300 m, it will undoubtedly be able to answer to the majority of the users, occasional divers.
Because the manipulation of the bezel, difficult bare hand, will undoubtedly turn out almost impossible with diving gloves.
In any case, I contented myself with Jardiland's rubber gardening glove and did not succeed…
The movement
I come to the end of this article without having talked about the caliber.
In fact, it is not really important here.
All that need be known is that it is an automatic "Swiss movement" that will be able to work in a reliable way while keeping a low profile.
By the way, it does not have a transparent back, which is normal for a tool-watch.
What to remember
These technical judgments are incidental. Because the finality of this watch is not there actually…
It is a luxury object, superb and sober, for the only pleasure to wear a Chanel watch…
THE MOST SOUGHT-AFTER WATCH TYPES