Straight to the Point
Jaeger-LeCoultre AMVOX I
Ref.: 190 84 70
$7,500.00
US retail price May 18th, 2010
Pros
the alarm, for its function and its beautiful sound
a watch that is both sports and smart
Cons
the absence of quick date
the intern bezel, which moves easily
Brand
Jaeger-LeCoultre
Model name

AMVOX I

Reference

190 84 70

Case material

Steel

Case diameter (without crown)

42 mm

Case diameter (crown included)

45 mm

Movement type

Automatic

Caliber

Calibre 918

Base Caliber

Calibre 916

Functions

Alarm

Date

Hour

Minute

Second

Crystal

Camberred sapphire crystal

Power reserve

45h

Transparent back

No

Lug width

22 mm

Length from lug to lug

46 mm

Case thickness

14,85 mm

Clasp type

Deployment clasp

Clasp material

Steel

Total weight

103 grammes

Retail price USA at May 18th, 2010

$7,500.00
| | |
| --- | --- |
| Comfort (/15) | 12 |
| Movement (/20) | 13 |
| Movement Optimisation / Garnishment (/5) | 3.5 |
| Ease of handling and adjustment (/5) | 4 |
| Movement control proceeded by the Manufacture / horlogical awards (/3) | 2 |
| Power reserve (/2) | 1 |
| Complications (/5) | 2.5 |
| Finishing (/20) | 14 |
| Dial finishing (/6) | 4 |
| Case finishing (/6) | 4 |
| Quality of garnishment / caseback engraving quality (/2) | 1 |
| Crystal quality (/4) | 4 |
| Clasp finishing (inner and extern) (/2) | 1 |
| Functionality (/20) | 12.5 |
| Diurnal legibility (/5) | 4 |
| Night legibility (/4) | 2 |
| Water resistance (/3) | 0.5 |
| Strap : ease of size adjustment + ease of substitution (/4) | 3 |
| Clasp : quality and safety (/4) | 3 |
| Additional items (/10) | 3 |
| Limited edition (/3) | 0 |
| Watch delivered with several straps (/2) | 0 |
| Quality of the watch box (/1) | 1 |
| Portability with shirtsleeves buttoned (/2) | 1 |
| Goodies included (/1) | 0 |
| Understandability of the brochure (/1) | 1 |
| Value for money (/15) | 11 |
| When to wear it ? | To wake up in the airplane when your cell phone is off ! |
Users opinion
81%
like this watch
Boasting multiple collaborations and common values, Jaeger-LeCoultre and Aston Martin allied themselves again in 2005 to celebrate the 40 year birthday of the Polaris and the DB5 with a new panel, which the AMVOX I draws the basis.
A versatile watch
Developed on the Polaris case, with its three crowns, the AMVOX happens to be of multitasks use.
Its sport look stands out thanks to the luminova markers, the internal bezel, adjustable with the three-hour crown and the modern hands.
As for its elegant side appears thanks to the alternation of matt, satiny and brushed finishing of the different parts of the dial, and the sober line of the whole.
Markers reminding Aston Martin counters
Eluding the classic designs of the brand, the general disposition of the dial and the markers on 270° reminds of Aston Martin meters that Jaeger provides since the 1920's. This pattern will be reused on all the other AMVOX.
Another fruit of their collaboration is the leather of the strap that comes from the Bridge of Weir manufactures, as well as for Aston Martin saddlery.
If aesthetically this wink works, one can regret the too much discreet and uniform sides of the strap and prefer other alternatives that enlighten the multiple facets of this watch.
The bottom of the case is engraved with the logos of the two brands and is hemstitched to enable the timber of the alarm to express itself.
Despite the almost 15mm thickness necessary to this complication, and a reasonable diameter of 42mm, the watch is really comfortable to wear.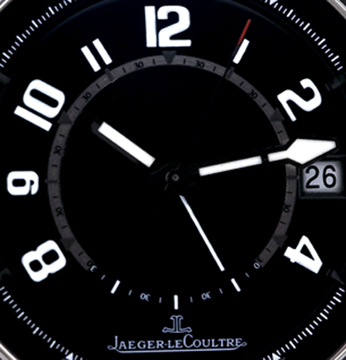 Jaeger-LeCoultre: an acknowledged skill for alarm calibers
If this visible part is a success, it is due to its movement that we are bewitched. Jaeger-LeCoultre has an acknowledged skill for alarms caliber.
And the 918 caliber is the result of its wealth history: 28.800 vibrations per hour, a 45 hours power reserve, independent barrel for the suspended timber alarm, 260 pieces, all that being tested through the Manufacture "1.000 hours control".
The automatic caliber also allows a manual winding that is a little rough but does not have the quick date function, which is quite inconvenient when the watch is not worn everyday or does not have a reserved place on a watch winder.
A user friendly alarm function
Regarding the alarm, its use is really easy: wind the barrel up, chose the time of the pulled crown release, and wind on by pushing the crown.
And sharp on time (with use, a roughly 2 minute setting is reached), the timber releases its voice for around twenty seconds of gentle chimes but widely enough to wake you up or to attract people's looks.
What to remember
This AMVOX I is the bridge between the Jaeger-LeCoultre legacy and its research for modernity.
For the sober design amateurs, this synthesis is a great success, with a magic touch when the timber chimes!
Related Jaeger-LeCoultre articles
THE MOST SOUGHT-AFTER WATCH TYPES