Straight to the Point
Ebel 1911 Teckton Chronograph
Ref.: 1215887
$7,450.00
US retail price August 23rd, 2010
Pros
a strong and original design
an exclusive movement
the comfort
Cons
the readability
a watch that is not really discreet
Brand
Ebel
Model name

1911 Teckton Chronograph

Reference

1215887

Case diameter (without crown)

48,50 mm

Case diameter (crown included)

51,50 mm

Movement type

Automatic

Caliber

Ebel 139

Base Caliber

Lemania 1350

Functions

Chronograph

Date

Hour

Minute

Second

Crystal

Dual-face crystal with anti-reflective coating

Power reserve

48h

Transparent back

No

Lug width

25,68 mm

Length from lug to lug

51,95 mm

Case thickness

15,10 mm

Strap material

Alligator

Clasp type

Deployment clasp

Clasp material

Steel

Total weight

166 grammes

Retail price USA at August 23rd, 2010

$7,450.00
| | |
| --- | --- |
| Comfort (/15) | 12 |
| Movement (/20) | 11.5 |
| Movement Optimisation / Garnishment (/5) | 3 |
| Ease of handling and adjustment (/5) | 4 |
| Movement control proceeded by the Manufacture / horlogical awards (/3) | 2 |
| Power reserve (/2) | 1 |
| Complications (/5) | 1.5 |
| Finishing (/20) | 16 |
| Dial finishing (/6) | 5 |
| Case finishing (/6) | 4.5 |
| Quality of garnishment / caseback engraving quality (/2) | 1.5 |
| Crystal quality (/4) | 3 |
| Clasp finishing (inner and extern) (/2) | 2 |
| Functionality (/20) | 9.5 |
| Diurnal legibility (/5) | 3.5 |
| Night legibility (/4) | 1 |
| Water resistance (/3) | 1.5 |
| Strap : ease of size adjustment + ease of substitution (/4) | 0.5 |
| Clasp : quality and safety (/4) | 3 |
| Additional items (/10) | 3 |
| Limited edition (/3) | 0 |
| Watch delivered with several straps (/2) | 0 |
| Quality of the watch box (/1) | 1 |
| Portability with shirtsleeves buttoned (/2) | 1 |
| Goodies included (/1) | 0 |
| Understandability of the brochure (/1) | 1 |
| Value for money (/15) | 11 |
| When to wear it ? | In a house party ! |
Users opinion
74%
like this watch
Ebel 1911 Teckton Chronograph
Overview
The chronograph radiates a strong personality by betting on the Hi-Tech.
The mechanical side is emphasized by the hemstitched dial that allows seeing the movement's bridges, the tripal hands, the bezel's fixing screws, the notched push-buttons or the minutes' dial that reminds of a meter.
The branded design of this watch and its generous proportions should be quite segmenting for the amateurs.
But you will judge it by yourself!
Let's wear the watch around the wrist.
Surprise!
In spite of its 48,50 mm and a nice presence, the watch is really comfortable.
It comes from its shapes, from its almost integrated strap to the casing and its "reasonable" thickness.
A "hexagonal" case
The casing, all in roundness, is brushed.
Its constitution is original since the case is sandwiched by the bezel and the caseback.
The six visible screws inside of the polished bezel are perfectly aligned and underline the almost hexagonal shape of the case.
The sapphire glass is anti-reflection treated on both sides with an excellent result.
The dial
The dial alternates various finishing effects that are really cleanly realized.
Original solution, the cyclops lens is inside the dial's thickness.
It is efficient and more elegant than a cyclops lens added over the sapphire.
Each element of the dial is underlined by a grey hooping that gives depth and allows an identification of the functions.
If this hooping can be confusing for some, it will strengthen the Hi-Tech's design for others.
Functionalities
The chronograph is institutively read by the red elements: the central hand of the seconds, the tripal hand for the minutes on a 120° disc and finally, a rotating disc for the hours meter (at 6 hours).
Then, markers and hands allow the readability of the time on polished, rhodium plated and luminova-completed elements.
Even if all these elements are carefully manufactured and flawless, the readability of the time and the chronograph can sometimes be tricky.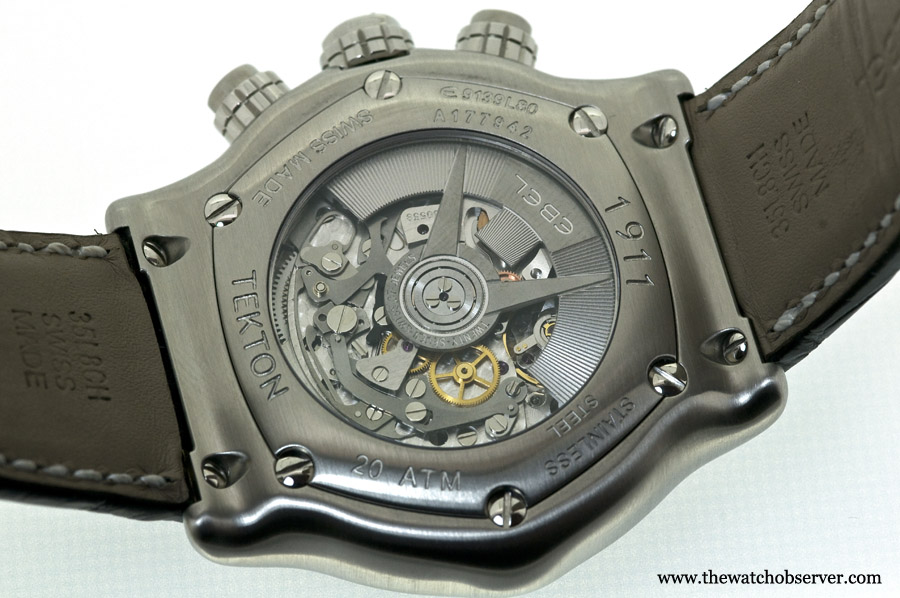 The movement
At the heart of the 1911 Tekton, there is the 139-caliber.
It has been developed by Ebel and launched in 2005.
Visible through the transparent back, the experts will identify a known base: the Lemania 1350.
The architecture of the movement is well emphasized with alternated finishing and a skeleton rotor that has the shape of the Ebel's logo.
Lastly, the COSC chronometer certification very seriously ends the conception of the movement.
What to remember
For those who really appreciate very marked design, the comfort when wearing it, the good finishing and the original caliber are so many reasons that will convince you.
THE MOST SOUGHT-AFTER WATCH TYPES
THE MOST SOUGHT-AFTER BRANDS