Straight to the Point
Linde Werdelin SpidoLite All Titanium
Ref.: SpidoLite All Titanium
$5,880.00
US retail price March 21st, 2011
Pros
excellent comfort
great quality of finish
an exclusive model with a very modern design
Cons
daytime readability less than optimal
a bit of a steep price for a simple ETA caliber
Brand
Linde Werdelin
Model name

SpidoLite All Titanium

Reference

SpidoLite All Titanium

Case material

Grade 5 titanium

Case diameter (without crown)

H49.58 mm x L46.61 mm

Case diameter (crown included)

H49.58 mm x L46.80 mm

Movement type

Automatic

Caliber

ETA 2892A2

Base Caliber

ETA 2892A2

Functions

Hour

Minute

Second

Crystal

Single-face crystal with anti-reflective coating

Power reserve

42h

Transparent back

No

Lug width

32.47 mm (= strap width)

Length from lug to lug

49.58 mm

Case thickness

11.81 mm

Strap material

Synthetic fibres

Clasp type

Pin buckle

Clasp material

Grade 5 titanium

Total weight

77 grams

Retail price USA at March 21st, 2011

$5,880.00
| | |
| --- | --- |
| Comfort (/15) | 15 |
| Movement (/20) | 5 |
| Movement Optimisation / Garnishment (/5) | 1 |
| Ease of handling and adjustment (/5) | 3 |
| Movement control proceeded by the Manufacture / horlogical awards (/3) | 0 |
| Power reserve (/2) | 1 |
| Complications (/5) | 0 |
| Finishing (/20) | 15.5 |
| Dial finishing (/6) | 4 |
| Case finishing (/6) | 6 |
| Quality of garnishment / caseback engraving quality (/2) | 1.5 |
| Crystal quality (/4) | 2 |
| Clasp finishing (inner and extern) (/2) | 2 |
| Functionality (/20) | 14.5 |
| Diurnal legibility (/5) | 3.5 |
| Night legibility (/4) | 2 |
| Water resistance (/3) | 2 |
| Strap : ease of size adjustment + ease of substitution (/4) | 4 |
| Clasp : quality and safety (/4) | 3 |
| Additional items (/10) | 7 |
| Limited edition (/3) | 2 |
| Watch delivered with several straps (/2) | 0 |
| Quality of the watch box (/1) | 1 |
| Portability with shirtsleeves buttoned (/2) | 2 |
| Goodies included (/1) | 1 |
| Understandability of the brochure (/1) | 1 |
| Value for money (/15) | 12 |
| When to wear it ? | For the shooting of the movie Alien! |
Users opinion
76%
like this watch
Foreword
Linde Werdelin SpidoLite All Titanium

At first glance, the initial experience can seem somewhat puzzling…
Where did this SpidoLite get its looks?
One can find inspirational traces from Audemars Piguet, Hublot and even Richard Mille!
But upon closer inspection, the conclusion is clear: this model, with its case's extremely original lines clearly has its own personality!
Linde Werdelin itself claims a certain kinship with the Formula 1 look, given its lightened case.
But what comes to mind instead is the whole comic books esthetic (as clearly evidenced by its presence in their Marketing and Commercial Communication brochures), or even science fiction movies.
Thus this SpidoLite wouldn't look out of place if it was worn by Riddick, or even Ellen Ripley in the movie Alien…
An ultra-modern design for the
Linde Werdelin SpidoLite All Titanium

Indeed, the stretched lines and sharp angles of its case middle, along with the perforation of the case, bezel or strap, all clearly evoke a cutting-edge techno-industrial universe.
As a matter of fact, the material used is consistent with that look: a grade 5 titanium with a shot-blasted finish is indeed a perfect fit for that universe!
As for itself, the dial has a matte grey finish matching the case middle.
It gives the watch a little bit of a stealth look.
The large Dauphine skeleton hands are in the same vein.
However, their silver finish can sometimes seem to offer a clashing contrast with the dial.
While this is all consistent with the "stealth" look, it can also be an impediment to the ease of readability…
At night, on the other hand, despite the rapid fade of its SuperLumiNova, its effect does remain at a minimum level allowing one to comfortably read time until the day breaks.
But this isn't, after all, a diving watch, and we wouldn't expect it to blind the deep sea fish with its glare!
It could however almost pretend to be one, with its 300-meter water resistance giving it the ability to confront the underwater world without fear!
A high-end finish
In the category of cases with very polished shapes, Linde Werdelin offers a high-end finish, with edges that are sharp without being blunt.
The crown is particularly well-protected by a substantial shoulder.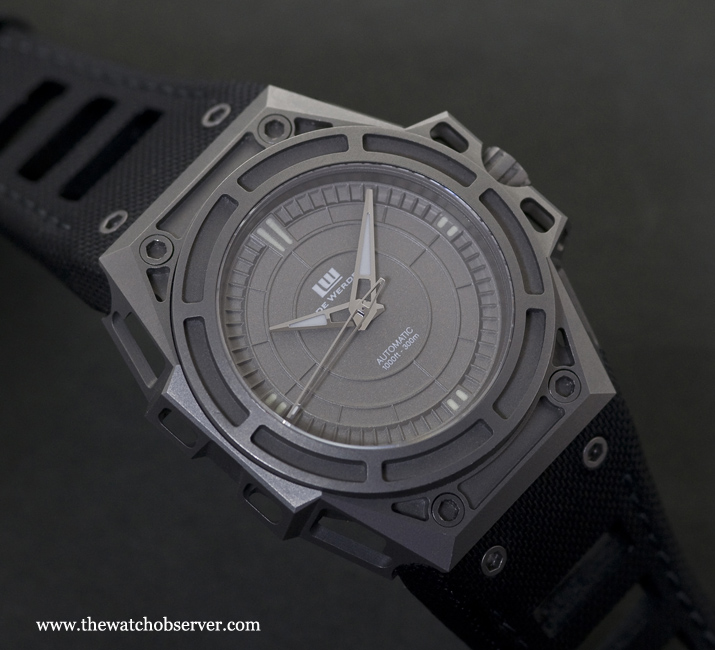 Despite its size, the SpidoLite is surprisingly comfortable for daily wear.
Its thin case, despite the appearances (less than 12mm!), combined with the exceptional lightness of the titanium, allows you to quickly forget you are wearing it.
A real delight!
The very comfortable strap, made of a synthetic material that is something between carbon fiber and rubber, is integrated with the case middle and fits well on the wrist.
Its pin buckle is itself also made of shot-blasted titanium, with an original design.
A specific example that really sets this brand apart from the rest: each watch has been designed so it can have an optional LCD display module clipped to its dial.
Two ranges of modules are thus available as an alternative: those designed for mountain wear (The Rock), and those designed for deep sea diving (The Reef).
We are indeed fully immersed in the world of the toolwatch!
On the movement side of things, while some SpidoLite series are equipped with the caliber created par Svend Andersen in the 70's, the particular model we tested for you simply has an ETA 2892A2, and while it is not exclusive, it is a reliable and efficient caliber.
But no regrets: the SpidoLite has a solid back side anyway, preventing us from visually witnessing its mechanical spectacle!
What to remember
With this SpidoLite All Titanium, Linde Werdelin offers us a watch with an indisputable ultra-modern design.
Exclusive and very comfortable, it will seduce the enthusiast looking for an unusual piece with a strong personality.
It's a watch that has to be discovered over time, and which will leave no one indifferent! Linde Wederlin also offers the possibility of trying each of the produced watches at no cost for five days (conditional on a deposit guarantee of 1,000 Euros): a good idea giving you the opportunity to form your own opinion.