Straight to the Point
Jaeger-LeCoultre Reverso Squadra Chronograph GMT Palermo Open
Ref.: 701847C
$7,950.00
US retail price June 25th, 2010
Pros
finishing and complication of the movement
excellent comfort
originality
Cons
unknown durability of the rubber coating
readability
a too weak waterproofness
Brand
Jaeger-LeCoultre
Model name

Reverso Squadra Chronograph GMT Palermo Open

Reference

701847C

Case material

Steel molded from a casting of rubber

Case diameter (without crown)

50,5 mm x 34,9 mm

Case diameter (crown included)

50,5 mm x 38 mm

Movement type

Automatic

Caliber

Jaeger-LeCoultre 754

Base Caliber

Jaeger-LeCoultre 754

Functions

Big date

Chronograph

GMT

Hour

Minute

Crystal

Single-face crystal with anti-reflective coating

Power reserve

65h

Transparent back

Yes

Lug width

22 mm

Length from lug to lug

50 mm

Case thickness

13 mm

Strap material

Synthetic canvas

Clasp type

Deployment clasp

Clasp material

Steel

Total weight

112 grammes

Retail price USA at June 25th, 2010

$7,950.00
| | |
| --- | --- |
| Comfort (/15) | 14 |
| Movement (/20) | 14 |
| Movement Optimisation / Garnishment (/5) | 4 |
| Ease of handling and adjustment (/5) | 5 |
| Movement control proceeded by the Manufacture / horlogical awards (/3) | 1 |
| Power reserve (/2) | 1 |
| Complications (/5) | 3 |
| Finishing (/20) | 12 |
| Dial finishing (/6) | 4 |
| Case finishing (/6) | 4 |
| Quality of garnishment / caseback engraving quality (/2) | 1 |
| Crystal quality (/4) | 2 |
| Clasp finishing (inner and extern) (/2) | 1 |
| Functionality (/20) | 11.5 |
| Diurnal legibility (/5) | 4 |
| Night legibility (/4) | 1 |
| Water resistance (/3) | 0.5 |
| Strap : ease of size adjustment + ease of substitution (/4) | 3 |
| Clasp : quality and safety (/4) | 3 |
| Additional items (/10) | 6 |
| Limited edition (/3) | 2 |
| Watch delivered with several straps (/2) | 0 |
| Quality of the watch box (/1) | 1 |
| Portability with shirtsleeves buttoned (/2) | 2 |
| Goodies included (/1) | 0 |
| Understandability of the brochure (/1) | 1 |
| Value for money (/15) | 11 |
| When to wear it ? | To watch a polo match ! |
Users opinion
73%
like this watch
2010 novelty, the Reverso Squadra Chronograph GMT Palermo Open is a "sport/trendy" declination of the Reverso, the emblematic model of the "Grande Maison".
Jaeger-LeCoultre, known for the classicism and the timeless sobriety of its models tempts thus an incursion here in the world of the "new watch making" where rubber, nylon and other "high tech" materials replace fine polished steel and ostrich leather.
A return to basics ?
If the Reverso is considered nowadays as a smart watch, it was at the beginning a pure sports watch.
Its swinging box has been designed to protect the glass from shocks during the polo match that the British officers of the beginning of the century were crazy about.
This declination of the Palermo Open is thus a kind of comeback to the original sports mind.
A manufacture far from the usual codes
The black casings are trendy: PVD treatment, ceramics, composite…
A lot of solutions have been tested by the competitors.
But the one from JLC seems unheard-of: the steel casing is molded from a casting of soft and relatively flabby rubber (a nail can almost be stuck in).
A choice that will never leave somebody indifferent!
It contributes to the looks and maybe to the absorption of shocks.
But what about the resistance to scratching, rubbing, etc…?
If the rubber wears out, is it necessary to change the casing while it would just need to polish again a model made of steel ?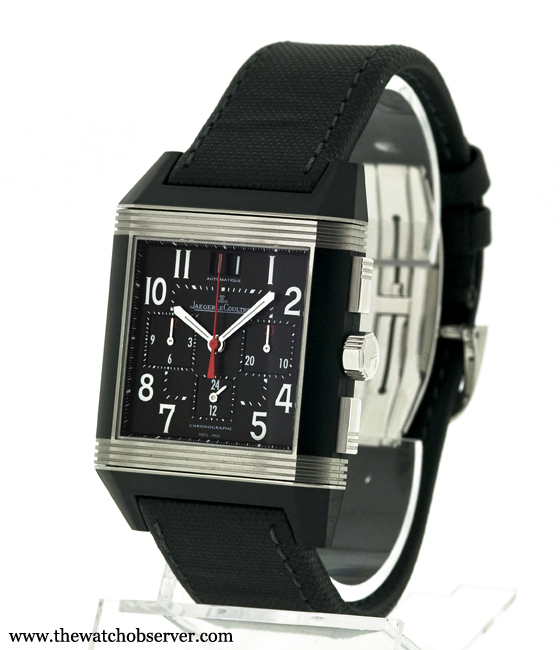 A sapphire back
The purists could also think that a sapphire back is an aberration on a Reverso: why indeed turn over the casing to protect the glass from the dial if it is to expose the movement's one?
Well, simply because it would be a pity to go without the view on the caliber Jaeger-LeCoultre 754.
Very well finished, it is a piece of bravura that combines the function of chronograph (with a visible column wheel), second time zone and big date.
It is responsible of the high price of this Squadra but contributes greatly to the pleasure to wear it.
All the more that it is not necessary to take off the watch to admire its movement !
A sporty watch… not completely sporty
This Squadra is exceptionally comfortable.
But it is a pity that Jaeger-LeCoultre did not make a real sport watch that measures up its looks.
The waterproofness remains identical to the classical models (50m), which makes the merest swimming rather inadvisable…
As for the readability, it is not really optimum : not really instinctive in broad day light (the hands are too small and do not contrast enough with the dial) for the hour and the chronograph, it is refined for the second time zone while the night readability is nonexistent…
What to remember
In conclusion, this new Reverso Squadra Chronograph GMT Palermo Open offers an innovative sports design allied to a superb caliber.
It is a pity that the functionalities of the watch do not come up to its pretentions…
Related Jaeger-LeCoultre articles
THE MOST SOUGHT-AFTER WATCH TYPES