Straight to the Point
Piaget Polo FortyFive Chronograph
Ref.: G0A35001
$14,700.00
US retail price August 15th, 2010
Pros
the hi-tech design
the high-quality finishing
the well-manufactured caliber
the comfort, in spite of the size
Cons
impossibility to wear another strap
the diurnal readability
the price
a not really discreet watch
Brand
Piaget
Model name

Polo FortyFive Chronograph

Reference

G0A35001

Case material

Titanium / Steel

Case diameter (without crown)

45 mm

Case diameter (crown included)

48 mm

Movement type

Automatic

Caliber

880P

Base Caliber

880P

Functions

Chronograph

Date

Flyback

GMT

Hour

Minute

Second

Crystal

Sapphire glass

Power reserve

50h

Transparent back

Yes

Lug width

Integrated strap

Length from lug to lug

48 mm

Case thickness

12,50 mm

Strap material

Steel / Rubber

Clasp type

Deployment clasp

Clasp material

Titanium

Retail price USA at August 15th, 2010

$14,700.00
| | |
| --- | --- |
| Comfort (/15) | 13 |
| Movement (/20) | 13.5 |
| Movement Optimisation / Garnishment (/5) | 3.5 |
| Ease of handling and adjustment (/5) | 4.5 |
| Movement control proceeded by the Manufacture / horlogical awards (/3) | 1 |
| Power reserve (/2) | 1 |
| Complications (/5) | 3.5 |
| Finishing (/20) | 17 |
| Dial finishing (/6) | 4.5 |
| Case finishing (/6) | 6 |
| Quality of garnishment / caseback engraving quality (/2) | 1.5 |
| Crystal quality (/4) | 3 |
| Clasp finishing (inner and extern) (/2) | 2 |
| Functionality (/20) | 11 |
| Diurnal legibility (/5) | 2.5 |
| Night legibility (/4) | 2.5 |
| Water resistance (/3) | 1 |
| Strap : ease of size adjustment + ease of substitution (/4) | 2 |
| Clasp : quality and safety (/4) | 3 |
| Additional items (/10) | 4.5 |
| Limited edition (/3) | 2 |
| Watch delivered with several straps (/2) | 0 |
| Quality of the watch box (/1) | 1 |
| Portability with shirtsleeves buttoned (/2) | 0.5 |
| Goodies included (/1) | 0 |
| Understandability of the brochure (/1) | 1 |
| Value for money (/15) | 11 |
| When to wear it ? | Playing polo in the rain! |
Users opinion
72%
like this watch
Piaget Polo FortyFive Chronograph
Overview
Born from a look created in 1979, this chronograph takes up the aesthetical characteristics (steel horizontal gadroon case) and adds some modern touches: grade 5 titanium casing, hemstitched dial, bottom plate and oscillating weight with PVD finishing.
The whole being held in a casing with very actual sizes.
A dial with gorgeous finishing
Despite its 45 mm diameter, it turns out to be really comfortable, thanks to the rounded and curved lugs.
It can even be forgotten due to a contained weight (thanks to the titanium!).
The casing's finishing is astounding and the glass' curve is gorgeous.
The hemstitched dial gives to this piece a very technical aspect and a well-manufactured facet.
But it confers to the watch an overloaded aspect that harms the daytime readability.
This dial remains nevertheless harmonious regarding the layout of the different displays.
The movement
The Piaget Polo FortyFive Chronograph is endowed with two small interesting complications: a flyback function for the chronograph (certainly more useful to the aviators than to the polo players) and a second time zone that can be adjusted through the push-button.
The whole is moved by a very beautiful 880P manufacture caliber, a column-wheel caliber (that can be seen through a dwell in the bottom plate), double barrel (but only for a 50 hour power reserve) and a small balance adjustable with a triovis system (so that it allows the setting of the spiral's length for the adjustment of the advance or lateness).
Moreover, the chronograph is equipped with a vertical clutch, which allows a very frank, accurate and smooth start.
On the contrary, the reset and the flyback are very firm.
The finishing of the movement is very meticulous, circular côtes de Genève, pearled bottom plate, angled bridge, blue-stained screws, Piaget emblem engraved on the oscillating weight.
Hence, the transparent back is justified.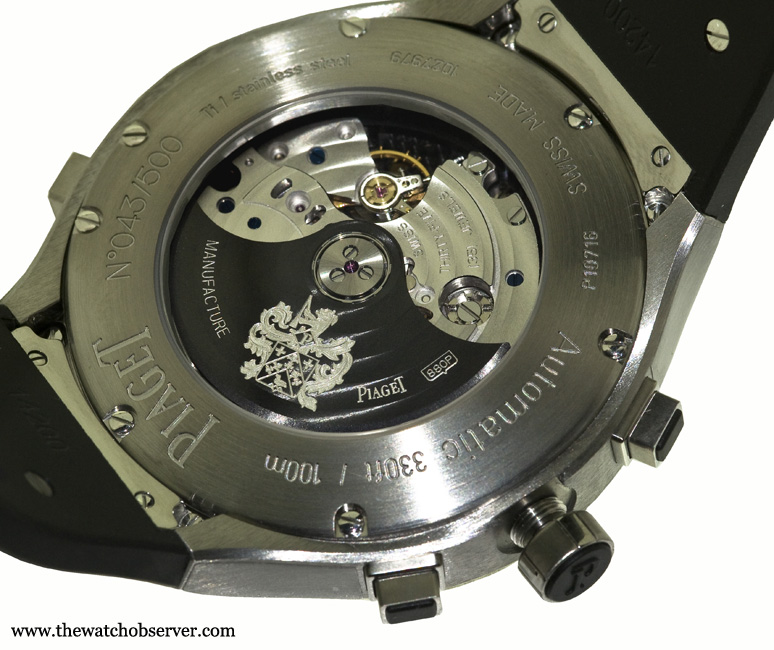 The strap
The titanium-folding buckle is massive and benefits a practical summer/winter setting thanks to basic push buttons – that allow to easily adjusting of one notch the rubber wisp of the strap inside of both sides of the buckle.
On the other hand, when purchasing it, the rubber strap is set by cutting the edges: no weight gain allowed!
What to remember
To put it in a nutshell, this Piaget FortyFive Chronograph 2010 is a sports watch that gives a modern touch to the Piaget's range.
It will undoubtedly seduce the amateurs of original pieces and will be the favorite companion of the polo-player during rainy weather.
THE MOST SOUGHT-AFTER WATCH TYPES