Straight to the Point
Zenith Grande Class Open El Primero
Ref.: 80 504 021
$7,200.00
US retail price May 18th, 2010
Pros
a refined and captivating chronograph
a manufactured caliber : the El Primero
Cons
the absence of scale that allows the reading of the chronograph's time
the absence of readability at night
Brand
Zenith
Model name

Grande Class Open El Primero

Reference

80 504 021

Case material

Steel

Case diameter (without crown)

40 mm

Case diameter (crown included)

42 mm

Movement type

Automatic

Caliber

4021H

Base Caliber

El Primero

Functions

Chronograph

Date

Hour

Minute

Power reserve

Second

Crystal

Sapphire glass

Power reserve

50h

Transparent back

Yes

Lug width

22 mm

Length from lug to lug

50 mm

Case thickness

13 mm

Clasp type

Deployment clasp

Clasp material

Steel

Total weight

45 grammes

Retail price USA at May 18th, 2010

$7,200.00
| | |
| --- | --- |
| Comfort (/15) | 13.5 |
| Movement (/20) | 12.5 |
| Movement Optimisation / Garnishment (/5) | 3.5 |
| Ease of handling and adjustment (/5) | 4 |
| Movement control proceeded by the Manufacture / horlogical awards (/3) | 2 |
| Power reserve (/2) | 1 |
| Complications (/5) | 2 |
| Finishing (/20) | 14 |
| Dial finishing (/6) | 5 |
| Case finishing (/6) | 4 |
| Quality of garnishment / caseback engraving quality (/2) | 2 |
| Crystal quality (/4) | 1 |
| Clasp finishing (inner and extern) (/2) | 2 |
| Functionality (/20) | 10.5 |
| Diurnal legibility (/5) | 5 |
| Night legibility (/4) | 0 |
| Water resistance (/3) | 0.5 |
| Strap : ease of size adjustment + ease of substitution (/4) | 2 |
| Clasp : quality and safety (/4) | 3 |
| Additional items (/10) | 4 |
| Limited edition (/3) | 0 |
| Watch delivered with several straps (/2) | 0 |
| Quality of the watch box (/1) | 1 |
| Portability with shirtsleeves buttoned (/2) | 2 |
| Goodies included (/1) | 0 |
| Understandability of the brochure (/1) | 1 |
| Value for money (/15) | 11 |
| When to wear it ? | Every single day, in a chic working environment |
Users opinion
74%
like this watch
The Zenith Class Open El Primero is an acrobat that allies the extremes : it reflects both the modernity and the speed of our society, as well as relying on classic stylish codes. How does it manage it? I, myself, an urban man of the XXIst century, I wanted to understand.
First of all, the regret of not being built as sturdy as a a remover disappears in front of its generous diameter though not excessive of 40mm, which satisfies the devoid wrist since the arrival of the fashion of the too much large diameters.
An elegant dial
Then, the Zenith's star, the applied markers, the classic hands, the watch shaped case (something that tends to disappear nowadays), and the silver dial remind him that he is a civilized human being.
And furthermore, an elegant one !
And that he belongs to the power and active spheres – economically speaking.
A legendary caliber: El Primero 4021H
And there, the El Primero, a fabulous automatic and high-speed caliber chronograph, the first in its generation with 36000 alternations per hour leads the way : the giant's sound, the fluidity of the seconds hand exalt its taste for technical excellence and challenge.
Futhermore, it unveils its charms through its open dial…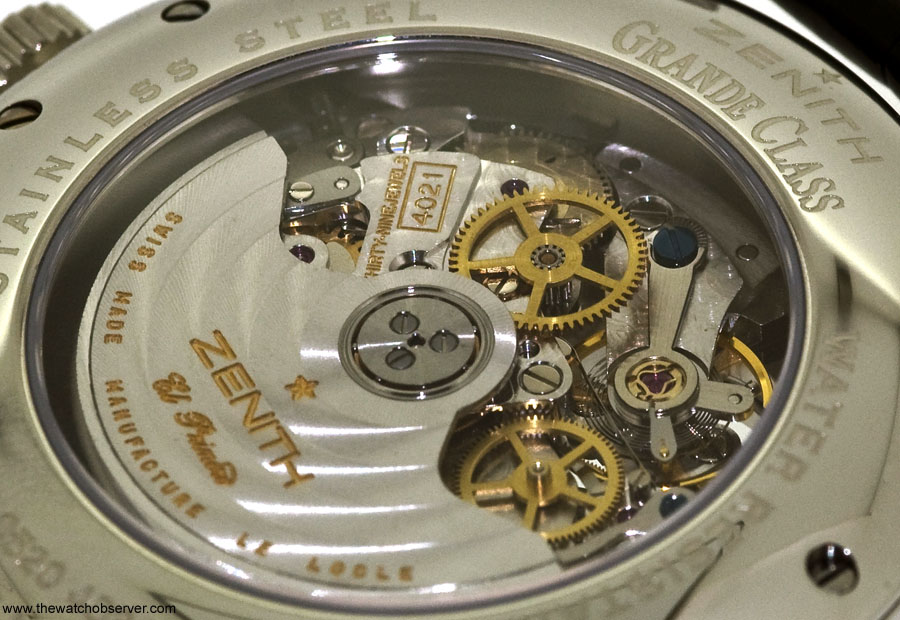 The urban man, delighted, show it to his kith and kin.
The woman of his life, at the first glance on the dial, immediately identifies a smiling smiley that would have a right black eye and questions him about this symbolism from a psychoanalyst point of view…
The engineer childhood friend tells him the little utility of a chronograph caliber that counts down time with such a precision, if there is not a matching scale all around the dial: this scale only marks the minutes.
Moreover, all these openings in the dial must provoke aerodynamic problems with all these pieces moving on high speed.
At last, the hands are not even bright: how will he manage in the dark?
The urban man, upset, isolate himself with his Class Open.
He manipulates the chronograph.
He listens to the beats of the El Primero by approaching it to his ear.
He observes the so fast movements of the balance, at the risk of hurting his eyes.
He is happy and forgets the time and the commentaries that troubled him….
What to remember
Leaving his retreat, he then wants to share his communicative joy by writing these few lines, a joy to own a magnificent technological, play and elegant item.
And no matter the technical specialist if the science rigor is not there at every level !
Life is too short for not indulging oneself some treat…
THE MOST SOUGHT-AFTER WATCH TYPES