Straight to the Point
Oris Artelier Worldtimer
Ref.: 690 7581 4051-07 5 22 48
$2,220.00
US retail price May 21st, 2010
Pros
the function GMT that is practical and easy to use
the general aestheticism
Cons
the uneven finishing level
the little size of the casing for a formal watch
Brand
Oris
Model name

Artelier Worldtimer

Reference

690 7581 4051-07 5 22 48

Case material

Steel

Case diameter (without crown)

42 mm

Case diameter (crown included)

46 mm

Movement type

Automatic

Caliber

Oris 690

Base Caliber

ETA 2836

Functions

Date

Day / Night

GMT

Hour

Minute

Second

Crystal

Single-face crystal with anti-reflective coating

Power reserve

38 h

Transparent back

Yes

Lug width

22 mm

Length from lug to lug

50,5 mm

Case thickness

12,5 mm

Clasp type

Pin buckle

Clasp material

Steel

Total weight

88 grammes

Retail price USA at May 21st, 2010

$2,220.00
| | |
| --- | --- |
| Comfort (/15) | 12 |
| Movement (/20) | 6 |
| Movement Optimisation / Garnishment (/5) | 1.5 |
| Ease of handling and adjustment (/5) | 3 |
| Movement control proceeded by the Manufacture / horlogical awards (/3) | 0 |
| Power reserve (/2) | 0 |
| Complications (/5) | 1.5 |
| Finishing (/20) | 9 |
| Dial finishing (/6) | 3 |
| Case finishing (/6) | 2 |
| Quality of garnishment / caseback engraving quality (/2) | 1 |
| Crystal quality (/4) | 2 |
| Clasp finishing (inner and extern) (/2) | 1 |
| Functionality (/20) | 10.5 |
| Diurnal legibility (/5) | 4 |
| Night legibility (/4) | 1 |
| Water resistance (/3) | 0.5 |
| Strap : ease of size adjustment + ease of substitution (/4) | 2 |
| Clasp : quality and safety (/4) | 3 |
| Additional items (/10) | 3.5 |
| Limited edition (/3) | 0 |
| Watch delivered with several straps (/2) | 0 |
| Quality of the watch box (/1) | 1 |
| Portability with shirtsleeves buttoned (/2) | 1.5 |
| Goodies included (/1) | 0 |
| Understandability of the brochure (/1) | 1 |
| Value for money (/15) | 8 |
| When to wear it ? | For a business trip around the world. |
Users opinion
75%
like this watch
In 2004, to celebrate its 100 years of existence, Oris launched the range Artelier. Since then, around a common aestheticism and over the course of complications, the collection has expanded.
Today, we have been able to test the Worldtimer model.
A comfortable watch to wear
The aestheticism of the Artelier range is found in a completely polished casing with rounded shapes and a bulb crown.
Its generous dimensions of 42.5mm of diameter are partially compensated with plunging lugs that make it comfortable to wear.
An elegant and flattering dial
The dial is elegant and flattering. Its two grey and silver surfaces are fully engine turned, as well as the two slightly planted out sub-dials.
These are with slightly different size but the general balance of the dial is preserved, as well as the date placed at 6 o'clock.
The texts such as Oris or Worldtimer are meticulously painted – an exercise never always taken for granted on this type of finishing – while the painting around the date window is not exactly centered on this one.
The markers, the peripheral hooping and the hands are treated almost in the same way.
"Almost" because the markers have a yellower tonality than the other two elements that are pinker.
A more homogenous ensemble would not have harmed.
The entirety gives a good general impression while offering with this different contrasts a satisfying readability.
A slightly rounded and antireflection sapphire on its internal face protects the whole.
The strap, contrary to what the pattern might suggest, is made of leather. It seems to quickly leave a mark at the pin.
A folding buckle or another strap could be necessary.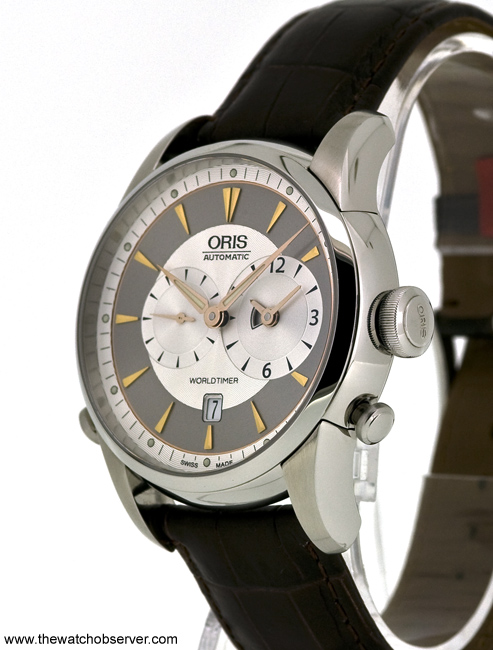 An easy use of the GMT function
Regarding the functionality, the Worldtimer enables to display two time zones.
The referring time (GMT time or time of the country of origin for example) is shown on a twelve-hour basis inside of the right-hand side sub-dial, which also has a day/night indication.
Concerning the local time, it is mentioned on the central hands and can be changed with the push buttons at 4 and 8 o'clock.
Their use is easy and do not risk any use at untimely moments.
At the moment of hand setting, the minutes indicated by the two times can be shifted to one or two minutes, but this phenomenon is corrected when the watch is restarted.
The movement
Modified from an ETA 2836, the 690 caliber beats 28.800 alternations per hour and has a power reserve of 38 hours, which is a bit reduced because of its complications.
The finishing of the movement is primary and we recognize as a signature the famous red rotor characteristics of the Oris.
What to remember
If the global impression is rather positive thanks to the general style of the watch and its well-realized functionalities, we are slightly disappointed by the level of the finishing that deserves some improvement.