Straight to the Point
B.R.M V12-44 Charles Pozzi
Ref.: V12-44 Charles Pozzi
$4,600.00
US retail price January 31st, 2011
Pros
A genuine limited series of 16 watches
Strongly conveys the legendary world of car racing.
Cons
A chronograph function more playful than practical.
The absence of nocturnal visibility.
Brand
B.R.M
Model name

V12-44 Charles Pozzi

Reference

V12-44 Charles Pozzi

Case material

Acinox surfin 18/8

Case diameter (without crown)

44 mm

Case diameter (crown included)

49.31 mm

Movement type

Automatic

Caliber

Valjoux 7753

Base Caliber

ETA

Functions

Chronograph

Date

Hour

Minute

Second

Crystal

Sapphire glass

Power reserve

46h

Transparent back

Yes

Lug width

21.93 mm

Length from lug to lug

52.61 mm

Case thickness

14.55 mm

Clasp type

Pin buckle

Total weight

130 grams

Retail price USA at January 31st, 2011

$4,600.00
| | |
| --- | --- |
| Comfort (/15) | 13 |
| Movement (/20) | 7 |
| Movement Optimisation / Garnishment (/5) | 0.5 |
| Ease of handling and adjustment (/5) | 4 |
| Movement control proceeded by the Manufacture / horlogical awards (/3) | 0 |
| Power reserve (/2) | 1 |
| Complications (/5) | 1.5 |
| Finishing (/20) | 12 |
| Dial finishing (/6) | 3 |
| Case finishing (/6) | 4 |
| Quality of garnishment / caseback engraving quality (/2) | 1 |
| Crystal quality (/4) | 2 |
| Clasp finishing (inner and extern) (/2) | 2 |
| Functionality (/20) | 13 |
| Diurnal legibility (/5) | 4 |
| Night legibility (/4) | 1 |
| Water resistance (/3) | 1 |
| Strap : ease of size adjustment + ease of substitution (/4) | 3 |
| Clasp : quality and safety (/4) | 4 |
| Additional items (/10) | 7 |
| Limited edition (/3) | 3 |
| Watch delivered with several straps (/2) | 0 |
| Quality of the watch box (/1) | 1 |
| Portability with shirtsleeves buttoned (/2) | 1 |
| Goodies included (/1) | 1 |
| Understandability of the brochure (/1) | 1 |
| Value for money (/15) | 12 |
| When to wear it ? | For the 2011 Formula 1 Santander British Grand Prix! |
Users opinion
68%
like this watch
A typical race car watch
All the prerequisite norms of high-performance automobile designs are present in this B.R.M V12-44 Charles Pozzi, with a limited series of 16 watches.
Examples of this include the stainless steel bicolor case (superfine 18/8 acinox) shaped like a piston, the push pieces designed to look like valves, the rally racing-inspired wristband, etc.
Using this same high-end performance car theme, parts of the chronograph are pierced to minimize the weight.
Behind the steel hands, also pierced to keep them as light as possible, the black dial displays the colored stripes of the Italian flag, in clear contrast with the white timer.
The black internal bezel is simply marked with the inscription "Charles Pozzi", and the watch's unique serial number.
The whole is then balanced by three registers (two for the chronograph, and a third one for the seconds), and the black hour markers (4, 8 and 12) on a steel ring, in the style of race car numbers.
Thus, the design of this B.R.M Charles Pozzi dial offers a very good readability of time.
An action-focused concept
The large crown and chronograph's pushers contribute to this overall feeling of action-oriented efficiency.
They are easy to manipulate, so much so that their handling with gloved hands poses no difficulty.
The release of the chronograph requires firm pressure, almost to the point of brute force: the movement's reaction, a Valjoux 7753, recalls the stiff handling of a competition car frame…
This automatic caliber, well-known for its solidity and reliability, will measure up to the likely demands of daily life.
However, no need to look under the hood to see this caliber at work: it is permanently visible behind a sapphire back, with a design that B.R.M likely aimed to make as industrial-looking as possible.
Indeed, you will not find the clean, fine details of high-end watchmaking, such as the flame-blued screws, the Côtes de Genève-style ornaments, the chamfering, etc.
Only the rotor simply and proudly displays the initials B.R.M.
A large, but comfortable driver's watch
The conformists of the watchmaking world who say that the large bezel reduces the diameter of the dial, that the latter's compositional aesthetic choices hinder the chronometer's legibility – in particular the markers 4, 8, 12 that cover the timer, which is itself not subdivided beyond minutes – those people are correct, but their concerns are also beside the point.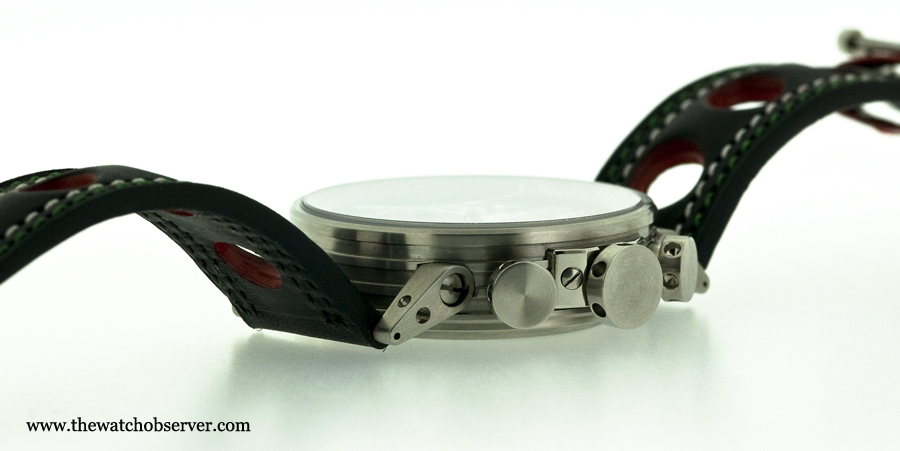 To see the B.R.M V12-44 Charles Pozzi simply as a chronograph would be to misunderstand its underlying philosophy.
The fact is that systems of mechanical computations have long disappeared from the realm of automobile race tracks, and been replaced with electronics. So this is clearly not the point.
With this B.R.M around your wrist, you will be displaying the representation of a dream, that of the world of sports cars with its constant challenge against time to win races,  associated to the mythical Ferrari name through Charles Pozzi, its long-time Paris-area dealer.
This design focused on racing is also found in the wristband's buckle, itself in the shape of a pedal.
Simple, comfortable, and efficient, it enhances the black, pierced leather of the rally-racing style wristband, raised by the black and green stitching and the red loop.
The whole, while voluminous, remains light and comfortable to wear.
THE MOST SOUGHT-AFTER WATCH TYPES
What to remember
With this V12-44 Charles Pozzi, B.R.M offers us a watch very reminiscent in spirit of the world of car racing.
With its strong personality, this watch will seduce enthusiasts and fans of performance and speed, as well as the collectors of driver's watches.
THE MOST SOUGHT-AFTER BRANDS